Calling all comic fans: Virtual auction helps
St. Jude

kids
St. Jude

supporter Mike Negin and the New York Comic Con charity art auction are raising thousands for the cause in a virtual version of the annual event.

October 05, 2020 • 4 min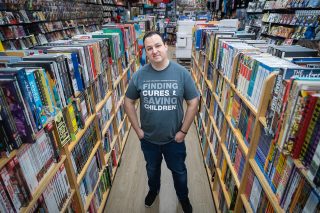 Superheroes race around the imagined world and save humanity from evil. It's kind of their job.
But really, they do their best work in the real world, on a smaller scale — as many a St. Jude patient could tell you. They entertain. They inspire. They provide an escape from the darkness that life sometimes casts on childhood.
The connection between superheroes, St. Jude and the cause of saving kids with catastrophic diseases, is on display at the New York Comic Con's NYCC x MCM Metaverse Charity Art Auction, through Oct. 11. After raising $576,000 in its first nine years, the auction is going virtual this year because of the pandemic, with some 150 comic industry creators donating original art that features the likes of Superman, Black Panther and Wonder Woman.
The auction is the creation of a real comic book kid — Mike Negin, 49, who was taught to read by his hero Superman, grew up to work in the industry with global comic con operator ReedPOP and was determined to use his dream job to do some charitable good.
"I was like, what is more important in this world than sick children?" he said. "What is more important than their future, and making sure their dreams come true?
"I envisioned, what if I was like one of those parents? What if I got the news that my child had a catastrophic disease? St. Jude is the organization that helps people in that very situation, day in and day out. It's their sole mission."
Negin knows well the power of superheroes to inspire kids — to change their lives, even. Ask about his childhood and almost immediately this "Italian kid from Brooklyn, New York" talks about the power of comic books.
"In second grade I was struggling to read. I was in danger of getting left back," he said. "My teacher suggested to my mother that comic books might be a good way to get me interested in reading.
"So we would go to the corner store or the drug store. She would buy me comics" — Superman and Batman, he recalled — "and I'd read them. I fell in love with reading comics.
"By the time fourth grade came around, I was an honor student. I was put in a special class for exceptional children. And I actually met a kid there who was also into comic books. We were about 10 years old. His name was Mike as well. We started talking comics and he said, 'Oh, have you been to the comic book store?' I was like, 'Comic book store, what comic book store?' He's like, 'There is a store that just sells comic books.' I'm like, 'Nooo. That can't be true.'"
From that point forward, Canarsie Books and Comics became something like a second home to him. The store's owners, Jerry and Harriet, and all of the customers became like a second family. He worked there for a decade, starting when he was 11.
"I even stopped there the morning of my wedding," he said, "with my limo and my bridal party and everybody. Because I had to pick up my comics on Saturday like I always did."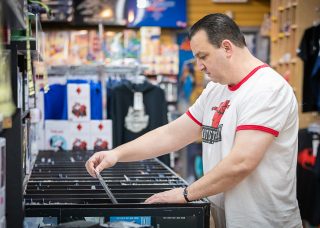 Negin, a husband and father of three, began as a consultant with ReedPOP 10 years ago, working on the company's comic con in Chicago — the Chicago Comic & Entertainment Expo, aka C2E2.
Early on, he found himself saying, "We need to do some kind of charity stuff."
Because what do superheroes spend their lives doing, after all, but helping people in need?
Negin knew he wanted the charity to focus on children and he remembered, from his youth, another rather heroic figure he'd seen on TV commercials — Danny Thomas, rallying support for St. Jude, the children's research hospital he'd founded in Memphis.
The more Negin studied, the better St. Jude sounded.
"Their mission is incredible," he said. "Not only the amount of research, but the concern for the families of the children, the way they help house them and support them."
For the first art auction, held during ReedPOP's New York Comic Con, "maybe 45 or 50 people showed up," Negin said. The event raised $17,675. Attendance would climb into the hundreds over the years with auctions held in Chicago and New York. Last year's New York auction raised a record $67,000.
And this year, in the midst of a pandemic, the team is making a heroic effort to keep their support of St. Jude going.
"We've got over 200 pieces coming," said Negin, now ReedPOP's Global Comic Talent Manager, with his consulting gig having grown into a full-time job four years ago. "Some range from $30, $40, $50, all the way up to a piece that's worth almost $8,000."
"We always get tremendous support from the creators," Negin said. "If they don't donate, the auction doesn't happen."
That's Negin, a self-described "super fan" who doesn't see himself as a superhero. When he was named St. Jude Event Coordinator of the Year in 2017, he spent a good portion of his acceptance speech lauding the "heroes" who help make it happen, from the creators and his colleagues at ReedPOP to the auction crew, the auctioneer and the auction patrons.
He might have learned this from comic books, too. After all, the first comic book he bought himself, as a 10-year-old, and still owns today, was The New Teen Titans, No. 1, touted on the cover as "the super-group you demanded!"
A super-group. A team effort. Just like Negin, the comic book kid, and his fellow heroes who make the art auction happen for the kids of St. Jude.