Run Rich Run
Rich Eisen, the NFL and
St. Jude

have a friendship that goes the distance

March 02, 2019 • 5 min
As sprinters go, he might not win any awards — unless it's for best-dressed.

But NFL Network anchor Rich Eisen's Run Rich Run fundraising and awareness campaign for St. Jude Children's Research Hospital isn't about speed. It isn't even about style, though he dresses in suit and tie and dons flashy cleats while running his annual 40-yard dash at the NFL Scouting Combine.
"How would I describe myself as a runner?" Eisen pauses and laughs, before coming up with the perfect answer: "All heart. I really would just say it's all heart."
As Eisen approaches his fifth annual run for St. Jude, to be broadcast Monday on the NFL Network, he's nearing $1 million raised overall, and untold awareness for the cause. Ask him why St. Jude, among all the worthy charities, and there's no pausing.
"It's not just about the medicine and the science," he says. "It's about the heart and the spirit and the love. And understanding that for kids to get better, the families have to be mentally healthy, too.
"And for the families to be mentally healthy, their kids have got to get better. It's sort of a symbiotic relationship that St. Jude pays attention to, fosters, nurtures. So that's why raising as much money for something that is so dependent on donations is crucial."
As fundraisers go, the beauty of Run Rich Run is that while Eisen is a celebrity — with high-profile media gigs, 1.16 million Twitter followers and the clout to nudge NFL Commissioner Roger Goodell into running his own 40 — it's a challenge anyone can take up and make his or her own.
"Seeing the videos of lab technicians running in their lab coats, or fire fighters running in their fire gear with 50 pounds of gear on their back — I love it," Eisen says. "David Johnson, the running back with the Cardinals, did a video of him with his 2-year-old toddler and his dog."
Or consider 2016, when Eisen, running in neon green sneakers, set a personal best of 5.94. The NFL.com video shows Eisen's record run and his jubilation afterward, including a high-five and a hug with St. Jude patient Allana, then ends with clips of people from across the country creatively running their own 40-yard dashes:
In a suit. In a skirt. In a cowboy hat. In firemen uniforms. In a mascot outfit. With a dog. On snow. On ice. On a beach. While pushing a truck. While racing a forklift. While being chased and tackled.
Everyday people, rallying around Eisen and Run Rich Run.
But also joining something even larger — the enduring friendship between St. Jude and the National Football League.
If the friendship between St. Jude and the NFL has a face, and a voice, the last few years, it's been Austin Denton, who was successfully treated for a rare tumor on his spinal cord and now is a budding broadcaster.
You know Austin, the "very special correspondent," as he was introduced by Eisen on the NFL Network as a 14-year-old interviewing Peyton Manning before Super Bowl 50.
Among the questions:
"Are you going to retire after this? Do you have any idea?"
"You're sharp, you're sharp," Manning said, smiling. "You're well-dressed and you're smart and you're sharp."
Austin sounded like a pro to the very end of the interview, when he said, "Thank you, Peyton. Back up to you, Rich Eisen."
You can hear Manning then say, "Hey Rich Eisen, you better watch out."
It's an inspired and inspiring scene — a 14-year old survivor, rising to the moment, living his dream — made possible by St. Jude and the NFL, two old friends teaming up again.
Jokes Eisen, "I keep telling Austin, 'Just wait till I'm done with my job.' "
If you missed Austin interviewing Manning before Super Bowl 50, maybe you saw him on stage, in his wheelchair, at the 2018 NFL Draft, with a large portion of the American sporting world watching, as he announced:
"With the fifth pick in the 2018 NFL Draft, the Denver Broncos select …"
It was a 17-year-old Austin, rising again to the moment, living not just his dream but fulfilling the one Danny Thomas had when he created St. Jude, a hospital founded on the belief that no child should die in the dawn of life.
"I may be in a wheelchair," Austin said, as he prepared for his trip to the NFL Draft. "I may only be able to walk on crutches or a walker. But that doesn't stop me from doing what I want to do."
Eisen says Run Rich Run came out of a moment of "sheer complete boredom" with Terrell Davis, the Hall of Fame running back, during some downtime at the 2005 Combine.

"I turned to T.D. and I say to him, 'How fast do you think I can run a 40?' "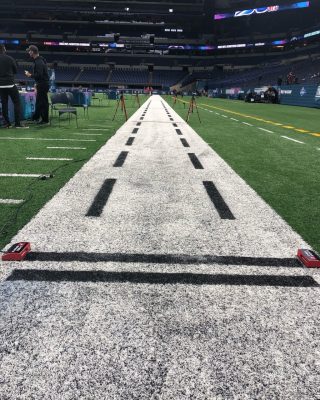 You can probably imagine the rest.
What, now?
Yeah.
In your suit?
Yeah.
Next thing anyone knows, Eisen is down on the field. He's running a 40, with Davis in the stands watching and, unbeknownst to them both, a cameraman shooting it.
"The crew surprised me with the 40-yard dash at the end of the show on live TV," Eisen says.
It became an annual thing. After almost blowing out his hamstring one year, he wisely switched to running shoes. The most profound change, though, came in 2015, when Run Rich Run became a charitable event benefitting St. Jude — a natural given the NFL's relationship with St. Jude.
Then again, you could say Eisen was following all along in the decades-old footsteps of Danny Thomas.
Consider:
Thomas was an original owner of the Miami Dolphins, recruited by friend and fellow Lebanese-American Joe Robbie. Thomas hadn't been looking to get into the pro football business, but he saw the Dolphins — a member of the old American Football League who joined the NFL via merger — as a way to raise money and awareness for St. Jude.
As he told the story in his 1991 autobiography, Make Room for Danny, Thomas sold all of his shares in the Dolphins, except for 3 percent, which he returned to Robbie, with the agreement that the earnings be donated to St. Jude "in perpetuity."
Nonetheless, Thomas got caught up in the excitement of the game. When the Dolphins' Joe Auer returned the franchise-opening kickoff 95 yards for a touchdown, Thomas ran with him down the sidelines.
As Thomas tells the story in his autobiography:
"When Auer reached the end zone, I was all over him — jumping on his back, pounding on his helmet, wringing his hand. The next thing I knew, the referee was standing there, looking at me with a very stern expression. I said, 'Uh-oh.' The referee said, 'You know, Mr. Thomas, I could disallow this touchdown. Owners are not supposed to walk beyond the thirty-five-yard line, and you not only walked, you galloped.' "
But the ref let it slide, it being Thomas's first game as owner, and all. Touchdown, Dolphins.
And so, yes, football fans, decades before Rich Eisen's dapper dash at the NFL Combine, another well-dressed man staged, impromptu and surely to his own surprise, a similar football-inspired sprint.
Call it Run Danny Run.