Corvette Owners Drive Support for
St. Jude
The
St. Jude

Corvette Drive raises money and turns heads on the road from Illinois to Memphis.

June 18, 2019 • 3 min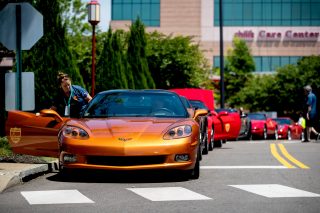 Sleek, iconic and eternally cool, the Corvette is one of the most eye-catching cars on the road.
Now imagine 71 of them, bursting with bright colors and in one case wrapped as Santa's sleigh, streaming down the highway for the best of causes — the kids of St. Jude Children's Research Hospital — and then arriving on campus for patients to ooh, aah and climb inside.
That's the St. Jude Corvette Drive, in which Corvette owners gather for a near 500-mile drive to St. Jude. The eighth annual edition has raised $240,000 and counting, with fundraising continuing through June.
The event is now over $1 million raised in its history. But given all the heads that turn along the way, they may raise even more awareness.
"Local people come out from all around and they're standing in yards waving to us," said veteran driver and event board member John Haase, on the eve of the 2019 drive. "Some of them are holding signs of encouragement and thanks. And people are on the overpasses."
There's no mistaking the convoy's charitable cause: There are St. Jude stickers on each car, and the Corvettes are accompanied by a motor coach that's "all lettered up," said Haase, who hasn't missed a drive.
When the drivers stopped for gas in Benton, Illinois, a local dentist's office donated $500 from a T-shirt sale. Then came a police escort from the gas station through town to the civic center, where drivers ate lunch.
"It's almost as if they take you in, without knowing anything about you," said Jeff McClanahan, event board vice president and treasurer. "When you say St. Jude, they come right on board with everything that needs to be done."
The drivers hail mostly from the Peoria, Illinois, region, a place where the words "St. Jude" work wonders. Peoria is home to the first St. Jude affiliate clinic — and the center of some powerhouse fundraising. The St. Jude Memphis to Peoria Run, a four-day, 465-mile relay-style run, has raised $56.2 million since its start in 1982. The St. Jude Rides motorcycle event has raised another $6.1 million.
Last year's St. Jude Corvette Drive drew 69 Corvettes and raised $250,000. A satellite drive was added last year, from Effingham, Illinois, to Memphis. This year a second satellite drive was added, from St. Louis to Memphis. For three years now there's been a charter bus for people who aren't driving or riding in Corvettes.
Once the caravan arrived in Memphis, participants toured St. Jude and Target House, an apartment-style housing facility for patient families.
The Corvette owners also get the chance to show off their cars for patients and their families — and that provided Haase with his fondest memory of the event.
As he tells the story from a few years ago, Haase saw a young patient standing with his family.
"I asked if he'd like to stand in the car," Haase said. "And he did. He jumped right in the car. And he honked the horn and was enjoying it."
One of the boy's parents decided to take a photo. Haase paused — "I get emotional just talking about this" — and then finished the story.
He told about how the patient "smiled real big," and how the parents said, 'That's the first time he's smiled since he's been here.'
"I don't know if he'd been there a day, a month or a year, but I'm thinking, gosh, I'm making this little kid happy just by letting him stand in my car."