A Twitch Streamer moved cross country to be closer to
St. Jude
Trevor Gomes livestreams himself singing and playing piano to raise thousands for the lifesaving mission of
St. Jude

and has even trained as a tour guide

May 19, 2021 • 7 min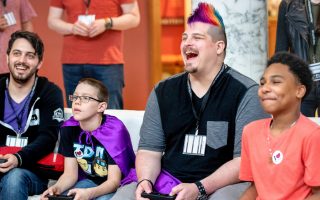 This is a love story. Only not the kind you think.
This is the story of a pianist named Trevor Gomes, a lifelong Californian, who visited Memphis three years ago for a fundraiser at St. Jude Children's Research Hospital. He says he was so "smitten" with the work and the mission he saw unfolding on this rose-hued campus, he uprooted himself from everything familiar — his home, family and friends, and moved cross country to Memphis. All to be close to St. Jude.
No, this is not your typical love story. This is not a meet-cute. This is about a man who fell in love with a cause.
"When I saw what was happening at St. Jude, I felt like a fist in my chest, pulling me to stay here, to be here," Trevor said.
Like the best love stories, Trevor Gomes stumbled into love, when he wasn't looking.
When he first heard about St. Jude, it was part of a fundraising opportunity in a virtual game show where Trevor was competing against 13 other up-and-coming streamers on Twitch, the Amazon-owned platform where various gamers, artists and personalities livestream their interests and talents to an online audience.
The winner would get $60,000 to allow them to turn their streaming hobby into a full-time job. Trevor was the only musician in a field heavy with video gamers. He was desperate to win.
Trevor is the millennial version of a pianist in a hotel bar lobby, virtual and fantastically versatile. His viewers bring him a variety of online sheet music, ask him to play and tip him for his performance. He can perform a range from sweeping classical pieces to ebullient Sesame Street-meets-Disney style tunes. Fans of his stream were (and continue to be) drawn to how nimble and playful he is with music and song. Like the time when his tortoiseshell cat Maja hopped on the keyboard mid-stream pawing out a few notes and he built on the melody and played a heady Rachmaninoff-esque piece, calling it "Rach-meow-ninoff."
He'd begun to build a loyal following and longed to stream regularly, and rely less on the inconsistent gigs he received from the movie studios and entertainment parks in and around Los Angeles. He'd spent years toiling in the background of orchestras on movie scores and in auditions for performers vying for singing gigs in parks or cruises. Trevor said he was worn out with the "gotta make it attitude," in show business.
On the flight to Memphis, he thought, using his stream to raise as much as possible for St. Jude, could be his way out of the grinding life in L.A.
He spent two days at St. Jude. As a part of the St. Jude PLAY LIVE seminar in April 2018, he took a tour of the campus, played video games with patients, learned of the scope of research, treatment and cures being pioneered here, and in the end, he says quite simply: "I was smitten. I was just crazy about it."
It's funny what you remember about first impressions. St. Jude didn't smell like a hospital, he said. "There wasn't that mix of cleaning chemicals and plastic and sadness," he said.
Instead, he remembers natural light streaming in through large windows, interactive videos and sensory walls that sparkled when you moved, and people who smiled and remembered your name, even though you were new and this was your first time in the building.
He remembers playing video games with patients who were competitive and sassy though they were receiving treatment for catastrophic diseases. This was a place that reminded them they were defined by far more than a diagnosis.
All of this moved him. By his third and last day in Memphis, he'd forgotten about winning a contest and began considering moving here. He scoped out local real estate and was pleased to discover it was significantly more affordable than in Long Beach, California, where he struggled to keep up with rent on the small house he shared with two other guys.
The flight home was difficult and unexpectedly emotional for him.
"I was crying the whole flight home and I'm not typically a super emotive person," he said. "I think it was just that I wanted to be there still. St. Jude became in my mind, this little hub of goodness that I hadn't seen or found anywhere else and I thought selfishly if I can be close to that hub of goodness, it'll make me be good."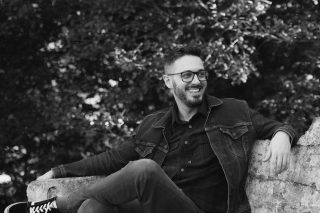 He was approaching 30 and it struck him that this was the first time in a long time when he felt a sense of purpose in his life. The last time he'd felt such a strong pull was to music when he was 10 years old.
As a child, music spoke to him. He listened to it all the time, and when he listened, he also tried to play it on his piano. He heard a soundtrack to everything he did. By the time he was in fifth grade, he improvised and composed and put melodies together in such polished and resonant ways, his father once asked him about the new composer he was playing.
"It's mine," he had told his father. "I wrote that music."
From that point on, he knew music would stay in his life, always. He felt the same certainty now, nearly two decades later, about St. Jude. He knew he'd have to be close to it and be involved in the mission in some way.
Not wanting to be too impulsive, he spent another year in California, shoring up his savings for the 1,800-mile move. Along the way, he continued to raise money for St. Jude: $11,000 in 2018, the year he first visited the campus in Memphis, and $25,000 more the following year in May.
He tried to explain to friends and family the magnetic tug he felt to the city on the banks of the Mississippi River. People understood moving for work, of course.
"But who moves to be close to a place that you want to fundraise for? I know it didn't make sense. But I had to do it," Trevor said. "It came down to this: Which decision would I regret looking back at this time? Would I regret moving to Memphis? Or would I regret staying in California? And it was clear that I'd regret it if I didn't move, if I didn't at least try to make it in Memphis."
By August 2019, 15 months after his first visit to St. Jude, he was ready. He loaded his piano into one of those large storage pods and shipped it to Memphis. The rest of his life, he crammed into his Honda Civic, along with his father (key for moral support and to help with the drive and unpacking) and of course Maja the cat. They drove 27 hours over two days to get here.
Trevor had rented a home on the northeastern edge of town, an ode to 1970s chic with vaulted wood-beamed ceilings, an imposing stone fireplace and a large brass chandelier that made the spacious living room oddly reminiscent of an old English tavern. It was quirky. Perfect for him. When they arrived over Labor Day weekend, Memphis boasted its hottest temperatures of the year and Trevor realized he'd unfortunately forgotten to connect the utilities to his new home.
In his excitement for a fresh start, he also neglected to realize there was neither stove nor washer and dryer in his new home. Walking through a deserted Walmart at midnight, looking for a camping stove and lamps for his new home, Trevor worried this was an omen. Had he been too rash?
No air conditioning and lights at the hottest time of year in a city where he didn't know a soul, aside from a couple of folks at ALSAC, the fundraising and awareness organization for St. Jude. This was not the promising start he'd envisioned.
But slowly and steadily the pieces of his dream to start fresh and have purpose fell into place.
It was a fellow streamer and Memphian who emerged as a hero and friend in his early days. He'd read Trevor had moved to Memphis and offered to help him move his furniture into the home. His computer and keyboard and piano set up just so, Trevor began happily streaming from his living room, and his clout and viewership rose. He was happy and settled and it came across on his stream. Scorching Labor Day weather gave way to a mild fall, and he loved Memphis in autumn, crisp and flush with auburn-colored maples and oaks.
He reached out to St. Jude to explore volunteer opportunities and wondered whether he could be a pianist in Kay Café, providing patients, families, researchers and physicians with a unique, upbeat musical score to their daily lives. But the process to become a performer there proved complicated, so he pivoted and instead worked the registration tables at events like the St. Jude Country Cares Seminar. He also trained to be a hospital tour guide. Over two months, he completed the training and had successfully led a mock tour, but then the COVID-19 pandemic hit and shut down all that.
Still, he found safe ways to fulfill his promise to help St. Jude and used his musical stream on Twitch to raise money for the research hospital's lifesaving mission. Last spring during the St. Jude PLAY LIVE prize season, he set a goal of $36,000. He raised $115,000.
He is gradually growing his fundraising prowess, still driven by what he saw and experienced on that very first trip to St. Jude. He remembers a wall at St. Jude, illustrating the "ABCs of Cancer," assigning patients' drawings and emotions about cancer treatment to each letter of the alphabet. The letter Y particularly struck a chord for him. "Y is for Yucky," one poster read.
"It's just such a simple emotion and experience captured with that one word 'yucky,' right?" said Trevor, who has raised more than $35,000 this month for St. Jude and will be continuing through the end of May.
"It feels so wrong for any kid to have to go through that, you know, and it's like a simple equation for me. I'm here; I want to help St. Jude take away the yucky from these kids' lives."