Ty Morgan: Still passionate for
St. Jude
Colorado program manager looks forward to his 20th Country Cares for
St. Jude

Kids radiothon.

December 11, 2020 • 3 min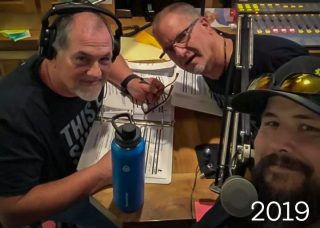 Ty Morgan had an epiphany during, of all things, a game of peek-a-boo that opened his eyes to what St. Jude Children's Research Hospital is all about.
It happened during his first tour of the research hospital as a radio-station promotions director. While on a visit in advance of a radiothon benefiting St. Jude, Morgan and the station's morning-show host got the chance to meet a patient and her family.
"The morning guy was talking to the father, and I was playing peek-a-boo with the daughter, who was sort of entangled in his legs," he said.
It was like an encounter with any other child — until the father picked the little girl up, and Morgan saw the port for her chemotherapy treatments.
"And then it just kind of — it just sunk in. This beautiful little girl was so happy and so joyous, and yet going through the worst time in her life," he said.
"That one, being a father, just destroyed me — in a good way because I became a passionate person for doing anything I can do for St. Jude."
Some two decades later, Morgan, now program director and morning-show host at 92.3 The Moose in Grand Junction, Colorado, remains just as passionate.
Having already hosted radiothons as part of Country Cares for St. Jude Kids®— a fundraising program begun more than 30 years ago by country music legend Randy Owen — at stations in Las Vegas and at another station in Grand Junction, he's now running them at 92.3 The Moose. Over the past six years, the events have raised a total of about $316,448 for St. Jude.
Morgan credits station General Manager Dave Beck for much of the success of the radiothon, which is held each April.
"We sell every sponsorship available, and we give 100 percent of that money. We have them (sponsorship purchasers) write checks directly to St. Jude."
During the radiothons, everyone at the station pitches in, Morgan said, with staff members volunteering to answer phones and sales personnel selling sponsorships commission-free. Members of a sorority who live in nearby Montrose, Colorado, typically travel to Grand Junction to help out.
"Our entire organization as a whole literally comes together. It's pretty awesome."
Enthusiastic support from the local community of 300,000 people also has played a part. Local businesses conduct fundraisers of their own benefiting St. Jude, and residents have embraced the cause, as well, Morgan said.
That's a consequence of Morgan closing what he calls the "thousand-mile gap." When residents occasionally ask why they should contribute to a hospital 1,050 miles from Grand Junction, he has a ready reply: St. Jude is here — through the research it freely shares and through its treatment of children from the area, including a girl from a neighboring town who's a current patient.
This past year, of course, COVID-19 curtailed the event, although the station did air "St. Jude Moments" throughout the week. As it turned out, the pandemic wasn't the only tragedy to envelop Grand Junction in 2020. In the fall, smoke from wildfires in the surrounding mountains filled the valley where the city lies.
"We had coronavirus, and then we had all this smoke that literally was devastating," Morgan said.
The next Country Cares radiothon will be his 20th. And while the coming year brings no dearth of uncertainty, Morgan is sure of one thing:
"We're doing our radiothon, one way or another."