DJ Zach Sang and celeb friends throw a virtual prom to benefit
St. Jude
On May 22nd the radio phenom will host a star-studded event that gives everyone a reason to celebrate

May 19, 2020 • 4 min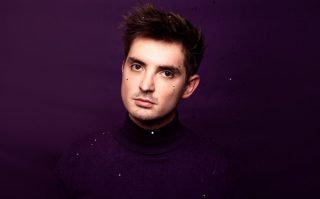 A favorite prom memory for radio DJ and master celebrity interviewer Zach Sang – he's gotten Selena Gomez to talk love and Miley Cyrus once shared her worst nightmare – is a recollection most of us prefer to keep buried: the pre-event pictures.
"I loved having all our families gathered around on the front lawn to take the ridiculously staged photos," says the 27-year-old who attended two proms about a decade ago in New Jersey.
One photo he shares to illustrate his point features his date in the patented placing-of-the-boutonnière pose. "Nobody cares about those photos except for those of us in them."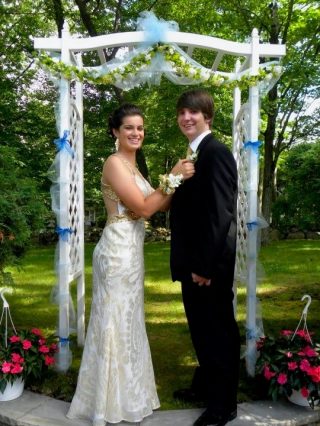 This year, thanks to the coronavirus pandemic, those memory-making moments won't be happening. And like so many across the country, Sang's not happy millions of teens won't be able to sit for portraits, cringe-worthy or not.
"With the world shutting down, everyone is missing out on major life events, and prom is one of them," he says, speaking via phone from his apartment in L.A., where he has been isolated for about 10 weeks with his French Bulldog, Lou.
As one of the nation's top DJs, whose show airs on more than 90 pop stations across the U.S. and Canada, and on YouTube where clips like the one of Selena Gomez yield millions of views, Sang is in a position to compensate for the loss. A few weeks ago, as he talked nightly on-air to callers about facing life in a shelter-in-place reality, he started putting together an online event designed to help his audience and teens everywhere celebrate because "everybody needs a party and an escape right now," he says.
What he's come to call the "perfect digital party experience" features a genre-crossing line-up curated by the DJ whose own eclectic taste spans Broadway musicals to Megan Thee Stallion to The Fray, which is the band "that changed my life," he says.
Prom From Home: Under the Living Room Lights is streaming on YouTube and Twitter on May 22. The three-hour concert hosted by Sang will see Billboard chart-toppers CNCO, Lewis Capaldi and Surf Mesa among other current acts, plus surprise special guests, all benefiting a cause that means so much to him: St. Jude Children's Research Hospital.
St. Jude first made an impression on a 7-year-old Sang. "I remember watching TV with my mom and seeing Ms. [Marlo] Thomas come on with a patient and share the mission," he recalls. "I was like, 'whoa.'"
Sang, who struggled to make friends after changing schools as a young teenager, started DJing from his bedroom in New Jersey as a way to connect with others and to explore his love of music. As his career took off, his interest in St. Jude also deepened. Trips to Memphis early in his career resulted in a visit to the hospital and an opportunity to spend time with a patient and her family. It's a day, he says, that will be with him forever. "I learned what real strength looks like. I had ideas of what I thought strength looked like before, but spending time at the hospital, it changed me."
Since then, he visits the campus yearly and keeps photos on his phone of patient artwork that serve to inspire him. "St. Jude is a beacon of hope," he says. "The patient art and the messages in them are so inspiring and I still go back and look at them on my phone."
Sang has raised funds for St. Jude before and is proud to continue to support the hospital's lifesaving mission as part of his interest in helping others. "Whenever there's an opportunity to do good, I want to do good," he says, crediting his mother, a social worker, for giving him the "strongest base of empathy, curiosity, kindness and compassion."
His drive toward music, he says, yielded a platform to spread that compassion in a big way. "[Music] helped me understand myself but also provided the gateway into dreaming what I could be." Growing up listening to New Jersey artists, from Bruce Springsteen to the Jonas Brothers, gave him hope that he, too, could pursue his dreams and move beyond a lonely childhood.
"Growing up, I didn't have a lot of friends. Nobody wanted to talk to me, nobody wanted to converse," he says. "When I realized that the internet allowed me to host my own version of a radio show, it was all over because I saw it as my chance to make friends."
When he first started broadcasting from his bedroom at 14, he relied on family members to call in to his show and "talk for two hours straight." But with a knack for gab, it didn't take long for him to start booking artists, first lesser-known Disney Channel stars and eventually the brand's marquee names, such as Miley Cyrus and Selena Gomez, whose careers he's supported as his own has grown. And while celebrities are a draw, the five-night-a-week, five-hour show also spotlights the inner workings of Sang's life and that of his two co-hosts.
"It's conversations about life, what's going on, and we play games," says Sang, whose radio role model is Howard Stern. Like the King of All Media, the personal often gets public airing, except a PG version. "We'll do things like call my mom, because she's planning on going on her first date in 30 years."
Thirteen years and millions of listeners since launching, Sang still has an eye toward what's next. Considering he balanced four years of high school with eight hours of radio production daily, and dropped out of college to pursue his passion, it shouldn't be a surprise to anyone that he wants to do more of the same. "I want to make sure audio stays relevant, and keep telling people's stories because everybody has a story that deserves to be told."
In the meantime, he's gearing up to throw one heck of a prom party, for which he keeps St. Jude patients in mind as inspiration. One patient Sang's gotten to know – Caleb – will even make a special appearance during the livestream.
"What I realized getting to know Caleb is no matter who you are, everybody wants a party," says Sang. "Everybody deserves to have a prom and that includes if you've already had a prom and need a redo or if you are missing out on your prom this year. I want this event to touch as many people as possible."