St. Jude

Patients Fly First Class to the North Pole on Delta Flight 1225
Delta Air Lines has contributed more than $3 million to
St. Jude

in monetary and in-kind donations since 2010. With its spectacular Flight to the North Pole, Delta brings joy to the kids of

St. Jude

each holiday season.

December 13, 2019 • 3 min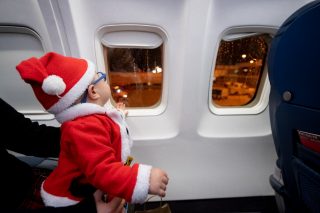 'Twas some night before Christmas, and all through St. Jude
Patients and their families were in a traveling mood.
Their tickets said "North Pole," kids clutched them with care
In hopes that Santa Claus would soon meet them there.
When you look out into the night sky this holiday season, imagine a very special aircraft, transporting the kids of St. Jude Children's Research Hospital to the North Pole. Although the hospital is located in Memphis, Tenn., St. Jude treats kids from all over the world. And while they're staying in patient housing, Delta Air Lines provides an opportunity for the patients and their siblings to take this one-of-a-kind "flight."
Think of the nerves and the thrill of air travel. All the planning. The exhilaration of takeoff and anticipation of arriving at your intended destination. For some St. Jude patients, it's their first time on an airplane. Others have already come to know air travel well; they flew thousands of miles to be treated at a research hospital that prides itself on taking the toughest cases at no charge, ever, to families.
"It's hard to get in the Christmas spirit when you are spending full days in a hospital and dealing with everything these kids deal with on a daily basis," said Christy, mother of St. Jude patient, Emily. "It was a nice escape for her."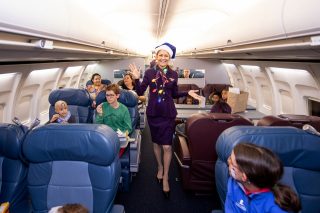 Patients and their siblings, plus one parent, arrive at Memphis International Airport to be ticketed and go through TSA like every other air traveler. But that's where the similarities end. Beaming Delta employees, a marching band, local mascots and cheerleaders greet the group at the departure gate. As St. Jude Hospitality Manager Carmin Blair says, "It's like a huge party right there at the gate." Blair thoughtfully manages patient and staff participation to include as many party-goers as possible.
Every ticket in the plane is first class, and Delta pilots ensure everyone has a pleasant flight. While the aircraft never leaves the tarmac, engines rev and the excitement of takeoff is felt by all. The passengers are treated to a reading of "'Twas the Night Before Christmas," sing carols and have an in-flight meal.
When the kids arrive at their final destination, Santa can be seen peeking through the windows of the plane. He's just as excited as the kids. And though St. Jude treats children of all nationalities and cultural traditions, somehow, "Santa seems to cross all backgrounds," Blair suggests.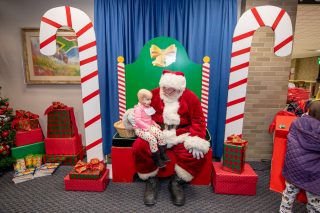 Of course, the "North Pole" is replete with delicious treats and gifts, more celebrating and some quality time with Santa. Blair recalls some Delta employees coming back year after year to create this experience just for the kids of St. Jude.
When Emily boarded Flight 1225 to the North Pole last December, she was only 5 years old, and undergoing treatment for brain cancer for the second time. "Being on the Santa flight meant the world to Em," her mom said. "It was just what she needed to get in the Christmas spirit."
Emily completed treatment just a few months ago. And Santa will meet her at the usual place this year: home.
And we heard them exclaim, as they rode out of sight —
"Happy Holidays to all, and to all a good night!"