It's How They Roll
St. Jude

's iconic red wagons let patients ride in comfort and style; parents are transported, too, by these symbols of childhood.

January 17, 2019 • 4 min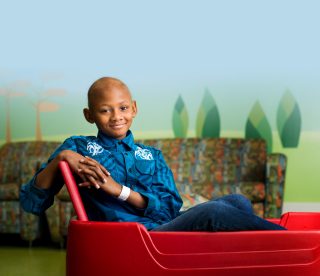 Picture a mom pulling her little girl in a little red wagon, one of those iconic hallmarks of childhood.
Around a bend, they come. Past a butterfly garden, they go.
They're among other moms and daughters, fathers and sons, sisters and brothers.
But it's not a joyride they're on.
Connected to the red wagon, and trailing along behind, is a pole from which hangs an IV bag, tubes and pump.
The little girl is a patient at St. Jude Children's Research Hospital, where treatment calls for more than just medicine, where life-threatening diseases are faced in life-affirming ways.
And so the little red wagon? It's how she rolls.
Vehicles of hope and transport
For parents, the hospital's red wagons are a shot of nostalgia.
"Very much a throwback to childhood," says one father. His daughter Avery is being treated for an atypical teratoid rhabdoid tumor, a rare tumor of the brain and spinal cord.
For patients, they're a salve of normalcy.
"You are just a kid in a wagon, not a kid with cancer or going through chemo," says a mother, whose son Mack lost a leg to Ewing sarcoma, a bone tumor, but he's back running and playing basketball thanks to the prosthesis his siblings call a "robot leg."
For the whole family, they're combination playpens and pack mules on wheels, carrying, along with patients, everything from siblings to stuffed animals, backpacks to tote bags, pillows to dolls in tiaras playing princess.
"We took many naps and stored many muffins and coloring books along with stickers in our wagons," says another mother, whose daughter Mabry was successfully treated for acute lymphoblastic leukemia.
They're all around the hospital, these vehicles of hope and transport, these symbols of childhood and of the St. Jude philosophy of tending to the patient's emotional as well as physical state. Because if cancer is a dark journey, then there should be moments of light — joy, even. There should be reminders of better days, and beacons of hope for better days to come.
"Wagons are equated with fun, and as we all know, emotional resilience is very important," says Dennis Medford, who taught in the St. Jude School Program by Chili's for 23 years before retiring and becoming a Family, Guest and Volunteer Services volunteer.
"Every time I see a family pulling a wagon of kids, it makes me smile. It makes me happy to see them. You'll often see a brother and sister riding together in one wagon. It brings them together and helps unite the family."
Kathryn Berry Carter, director of Family, Guest and Volunteer Services, calls the wagons a "connector" — of parents to their children, of families to their belongings. But even more than that, she says, "It reminds you of home. It feels normal."
St. Jude has more than 100 of these little red wagons. There's always a fleet parked in the lobby of the Patient Care Center, lined up in sleek red rows.
They're freshly cleaned plastic wagons roomy enough for two, with flip-up back rests and four cup holders, with little license plate-style numbers.
White tape is stretched across the body of each sanitized red wagon, with a green-lettered message that beckons families:
Ready to roll.
A mother pulls her daughter down a hospital hallway that's painted with scenes of the four seasons. They pass briefly through winter — snow everywhere, a boy on a sled, birds and bunny rabbits — then take a sharp right turn, past the chapel, toward H Clinic.
In the waiting area for social work & rehab, a girl sits in a wagon and plays a game on her tablet, transfixed by the cartoon owl on the screen.
Near the exit of Kay Kafe, the culinary gathering place for everyone at St. Jude, doctors and patients alike, a boy, wearing an eye patch and a hoodie decorated with bears, climbs into a wagon. He settles back for the ride. Mom grabs the handle — they're off.
A girl dressed in pink, her hair just wisps now from the chemo, rides in a wagon down a hallway decorated with large photos of former patients. It's called the Survivor Hallway. In each photo, an adult holds a picture from his or her patient days — from red wagon days.
In the Triage 2 waiting area, a dad in T-shirt and shorts naps in a chair, his legs stretched across the body of a wagon — those ubiquitous red wagons making themselves useful in yet another way.
Meanwhile, in the E Clinic waiting area, there's a mother, a daughter, and a familiar scene: A little red wagon, with one of the hospital's smallest patients inside, parked beside a parent in a chair. When Mom says something the girl doesn't quite catch, she leans down and repeats herself:
"I said, 'I love you.' "
Or picture this: One morning, just outside Kay Kafe, a mom pulls her little boy. If he has a care in the world, it doesn't show: He's stretched full out in that wagon, his head resting on a pillow. Oh, and he's eating a Pop-Tart.
In every journey, some joy.