Amy Jones' journey to the extraordinary ordinary
When her dream of a normal life was derailed,
St. Jude

was there to save her — twice. Now this grateful leukemia survivor has made her favorite cause her career

January 25, 2021 • 7 min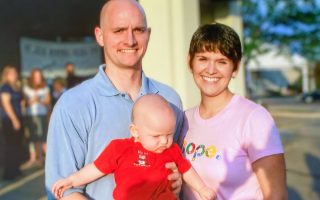 It's 1 o'clock in the morning. I'm still up because everybody's going crazy around me. I'm 10 years old. We're waiting on the doctor to give us the news. I'm sitting cross-legged on the hospital bed, and he walks in. He kind of looks at me and then climbs up onto the bed.
This is the story of a girl named Amy, who just wanted an ordinary life. School and friends and dances. And if she had to be sick, let it be the ordinary kind of sickness. Some kind of bug going around. Maybe allergies from the harvest season. Because summer was over and school had started back, sixth grade.
Then he looks directly at me and says, 'OK. We figured out what's wrong with you. You have leukemia, which is cancer of the blood.' Well, you know my 10-year-old brain. I'd heard of cancer. That's what two older gentlemen at our church had gotten, and they both died. And I remember literally almost hearing the snap — the moment when I went from being worried about spelling to being worried about death, and life.
That's what she'd been doing as she sat cross-legged on the hospital bed, as they waited for the doctor. Everybody else was going crazy, but she was studying her spelling words. Because that's about the worst thing the 10-year-old's mind could conjure in the moment — the thought of failing a test the next day in her least-favorite subject. Sickness? That meant a bug. Allergies. Not l-e-u-k-e-m-i-a. But that's what the doctor said.
And I vividly remember looking over at my mom and saying, 'Does this mean I'm gonna die?' And, you know, as she's crying and going through a shock of her own, she has to answer me truthfully and just say, 'I don't know.' And the doctor says, 'Well, we can't predict the future, but we're going to send you to St. Jude in Memphis, which is the best place for you.'
Amid the struggle, ordinary joys
She was hungry. She wanted spaghetti and meatballs. From a can.
Amy and her family had just arrived at St. Jude — it was getting late, she was scared, her young life upended — and what did she want? Something to remind her of home. Ordinary with a side of normal. Comfort from a can.
And half an hour later, dinner was served.
And I'm like, 'This is awesome.' I kind of felt like, I can sort of be a kid, you know, like that. Because, here I'd gone from everything that I knew and expected and wanted — worrying about school, and my friends, and, oh, I'm gonna be in sixth grade, are the boys gonna notice me?
All of those normal expectations, and plans, and worries. All of that had changed so instantly to being something so just outside of what I could even fathom. Because no kid should ever have to deal with life and death, ever.
That first night set the tone for the two-and-a-half years of Amy's treatment for acute lymphoblastic leukemia. She talks some about that — about the chemotherapy treatments, alternating between St. Jude and the St. Jude affiliate clinic in Peoria, Illinois, near her home, and about losing her hair. And she remembers the survival rate for ALL at the time was only about 65 percent, when she was diagnosed in 1988 — far from the 94 percent it is today.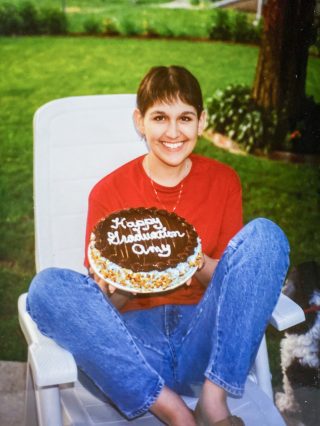 But mostly she talks about life at St. Jude, the ordinary joys of the place: The murals on the walls. The doctors talking to you "like you're a normal person." Moms being friends with other moms. Kids playing, laughing, joking. Wheelchair races.
So it was just kind of like, OK, well, if I can't be home, this place is pretty good.
And just before eighth grade ended, so did treatment. Life resumed. "Normal life, normal kid," she said. Her hair had grown back enough that she wasn't "the bald kid." And just in time for high school and everything that meant — friends and boys and learning to drive, hopes and dreams and normal 15-year-old worries.
Freshman year was great. Gloriously ordinary. Wondrously normal. And then…
The fall of my sophomore year I started to get that feeling again. That blah feeling I couldn't explain. I kept trying to push it off, because it can't interrupt my life. I've got plans. And sure enough, just after my 15th birthday, December of my sophomore year, I was diagnosed with a relapse.
I was devastated, I was scared, I was angry, I was frustrated. All of the emotions, all at once. Not to mention, here I was a teenager, and I had to do all this stuff again? That should have been behind me. I'd done it once.
Because she was facing a relapse protocol, Amy was told, the treatments would be stronger, and she'd be sicker and weaker. "They weren't lying," she said. She lost more than her hair to the chemotherapy. Her muscle tissue deteriorated. She didn't have enough muscle control to sit in a chair, much less walk up steps.
It was another two-and-a-half years of treatment, one year of which she and her mom counted 97 days spent in-patient. She missed days and days of school, and it took a heroic effort — and a lot of help — to graduate with her class, less than two weeks before finishing treatment, in 1995.
Once again, she found comfort — a sense of normalcy, a semblance of the ordinary — at St. Jude.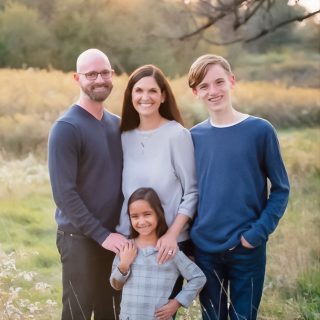 High school and teenage years are so much about those peer connections. It was really hard to kind of have those relationships at home. That's what I think was so wonderful about St. Jude, is I knew I had kids that would understand. There was no judgment. There was no, 'Oh, come on, buck up.' It was, 'Yes, this stinks.'
Not only was St. Jude helping me from the physical aspect of the chemotherapy and what my body needed. The way this hospital is set up helped me with that emotional support and having those connections, as well.
Oh, and one other thing happened, about this time, thanks to St. Jude. Amy McClellan, as she was known at the time, met her future husband. It would just be a few years before they'd realize it.
Amy had little use for running — "running was just about as bad as chemo, in my mind" — but she was enthralled by the St. Jude Memphis to Peoria Run.
Of the 31,000 or so annual fundraising events for St. Jude, it stands out not just for the millions it raises but the lengths its participants go to show their love for the cause — running, relay-style, the 465 miles from Memphis to Peoria, over four days in the heat of summer.
She was from near Peoria, had been treated at the St. Jude affiliate clinic in Peoria, and so there was home area pride. She'd also met some of the runners, going back to her first treatment for ALL, and she never forgot their words.
So many of them came up and said, 'I'm running for you. I'm running in honor of you.' I'm thinking, you don't know me. Why would you do this for me? Put yourself through that, for me? And I was just so inspired, just by their heart, their generosity, and the fact that they believed in St. Jude and loved the St. Jude kids so much that they were willing to do this grueling event.
And I just said, you know what? I want to do this someday. I want to, No. 1, be healthy enough that I can. But then I want to be able to be that inspiration for others. I want to be able to give back and say thank you to the hospital.
In 1994, at 16, Amy made her St. Jude Memphis to Peoria Run debut — allowing for the fact that she was still being treated for her relapse. She couldn't run, of course. She couldn't spend four days on the road. But she could join some of the runners for a stretch of the event — "They let me tag along, kind of just to be a little mascot, if you will," is how she puts it.
She was assigned to the "Blue 2" motorhome with "the Jones boys," two veterans of the run — Gene, a long-time cross country coach in the Peoria area, and his 20-year-old son Ryan.
"I remember the trip, as we were riding down to Memphis that year (before the long run back to Peoria), talking with this young lady, who was just a few years younger than me," Ryan said, "listening to her experiences at St. Jude and what she went through. I was just amazed at the strength this young lady had."
They became "acquaintances" — Ryan's word — running into each other every year during the Memphis to Peoria Run. Hey, how are you doing? What's going on with you? See you next year.
Because these things take time. Journeys always do. And then …
"It was eight years later," Ryan said, "that we ran into each other at" – wait for it, wait for it — "a St. Jude event. It was a volunteer appreciation dinner. I was done with college. She was done with college. We struck up the usual conversation.
" … but that night we kept talking."
Amy and Ryan Jones are just weeks from celebrating their 17th wedding anniversary. They have two children, Carter, 12, and Emerson, who was adopted from Bulgaria, 7.
It's this normal, stereotypical, you know, mom, dad, two kids…
We don't have a white picket fence — well, actually, we kind of do have a white fence.
Ryan is looking forward to his 30th consecutive St. Jude Memphis to Peoria Run in 2021. But of course he doesn't have to leave home, much less walk out past that white fence, to be reminded of the cause and all it means. He only has to look around the kitchen table.
"Without St. Jude, Amy wouldn't be here. We wouldn't have this family," he said. "That gift that St. Jude gave her, we never want to take for granted. The greatest thing I love to watch is her and the kids together, because that's all she ever wanted out of life. That just makes my heard swell."
Amy, 43, revels in it all. Motherhood. Packing school lunches. The Parent Teacher Organization.
And now, the cause that's so close to her heart has become her career. She's joined ALSAC, the fundraising and awareness organization for St. Jude, in a role for which she's uniquely qualified — telling her own story, the story of a young girl, her dream of an ordinary life, and the extraordinary journey she took to get there.
I mean, it's not flashy, it's not showy. There's no stars, you know, my name's not in neon, but it's been like everything I could have ever wanted as far as a life. Because it's just, it's that normalcy, you know, that I craved for so long.