The kid with a passion for vehicles rides on for
St. Jude
Mission driven, the St. Jude mail van driver knows his work helps because he, too, was a St. Jude kid.

July 22, 2020 • 7 min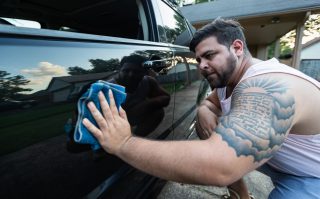 Carlos Rodriguez makes a delivery and picks up the new mail, says hello to a colleague and asks about the family's new baby. It's early fall, months before the world, and Carlos' routine, would be changed forever by a global pandemic. He moves from place to place, like the movement of blood in the veins almost, the way it seems like a perfect system when things are in good working order. There's a rhythm to it – a thrum.
He drives the mail van for ALSAC, the fundraising and awareness organization for St. Jude Children's Research Hospital, and his mind alights on the circumstances that brought him here.
He thinks about the family his heart never really left behind in El Salvador, and especially his Uncle Carlos, who has passed. Would he be proud of Carlos? Yes, he believes his uncle would be proud.
He thinks about the kids at St. Jude because when he was a kid, he got treatment here, too. A little boy who went from making believe with the steering wheel of his family's bus in El Salvador to coping with cancer and chemo and English.
St. Jude saved his life and changed it profoundly and forever – yet he's still that same kid behind the wheel, who won't stop for anything.
The convertible rounds the corner of a small town in El Salvador, and a crowd gathers to look. You can almost hear the tires screech and make out the face of the man behind the wheel: Carlos' grandfather, the race-car driver. When Carlos looks at the black-and-white photograph of his maternal grandfather, who died before he was born, he can almost taste the dust.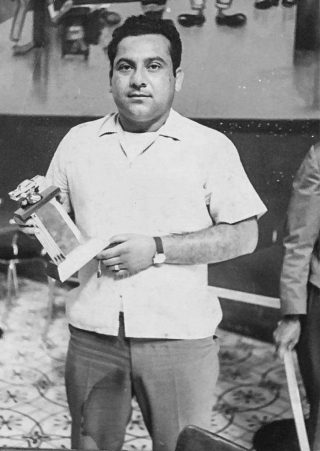 The love of cars – passed down from grandfather to uncle to Carlos – is the thread that's weaved through Carlos' life.
Carlos had a happy childhood in Santa Ana, El Salvador. Raised by Maria, a single mom, he was the family's first grandchild and doted on by his grandmother and two uncles.
"He was spoiled," said Maria.
His family owned a bus business. In El Salvador, the bus system is privatized, and his family's fleet drove local routes connecting town to town.
Maria's middle brother, Carlos, would go to the U.S. a few times a year to pick up decommissioned school buses and cars and caravan the whole way home, a trek that took two weeks.
"He would purchase the buses in the U.S. and bring them back and paint them and refurbish them to the standards of El Salvador for public transportation," said Carlos.
The buses were parked in an open field.
"This was where I was pretty much raised, because I was always there," said Carlos.
Carlos would climb behind the wheel and imagine himself driving, his imagination taking him far away.
And his uncle, who was quiet and kept to himself but also indulgent of his little nephew, would show Carlos under the hood and how each part related to the other, just so.
"I loved both my uncles, but he was the one I pretty much stuck to because I always loved cars and getting into things," said Carlos.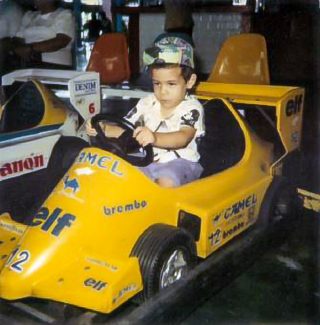 His uncle spent hours working on vehicles. This was his escape, the way some people garden or paint.
Even at 4, little Carlos had it in the blood, too, that passion for vehicles.
And he had something else in the blood, discovered in the early months of 1996. When cancer came, this simple life Carlos and Maria knew in El Salvador disappeared in a puff of smoke – or bus exhaust on a dusty road. They had to make a new one.
The water was up to my neck
"When we got to the hospital, the water was up to my neck," said Carlos, recalling how he and his mother arrived at the local hospital in El Salvador for biopsy surgery during a storm that seemed like the end of the world.
"They rolled me into the room," said Carlos, "and actually the light fixture had water dripping down, and it was dripping on my face, and after that, I don't really recall. I got put under, and they did my surgery."
Carlos touches the scar on his neck where his first lymph node was biopsied. Then he touches the other scar, where the biopsy was redone.
He was transferred to Benjamin Bloom Children's Hospital in San Salvador, which had been in the process of forging a partnership with St. Jude to help raise survival rates for kids with cancer in El Salvador. They did a bone-marrow aspirate.
"They actually said that he had leukemia, and it was going into the fourth stage," said Maria. "This was our first time hearing about cancer in our family, so it was a shock, not only to me, but also to the rest of the family, because we hadn't gone through anything like this at all."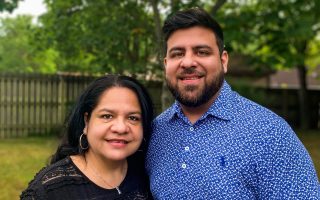 Months before, Maria had been watching a St. Jude special on cable TV.
"She tells me the story that she was sitting at home and was like, 'This will never be my child,' and then six months later, I got diagnosed," said Carlos.
Maria worked in a sewing factory where one of the owners was a monthly St. Jude donor. She urged Maria to consider St. Jude.
"So I guess, you know, God has his ways to guide you," said Maria.
Thus, the most important journey in Carlos' life took place in a plane as Carlos, Maria, and Maria's mom flew more than 1,700 miles to the U.S. for treatment.
"Leaving everybody else back home was very hard," said Maria.
They arrived at St. Jude on Mother's Day 1996, just the three of them and the fear and the hope.
Carlos' first words in English were the language of pain – "Most of my chemos would make my bones ache," he said. "They'd feel like they were under pressure" – but knowing these words enabled the healing.
He learned to tell his nurses, "I don't feel well," and "I feel nauseous." He told them not only that he hurt, but how much. Because once they knew, they could make him feel better for his next cycle of chemo.
"We made it through," said Maria. "We had the support of the nurses and doctors at St. Jude and my mom and prayers, and we made it through."
And she had Carlos, too. That first Halloween at St. Jude, Carlos dressed as a knight in shining armor.
Carlos acclimated to the culture quickly, picking up new words and phrasing from TV and friends in the neighborhood. Carlos got a tiny motorcycle and rode it everywhere.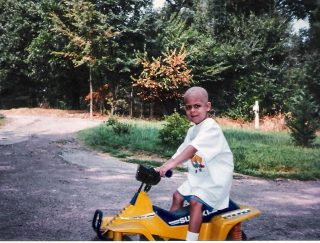 "I used to ride the motorcycle down to a Chinese restaurant and back to pick up food," said Carlos.
And he counted the days until his Uncle Carlos would come visit.
During his trips to the U.S. to pick up buses, Carlos' uncle began to swing by to visit his sick nephew, no matter what – sometimes making detours of hundreds of miles just to be there.
"It was a real picker upper for Carlos," said Maria.
He and the other men would caravan down, park the buses and spend a couple days with the family before driving on to El Salvador. Carlos' grandmother sat everyone at the table and made traditional food, such as pupusas. They were magical meals that staved off Carlos' homesickness and kept him going throughout his treatment.
Finally, after two and a half years, his chemo was done.
"They took a great picture where my mom is praying, Carlos is screaming [with joy], and I'm crying," said Maria of a photo taken during Carlos' end-of-treatment celebration. "It was that Kodak moment, like they say."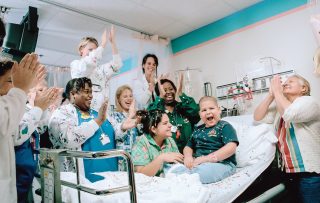 In 1999, they returned to El Salvador, triumphant and grateful.
But they didn't stay.
They couldn't, Maria explained. Their life at St. Jude and experience with cancer had changed them too much, and their old life felt odd, like ill-fitting clothes.
And Maria, who lives by her faith, had a feeling tugging at her that seemed like a calling.
A little voice that said: "They saved his life," said Maria, "and we've got to give back somehow for what they did."
They left El Salvador a second time.
Maria returned to the U.S. with Carlos, and in February 2004, she became a full-time bilingual phone representative at ALSAC. She's been working in fundraising for St. Jude for 16 years.
Carlos saw the lowered car from across the crowded high school parking lot – and fell in love.
"I mean, it was to the ground," he said. "I would actually see [it] leave the parking lot in high school and have to go in sideways."
Soon after, he'd saved enough from his new job at ALSAC to buy his first car – a 2008 Dodge Caliber SRT4 – with an eye toward lowering it. He couldn't wait to share the news with his uncle.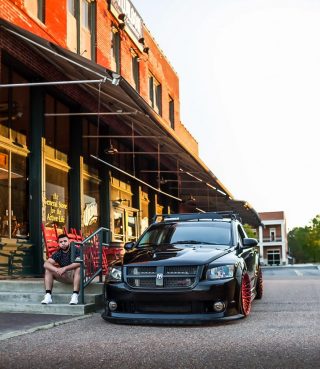 His uncle, who'd spent his life fixing up old buses and making them usable, didn't agree with the idea of altering a perfectly good car to be less practical. "He was like, 'Just leave it the same!'" said Carlos.
Still, the older man couldn't hide his interest in the work – the parts to be ordered, the modifications to be made. The sweat of it and the puzzle aspect, his uncle understood. So they talked about the car a lot.
These are some of Carlos' favorite conversations to remember, because they were among the last he had with his uncle, who passed away in 2014.
Six years later, the loss still hurts, but there's healing in his love of vehicles.
"It's one of the biggest connections I have with my uncle," said Carlos, who regularly meets up with other lowered-car enthusiasts to compare vehicles and look under the hood.
"It was one of the things I truly feel like he left me to do."
Sometimes in life, you give up wonderful to get wonderful. Life, then, is about the exchange.
Carlos began working at ALSAC nearly 10 years ago.
"Any job here at ALSAC plays a vital role in the mission across the street [at St. Jude]," said Carlos, "but I think for us, just making sure people get the stuff they ordered and what they need, and at the same time, we set up a lot of patient events. That's one of the biggest things that I take pride in."
In some ways, his life today is not unlike the life he might have had in El Salvador: connecting things to the places they belong.
"This is mail, whereas in El Salvador we were making sure people were getting where they needed to go, but in other ways, it's kind of the same as my family's bus business," said Carlos.
He thinks back to that fork in the road, that time in his life when things might have been different.
Then he presses the gas, the engine responds and he moves to the next stop in a life filled with purpose.