Marathon tree house build brings a smile to
St. Jude

patient

Cancer survivor pulls a community together to build a tree house in 24 hours for St. Jude patient Nate, while rowing a marathon.

September 24, 2020 • 4 min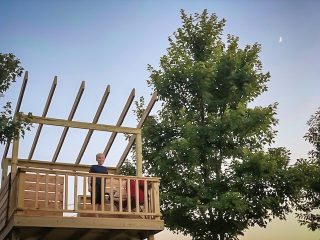 Jay Cobb would do anything to tell the world about St. Jude.
Well, OK, he hasn't jumped out of an airplane. Yet.
"My niece, she's kind of funny. She said, 'You raise $10,000, we'll jump out of an airplane,'" he said. "And I just don't know if I could do that. I'm pretty terrified of heights."
But then again …
"I might be coaxed. If I had a kid who came up and said this is what they wanted me to do… "
Cobb, a 49-year-old civil engineer in Oklahoma, knows what it's like to face a catastrophic disease. He was a 9-year-old with Burkitt lymphoma, a form of non-Hodgkin lymphoma, who got a second chance, thanks to St. Jude Children's Research Hospital.
So, four decades removed from his patient days, he's up for almost anything that will raise money and awareness for his favorite cause. He tells his St. Jude story everywhere, from TV interviews to podcasts. He volunteers to answer phones and take donations at Country Cares for St. Jude Kids® radiothons. He's captain of the Tulsa vs. Cancer team for this week's virtual St. Jude Walk/Run, raising one of the highest individual totals in the city. And next month, he's hosting a fundraising golf tournament.
On the sillier side, as a fundraising milestone, he's kissed a cow for St. Jude. And a pig. He's even dyed his beard purple.
And, talk about taking one for the team: Next year he's planning to face live batting practice from a professional baseball pitcher — his son, Trey, a rising prospect in the New York Mets' minor league system.
Note: Jay is also terrified of 95-mile per hour fastballs. But …
"When somebody saves your life," he said, "you do what you can."
And sometimes, you do even more — like getting together with some friends to build a backyard tree house for a St. Jude patient named Nate. Yeah, Jay did that recently. And in true Jay style, there was a twist:
The tree house build took place in a 24-hour period, during which Jay and his friend Jordan Stevens also completed the equivalent of a marathon — Jordan running and Jay on a rowing machine.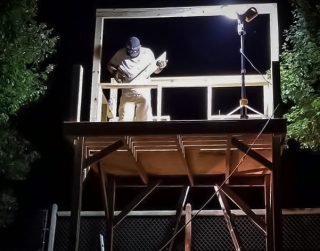 "Every hour, basically I would go 2,000 meters on the rower and Jordan would run about a mile," Jay said. "Then, as soon as we got done with that, we started work on the tree house."
They had a lot of help. In a post-build social media post, Jay thanked some three dozen people, a Boy Scout troop (which mowed the yard, weeded the flower gardens and did some painting on the house) and a local hardware store. Everything fell into place — all the right tools just seemed to magically turn up, Jay said — and time flew by.
It all started at noon on a Saturday, and with about 90 minutes to spare on Sunday, it was done. Jay and company had pulled an all-nighter, completed two marathons, built the tree house of Nate's dreams — and made a family's summer.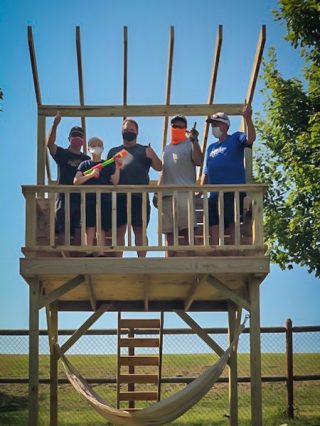 "Every morning as I leave for work I look out the back window at the tree house," said Nate's dad, Ross. "It overwhelms me with emotion each morning that people in our community gave up their precious time to make my son's dream come true."
Ross, to Jay and his helpers: "I am blessed by you blessing my son."
For Angie, Nate's mom, the most touching moment came when Nate — 18 months removed from treatment at St. Jude for medulloblastoma, a brain tumor — joined Jay on the rowing machines.
"As I watched them rowing side by side, it sparked hope in my heart that Nate, too, can beat the odds and be an adult survivor," she said.
Nate, meanwhile, is living in the moment and loving it. The tree house is "a place of my own to go and hang out and play, enjoy nature," he said.
He creates artwork up there. He watches the hummingbirds, and the sunset.
It's also a strategic perch from which to shoot people with his Nerf gun, just as an FYI for visitors.
Nate said he also plans to use the tree house for school work, naps, building with LEGOs, displaying his art and — some blessed day, when the pandemic ends — playing with friends.
So a childhood interrupted by cancer is back in full fun mode. As it should be.
Jay can relate. He remembers being 9 years old, with a knot on his neck.
"We had just finished playing a basketball tournament," he said. "We won the tournament. I used to have the picture of us. There were like six of us surrounding the trophy. You could see the knot on my neck in the photo. That was kind of the last thing I did, prior to having surgery and being diagnosed with cancer."
He remembers his family being told he might only have three months to live. That was in an Arkansas hospital, not far from their home in small-town Oklahoma.
What happened next was kind of a blur, the family driving to Memphis at night, in a driving rainstorm, so Jay could be treated at St. Jude. He remembers arriving so late they were greeted by security. He remembers he was wearing pajamas.
He remembers radiation treatment and chemotherapy. But mostly he remembers St. Jude as a happy place, a healing place. A hospital, sure, but …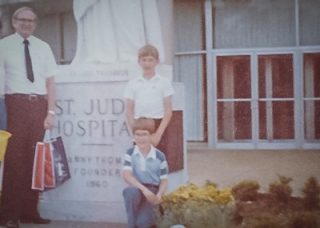 "It's kind of a weird thing," he said. "In my experience, it was comforting, knowing there were people there taking care of you and working to make you well, and to fight for you."
Jay has been saying thank you to St. Jude ever since, in some of the most inventive ways imaginable — in ways that suggest not just the generosity of a grateful adult, but the pure joy of an inner child who's alive, well and up for almost anything.