Jessica's journey
A neighbor, a nurse, a fellow cancer patient, a country music star — this
St. Jude

survivor found comfort at every turn.

September 29, 2020 • 8 min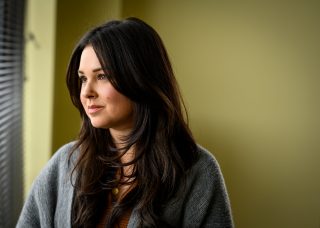 Jessica Turri knew about St. Jude Children's Research Hospital from the time she was a little girl growing up in Memphis. How could she not? It was a hometown institution. She'd see it, gold dome gleaming, as her family drove by the hospital campus on the way to visit relatives across the Mississippi River in Arkansas.
"Every time we would travel over the bridge we'd look at the gold dome and be like, The sick kids are there, and St. Jude is taking care of them," she says now. "We'd have a discussion about it as a family."
She even raised money for the hospital, a little girl participating in the St. Jude Trike-A-Thon and Math-A-Thon.
And cancer wasn't just a word. She knew what it meant. Cancer's what her dad had, when Jessica was 4.
So it wasn't unusual when there was an art contest at school — this would have been second or third grade — and Jessica, whose mom was an art teacher, drew a picture inspired by St. Jude. The contest theme was "Imagine a day," and so the little girl imagined the same thing as Danny Thomas when he founded St. Jude in 1962.
"Imagine a day," she said, "when St. Jude would close."
Jessica drew the gold-domed pavilion and patients holding balloons. On the picture she wrote the message: "Let's go home."
Because pediatric cancer, in all its insidious forms, had been cured. Because Danny's dream, that "no child should die in the dawn of life," had been achieved.
Then, a year or two later, the unimaginable happened.
Because what family imagines its child will become one of "the sick kids" of St. Jude?
"I think the 'Why me' question probably came the first night I heard 'You have cancer,'" Jessica said, more than two decades later. "I remember lying on the bathroom floor, just knowing in that moment that my whole life was changing. Even as a 9-year-old, I knew the weight of those words. And at that point, I asked, Why me?"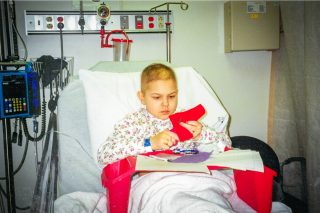 That night a neighbor came to visit with Jessica, and to answer her question. She was uniquely qualified, being a cancer survivor, and having lost a leg to the disease.
"She said, 'Well, why not you? Is there somebody else you'd want to sign up?'" Jessica said.
It was, in essence, the first dose of strong medicine she'd receive as a cancer patient — the wisdom of one who'd been there.
"And when you look at it like that? Yeah, I can do this," Jessica said. "And hopefully we can make something beautiful of it. Hopefully we can make it make sense."
When the family arrived at St. Jude, they were greeted by yet another neighbor, a long-time nurse at the hospital, offering perspective.
"She looked at us and said, 'Jessica, they're going to cure your cancer like the chicken pox,'" Jessica said. "And as a 9-year-old, that's something you understand, you can get your head around. Oh, chicken pox. Everybody gets that.
"She was basically saying, St. Jude has this down. You're not rare here. We know how to do this."
Jessica's journey had just begun, but so had a pattern that would repeat itself again and again. At every turn, there would be someone to help her along the way. Someone to say just the right thing — or just to listen. Someone to understand.
It might be family — her mom, Allison, a "pillar of strength" who already had comforted one family member through a life-threatening disease. It might be her dad, Steve, who offered a cancer survivor's perspective and some pretty good advice: We are nice to our nurses. They are taking care of us. It might be her sister, Jordan, a second-grader at the time who overcame her initial fear — "Is Jessica going to die?" she asked the family — to become a source of strength for her big sis.
"She was almost a caretaker, as well," Allison said of Jordan. "Did you take your medicine, Jessica? Hey, do you want to wear this hat today? And I'm telling you, she was 7 years old, but she owned it, too."
Others who helped were perfect strangers. Perfect, indeed — just what Jessica needed, when she needed them.
Candy bars and pink balloons
Jessica pages through a photo album of her time at St. Jude. A photo album, from a hospital? Sure. A photo album, from a young girl's cancer years? Of course.
Because those two-and-a-half years of treatment for acute lymphoblastic leukemia (ALL) didn't just see Jessica cured. They saw her life's course set. They saw life-changing friendships made, like with fellow patients Ali and Aaron.
And they saw her fall in love with country music — whose artists, fans and radio stations have raised hundreds of millions through the Country Cares for St. Jude Kids® program — and eventually turn that love of country, and of St. Jude, into a career helping the hospital that saved her life.
"Our life is enormously richer for having gone through this," Allison said. "You know, life is full of hard things. And it's all about the journey. This was Jessica's journey.
"And so if we hadn't gone through this, (think of) the people we wouldn't have met and the things we wouldn't understand about life. We've been able to help other people who have had a family member who has been diagnosed with cancer. … We've been able to empathize with people in a different way."
Jessica pauses at a picture of herself with Ali and Aaron. They're all smiling.
"This was a day we had done a Country Cares photoshoot," Jessica said, "and we had split a bag of Mr. Goodbars. Everything got crazy and they ended up really regretting that they gave us all that sugar."
That childhood sugar high is bittersweet today: Ali's neuroblastoma returned not long after the photo was taken.
"When she passed away, she had this huge life celebration," Jessica said. "Her favorite color was pink, so everybody wore pink, and there were pink balloons everywhere."
Ali's mom sought out Jessica and Aaron. There was something she needed to tell them, something they had to know.
"Her mom is burying her daughter that day," Jessica said, "but she comes to find us and says, 'Ali can't be here to fight, but you guys have to keep doing it for her. You have to promise me that you're going to keep carrying the torch.'"
In the photo, Ali is wearing a pink top, and her head is resting on Jessica's shoulders. On the back, Jessica would write: "My inspiration for working at St. Jude."
She was sitting alone in a corner of the crowded hotel ballroom. She didn't feel well, even though it was one of her favorite times of the year as a St. Jude patient. It was the annual Country Cares Seminar, when the country music industry comes to Memphis to celebrate its support of the hospital.
"I loved meeting the artists," Jessica said.
Never mind that she didn't necessarily know who the artists were, at that point. Never mind that Jessica grew up with the pop music that was on the radio, and whatever her musician dad, a drummer, listened to at home.
"Historically, we weren't really in these country circles," Steve said. "We were probably more into R&B and blues and rock 'n' roll circles."
So when the country singer walked up that day in 1999, in the hotel ballroom, Jessica wouldn't have known her if she was the Country Music Association Female Vocalist of the Year.
"This sweet little lady comes and sits down with me," is how Jessica tells the story now. "We just chat, and she tells me she's from Kansas. She tells me she has kids. And I loved her."
"She just was incredibly in the moment with me. It was just the two of us, even though we were in a room with hundreds of people."
And then the small moment ended, like a sweet song fading out.
Later, Jessica told her dad: "I don't know who she is, but we need to write her name down and go listen to her music."
The singer was Martina McBride, that year's CMA Female Vocalist of the Year.
"We went and got her album at the time, which was Evolution," Jessica said, "and there was a song on there called 'Happy Girl.'"
It's a song about finding your way through dark times and hopelessness — being happy, come laughter or tears.
"It sort of became my mantra," Jessica said, "to get me through the rest of chemo."
Jessica is 32 now, and living "this beautiful life," despite after-effects from treatment and significant other health issues.
She had heart surgery about the time she finished college in 2010. She awoke from the operation with a new pain that persisted for a year-and-a-half, and included fluid on the lung. It was eventually diagnosed as an auto-immune disease.
"And with an auto-immune disease, your immune system doesn't really know what's safe, what's not safe," she said. "So it accidentally attacks healthy cells."
That's made her life a daily challenge. She has to pay attention to everything — how much sleep she gets, what she eats, her travel schedule. On a work trip to last year's Academy of Country Music Awards in Las Vegas, she landed in the hospital.
"I have to kind of walk this tight rope to keep my immune system basically at bay and chilled out," she said. "I really just think of it as my immune system hasn't taken a break since 1997 (when she was diagnosed with ALL). It's just so used to being on. Now it's always on."
Also, she copes with osteoporosis — bone disease more often associated with the elderly — because of medication she took first during treatment for cancer and later for auto-immune disease. So she's working with a new doctor — they text daily — to find the right dosage to achieve quality of life without causing long-term damage.
"Today's a good day," she says. "Tomorrow might be a hard one."
Said Jordan, "You would never know it by looking at her, how sick she sometimes is." But sisters can tell: "There's kind of like a certain face she makes, and I know that she's faking (being OK). I'm like, 'You need to go home.'"
On the hard days, you wouldn't fault Jessica for singing that old refrain: Why me? But she says she's thankful, on a daily basis. She's not forgotten her mantra, by way of old pal Martina McBride. She's happy, come laughter or tears.
And she's not forgotten the promise she made to Ali's mom about carrying the torch: Jessica and Jordan work for ALSAC, the fundraising and awareness organization for St. Jude. They're based in Nashville, in ALSAC's Music Row office, helping connect the country music community with the St. Jude mission.
She's even married into the country family — husband Aaron Eshuis is a songwriter whose credits include co-writing Scotty McCreery's platinum hit "This Is It," a song about love, marriage and a perfect kiss.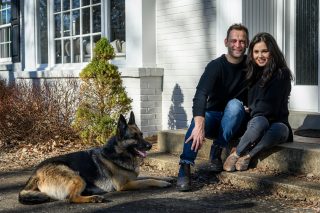 "When I wrote 'This Is It' with Scotty McCreery, I think I had been married to Jess for maybe a year or so," Aaron said. "And this was before Scotty had proposed to his now-wife. So we had a lot to talk about, a lot in common, when we were writing this song.
"Our wedding was still fresh in my mind, so actually the lines for that song came pretty easily."
"It's cool," Jessica said, "how everything sort of weaves together."
Life. Love. Country music. And St. Jude.
"I feel so blessed to get to work here," she said. "Because it's so special to me, just the journey that led me to this job."
But, "We have a lot more work to be done, until none of us has a job anymore."
She laughs, imagining her little-girl dream — and Danny Thomas' dream, too.
"That's our goal, right?" she said. "And I think if anybody can do it, St. Jude can."