Kris Xifos: A Survivor's Survivor
His young life threatened by a rare blood disorder, Kris Xifos grew up to serve his country as a Marine in Iraq and Afghanistan.

June 14, 2019 • 7 min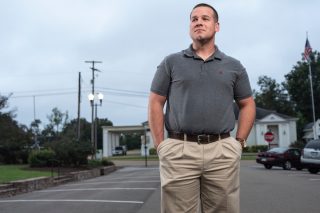 Were you scared?
Kris Xifos was answering for his 22-year-old self, a Marine in Afghanistan at a time when U.S. troop levels were rising to their highest point of the war, when "there was always a risk of someone shooting an RPG or an anti-aircraft gun or something at you."
But he might have been answering for his 7-year-old self, a baseball-loving boy from Louisiana with a rare blood disorder being treated at St. Jude Children's Research Hospital, where his parents were told his growth would be stunted and that he might not be able to have children — if he survived.
"I've been through so much," says Xifos, who's 30 and the tallest member of his family, who's a husband and a father, and a survivor's survivor who can joke about it all now.
"Bound to be here for a reason," he says. "I guess I haven't figured it out yet."
He loved baseball and climbing trees and the Teenage Mutant Ninja Turtles.
"Just your typical 7-year-old boy," says his mother, Debora.
So when he came home from school one day with a couple of bruises, she thought nothing of it, just Kris being Kris. "He would climb on top of anything and jump," she says.
Then Kris's teacher called. She was concerned. Was everything OK at home?
"My first thought was, 'Oh goodness, this lady thinks I'm beating my child or what have you,' " Debora says.
She took him the next day to their hometown doctor in Minden, Louisiana. The bruising suggested leukemia, so the doctor referred them to the Louisiana State University-affiliated hospital in Shreveport. The diagnosis: aplastic anemia, meaning his bone marrow's stem cells weren't making enough new blood cells.
"Their first thing was, let's get you to St. Jude," Debora says. "Which, if they hadn't suggested, I would have."
That's because the Xifoses — Debora and her husband Alex and their sons Drew and Kris and daughter Morgan — lived in Minden, five hours southwest of Memphis but just a heartbeat away from St. Jude.
The Minden St. Jude Auction, founded in 1976 by a bereaved father, has become a $1 million-plus annual fundraiser, making little Minden (Pop. 12,577) the nation's leader in per capita giving to St. Jude.
Everyone in town seems to know about the auction, and many have a connection to it — Debora's grandmother made quilts and ceramics to donate when the auction was just getting established.
Now, in November 1995, Debora's youngest son was a patient at St. Jude, fighting for his little life against a disease that occurs in just one to two people per million a year.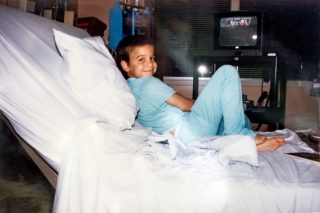 Kris doesn't remember the particulars of his treatment, but he remembers the taste of cyclosporine, an immunosuppression medication. His face sours at the thought of it, nearly 25 years later.
"I can remember being upset over needles, and I can remember the nasty taste of the medicine and that being a bitter thing," he says. "But I can't remember being scared. I can't remember thinking, you know, I'm going to die. None of that.
"I just have memories of laughter and smiles."
And of mom, who went to school on Kris's condition: "She sat in with those doctors and nurses and learned," he says.
Debora laughs and jokingly says: "The doctors hated me the first few months, because I had this notebook and I had all these questions. I would make them wait before I got the answer written down before I'd go on to the next one.
"But after a while, they got used to it. They would walk in, joking, 'OK, what's your question today, Deb?' "
Kris spent about three weeks at St. Jude, successfully treated but with a decade of checkups ahead before he was declared cured as a high school senior.
Ten years is a long time to have a nearly one-in-a-million disease hanging over your son's head — especially since the family was told Kris might develop leukemia as a teenager. But Debora says focus (learning all she could about Kris's condition) and faith ("I'm the daughter of a Southern Baptist preacher man") got her through.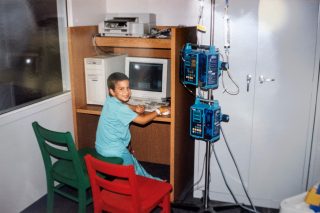 As for Kris, he did what came natural. He went back to being a boy.
"Once the treatment stopped and the checkups started, I mean, it was normal," he says. "They were like, 'Yeah, he should be able to play. We're not seeing any noticeable things, any crazy things. He seems to be perfectly healthy. Let him play.'
"I played junior high football. But high school baseball was the thing. We played fall baseball, spring baseball, summer baseball."
He pitched and played second base. And in the stands was Mom — there for him in the good times, as she had been in the dire ones.
"He could turn around at any baseball game," Debora says, "and I was sitting there in the stands, whether I was hollering for him or hollering at the umpire."
But where he was going next, Mom could not go.
Four big meals a day. Lots of gym time. Daily talks with Mom back home.
Kris's first deployment, seven months in Ramadi, Iraq, starting in the summer of 2008, was all about peace, not war.
"I don't think there was a single shot fired our entire deployment," he says. "Ramadi was a terrible place to be, about 2003, 2004. Then they really got it straightened out. By the time my battalion made it to Iraq, it was more of a peacekeeping mission.
"The town was pretty much 100 percent liberated as far as terrorism goes. We were just going through rebuilding schools and rebuilding buildings, doing things like that."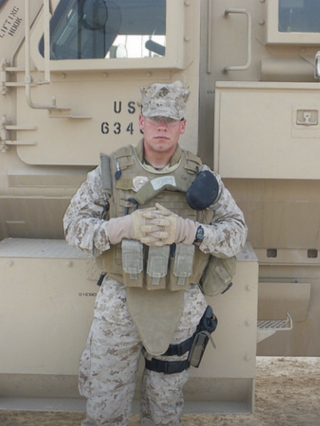 Which hardly prepared the 1,000 or so battalion members for their next deployment, to Marjah, Afghanistan, in 2010 — the deadliest year of a war that began in the wake of the Sept. 11, 2001, terrorist attacks on the United States.
Now was he scared?
"Yeah, I mean. Yeah, I guess you can say. I don't know how to explain it to you," he says. "I wasn't something's-under-my-bed scared. But it was — when you're 19-, 20- 21-years old, and you're all of the sudden thrust into a war zone, buddies you know are dying, and you develop a certain mentality and a certain way every day that you'll never forget when you go through something like that …"
Later, he answers the question more bluntly:
"If anybody tells you they went over there and were never scared, they're lying."
Kris was a radio operator, so the majority of his missions were taking cryptography from the main base to forward operating bases (FOBs). "We had guys operating out of these FOBs throughout a big area of operation," he says, "and I would fly in to each one and update their radios, and give them crypto, which is what kept our radios secret — cryptographic keys and things like that."
The missions tended to be at night, so their Ospreys — aircraft that take off and land like helicopters, but fly like planes — were less of a target for RPGs and other attacks.
Not that enemy fire was the only worry for a young radio operator aboard the strange bird that is the Osprey: "They crash a lot," Kris says. "It's not something that I liked to know when I was over there."
He says about 10 members of his battalion didn't survive the deployment. Kris, then, was fortunate, but he'd also learned a thing or two from his mom — focus on the task at hand, and keep faith in God.
Kris remembers some nights in Afghanistan when he was "especially attentive to prayer."
"Some nights," he says, "I felt like I was the only one who had His ear when I did pray."
Home, family and the road ahead
She asked about the scar on his chest.
It's where his catheter, his Hickman line, had been. It was the start of a long story about a little boy, a rare disease, and an uncertain future.
It was a 7-year-old's version of a war story.
"Of course, when he told it the first time, it was like an in-and-out thing. He didn't want to make a big deal about his (blood disorder)," says Layne, Kris's wife of six years. "But the more and more I found out, I realized, oh my goodness."
They had met between his deployments, and married in 2012, a year after he returned from Afghanistan. They live in her hometown in Mississippi. She teaches high school math. He's the superintendent of the local water department.
They wanted children, eventually, but knew what the doctors had said: It might never happen.
"My wife and I, we're not the world's best planners, but we wanted to do a few things before we tried to have kids," Kris says. "We wanted to travel a little bit. We wanted to buy a boat. All of which we did.
"Then we said, well alright... whatever the Lord's will is, we'll let it happen.
"Then a month later we're pregnant."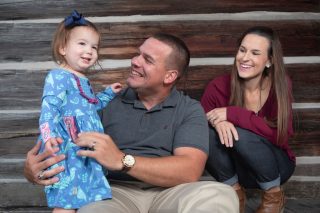 Their daughter Aaryn was born in 2017. She's healthy, happy, and, Kris notes with pride, big for her age. A recent visit to the family's home found her watching her favorite cartoon, "Ruff-Ruff, Tweet and Dave," and, after a few wary moments sizing up a visitor, bouncing a ball with him.
Later, over dinner at a local Mexican restaurant, she found some creative uses for cheese dip.
Kris fawned and marveled, fully aware all of this was in doubt for his 7-year-old self. His growth was supposed to be stunted but he grew up to play high school sports, serve in the Marines — and run the St. Jude Memphis Half Marathon. He might not be able to have children, doctors said, and yet there she is.
"And it all goes back to those doctors — to that hospital in general," he says. "And the people in Minden, who do what they do. They're people who wake up in the morning and think, 'What can I do for someone else?'
"I'm here, because of that."
Why him? For what reason did Kris Xifos survive a rare blood disease — and war, too?
He may joke but he knows.
She's there beside him at dinner, with cheese dip in her hair.