Maine woman runs through pain of cancer for
St. Jude

kids facing their own marathons

July 06, 2021 • 6 min
BLUE HILL, Maine — Sarah Emerson was running in a driving New England rain, carrying the initials NB scrawled on the back of her shoe and a year's worth of ache in her heart.
She ran up a hill to Hereford Street, took a left onto Boylston Street. Rivulets of cold water streaked on her face. It was 40 degrees. Sleet was falling. She headed toward the blue light of the Boston Marathon's finish line illuminated in the fog.
For the Maine mom, running had long become a way to help those in need — especially Nicholas, a local St. Jude cancer survivor whose family she'd grown close to and whose initials adorned her sneakers.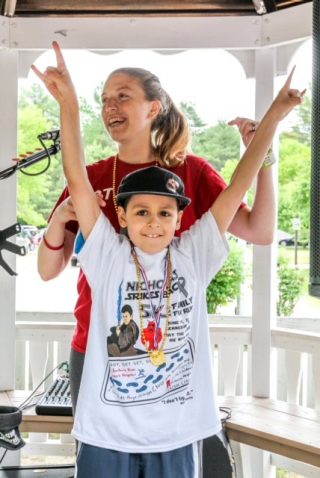 But in the previous year, her own cancer diagnosis made her the person in need. And like the 26.2 miles she desperately wanted to finish on this April day in 2018, it hadn't been an easy road.
The road started for Sarah in Maine's idyllic, 2,600-resident Blue Hill, perched among the pines of the rocky coast just west of Acadia National Park, where she grew up.
She hated running as a child. She even chose to play goalkeeper in soccer so she didn't have to run.
But Blue Hill was also a tight-knit New England town with no strangers, where people were always looking to see how they might help a neighbor. "If you were in trouble, I could walk into a store and tell them who my parents were, and they'd say, Oh yeah... and help me out," she said. "Everyone was watching out for everybody else."
She took those lessons to the University of Southern Maine, studying therapeutic recreation and later working in Portland, Maine, helping those with psychiatric illnesses and substance abuse disorders, and as a coordinator at a residential treatment facility.
Her distaste for running took a U-turn when a friend asked her to watch a race. "I just got inspired and motivated. I went right to the gym and got on the treadmill and just ran," she said.
Sarah soon began running marathons, and, in her childhood-bred drive to help others, would occasionally run for a charity team. Then a Memphis friend talked her into joining the 2015 St. Jude Memphis Marathon Weekend. She registered as a St. Jude Hero to raise money for St. Jude Children's Research Hospital's lifesaving mission.
It turned out to be a path-shifting course.
"I raised enough money to get the tour of the hospital. I grew up seeing these ads on TV, so seeing the kids in the red wagons... it was incredible," she said.
Knowing that families never receive a bill from St. Jude for treatment, travel, housing or food moved her. "When I ran, all the spectators were like, 'Thank you so much,'" she said, recalling being motivated by people holding signs reading, "I've had 42 rounds of chemo, you can do this."
The minute she crossed the finish line, she knew she wanted to do more.
Back in Maine, she called the Boston office of ALSAC, the fundraising and awareness organization for St. Jude. Through her work with them, she learned about a family in Kennebunk whose son Nicholas was in year-long treatment for brain cancer.
His parents, Nicole and her husband Justus, a carpenter, had moved to Maine in the fall of 2014, when Nicholas was in fourth grade. The following April, Nicholas, then 9, came home with a headache that wouldn't go away. Nicole was sure something was wrong. She sat in a doctor's office until they agreed to send him for a brain scan.
Back home, the doctor called as her husband returned from work. "Go to the hospital," they were told.
"We made some of the hardest phone calls ever to arrange care for our younger children. In all the rush of shock and fear, we stopped and prayed," she said.
Nicholas was diagnosed with medulloblastoma, a type of brain tumor. Because it was an aggressive cancer, they opted to go to St. Jude for a year of cutting-edge treatment that Nicole said would not have been covered through their own insurance coverage.
"It was a blessing... it allowed us to focus on Nick without the burden of what all of this would cost: the clinic visits, physical therapy, radiation treatments, occupational therapy, school, dentist, pulmonologist, audiologist, endocrinologist, ophthalmologist, chemotherapy treatments, even pet therapy and music therapy and more, all of which we never received a bill for," she said.
"I don't know if Nicholas would still be with us, if not for St. Jude and the people who make each day there possible," Nicole said.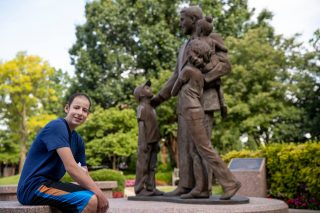 After a year of treatment, Sarah organized a welcome-home fundraiser for Nicholas in Kennebunk, not far from her home in Westbrook, just outside of Portland. There were food trucks, a 5K run and music. A local ice cream company created a "Nicholas Strikes Back" flavor. Nicholas, wearing a cap backward, was interviewed on TV and called it "really awesome."
Nicole and Sarah became friends.
"She threw us the most amazing Welcome Home," Nicole said. "And we just related mom–to-mom and our kids are about the same age. We just had a lot to talk about."
Sarah had found an abiding passion, and created a St. Jude team for the Mount Desert Island marathon. She later ran up New Hampshire's Mount Washington in a St. Jude Hero cape, a 6,800-foot altitude gain she said was "no joke." She coordinated and ran a 12-hour run around an outdoor high school track. She returned to Memphis for the 2016 St. Jude Memphis Marathon Weekend.
"When I learned about all the hard things Sarah does to raise money for St. Jude, I thought she was crazy!" Nicole said. Sarah replied that the more difficult it is, the more people donate.
Then, in March 2017, Sarah was going to a routine checkup. So routine, she almost cancelled it. But the tests found a lump in her breast that turned out to be cancer. Nicole told Sarah they loved her.
"Everything Sarah did for St. Jude and for us. And now she's living it," Nicole remembered thinking. "It's just not fair."
"I remember her explaining to me how she could relate to those first few moments of finding out that cancer is now a part of your life... I told her we loved her. She said she was going be OK. Just like Nick, and that he was her inspiration."
But it was still scary. Sarah, 33, had a son, Tyler, who was seven years old. She and her husband Ruddley had just ripped apart their downstairs for a renovation. Ahead was a double mastectomy and 20 weeks in chemotherapy.
Nicole's family gave gifts that helped their son get through treatment, including an essential oil diffuser and fuzzy socks. Nicholas, who was 11 at the time, made Sarah a card to offer his own advice from one cancer survivor to another.
"I think Nick did more than I did, just being there for her. She knew what he experienced and just how well Nicholas is doing right now, knowing that she could see that and know that she could get through this," Nicole said.
Meantime, in a way that would have made Blue Hill proud, Sarah's friends and neighbors, including Nicholas' dad Justus, swooped in to finish their half-finished house renovation.
"It was like an extreme home makeover," Sarah said. "There were electricians wiring my lights, there were people laying floors. And Nicholas' dad came in and plumbed our toilet and installed a new shower for us… I kept saying, I can never repay all of you."
Sarah made it through her treatments; the cancer was abating. For Sarah, it only strengthened her resolve to help St. Jude.
"After going through it all myself, when I was in the throes of having to do treatment and paying for it and managing all of those things, and really realizing how special St. Jude was," she said.
The day after she had her 15th round of chemotherapy, Sarah, still bald from treatment, competed in a 10K near Cape Elizabeth wearing a sign on her back that read "I had chemo yesterday. You can do this."
While still finishing treatment, Sarah decided to apply to be one of 13 St. Jude Heroes running in the famously challenging and competitive Boston Marathon. It would take place in April, roughly a year after her diagnosis.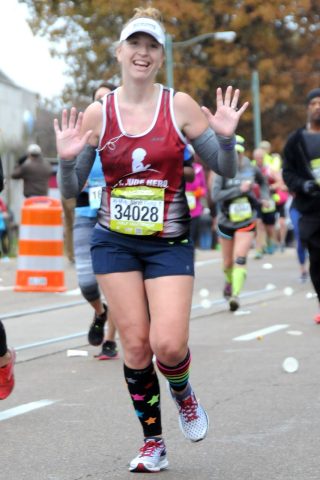 "I was also incredibly grateful that I was alive to be there," she said.
She began training for the marathon. At first, her lungs burned from the medicine. But she grew stronger over time.
When the April weekend finally arrived, the weather was miserable — so bad she told her son and husband to stay in the hotel. Running meant she would raise over $11,000 for St. Jude.
She wrote the initials NB on one of her blue sneakers that were also decorated with Maine lobsters, and wrote the name of a friend who'd battled cancer on the bottom of a shoe so she could "feel like I'm carrying them with me," she said.
After 5 hours, she was heading toward the finish. Her body hurt. One step in front of the other, she told herself.
In that moment, in the pouring rain, she felt like she was symbolically ending her journey with cancer.
As the finish line came into sight, she tilted her head back and stuck her arms out. A grin spread across her face.
Wow, she thought. I'm alive. I made it. And so did Nicholas.