'Fat Cat' hooks Minnesota fishing fans with humor and the hard reality of his cancer as a child

July 06, 2021 • 6 min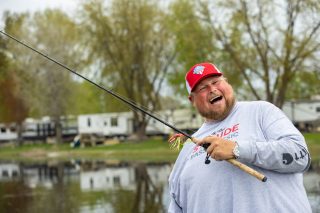 WABASHA, Minnesota — He's got a big, booming voice, a big laugh and big personality — as big as the Great Outdoors, you might say. And then there's his physique.
Well, people call him "Fat Cat" for a reason.
B. "Fat Cat" Newton once again arrived in this river town of 2,700 in early May to serve as emcee for the Dick Hiley St. Jude Bass Classic, an event that annually attracts scores of sport fishermen from across the Upper Midwest. Now in its 23rd year, the tourney has raised some $4.6 million for St. Jude Children's Research Hospital.
Nestled along a stretch of the Mississippi River laced with islands, side channels and lakes, Wabasha is renowned as a fishing mecca, the local waters teeming with blue gill, walleye and bass.
But Newton, a Virginia native, doesn't travel all the way to Minnesota for a bass tournament just because he's an avid angler — or, as he likes to say, "the best fisherman I've ever met." He comes as a survivor of childhood cancer, one who is a big believer in the mission of St. Jude, even though he wasn't treated there.
"I became a part of it (the tournament) because of St. Jude," Newton said, "and what St. Jude stands for and what they do."
For the bass tourney and St. Jude, it doesn't hurt that wherever he goes, the 42-year-old Newton is shadowed by a large and devoted social media audience — nearly 101,000 followers on Facebook and 42,500 on Instagram — drawn to his entertaining, often-slapstick posts about fishing and all things outdoors.
To get an idea of his brand of humor, think of famous comics through the years who have derived laughs from their roly-poly girth, made it part of their shtick. Think Chris Farley with a rod and reel.
In a video that has drawn 9.7 million Facebook views, Newton's belly billows out from a way-too-small shirt and laps over tight elastic pants as he pretends to be a high-kicking, nunchuck-swinging martial-arts fighter ready to defend himself against an irate property owner on whose private pond he has trespassed.
In another farcical piece seen 216,000 times on Instagram, he stares into the camera, eyes ablaze, holding up what appears to be a bass in a wrapped package, suggesting that a market has committed the sacrilege of selling an iconic game fish for food.