Blind child's heartfelt, 75-cent donation to
St. Jude

decades ago resonates with Washington man even today

July 06, 2021 • 6 min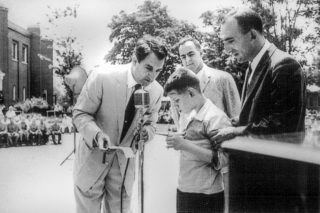 RIDGEFIELD, Washington — Nathan Ehline wasn't supposed to live.
His mother's water broke at 18 weeks, and she carried him with only a teaspoon of amniotic fluid under his neck until he was born at 31 weeks.
The prognosis was bleak. Walnut-sized lungs, the doctors said. He weighed 3.6 pounds.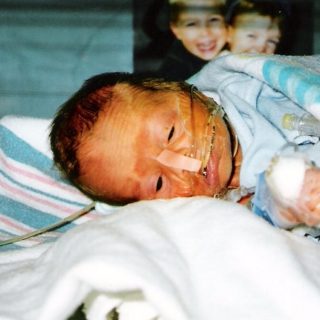 "At first, we were planning his funeral," Nathan's dad, Brian Ehline, said. "And then the doctors came in a little more giddy. They said, 'This is going to be a roller coaster. You're going to have times when we don't think it's going to be good, times when we think it's good.'
"Probably about a month into it they were like: This young man is going to make it."
That's when doctors told the Ehlines about Nathan's cerebral palsy — a condition that developed because of lack of oxygen to his brain. Even though the Ehlines took Nathan home, his survival was still uncertain.
Nathan's dad ran tubes down the hall of their 800-square-foot farmhouse so they could move him from bedroom to living room and still provide the oxygen he needed to live.
They made their home in Ridgefield — still do — a small town surrounded by fertile farmlands and forests on the border of Oregon, about a half hour north of Portland. It's the kind of place where kids grow up with the same classmates all the way through high school in a bucolic setting along the Columbia River and a view of Mount St. Helens.
With loving care, Nathan thrived.
That was 23 years ago.
All his life, Nathan has needed a wheelchair and help from a lot of people — parents, teachers, doctors. It's one of the reasons he finds such joy in helping others — because he's received so much himself. It's why he raises money for charity, too, including St. Jude Children's Research Hospital.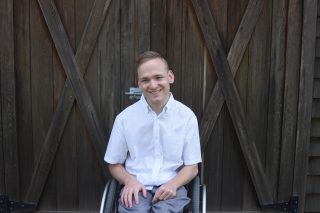 His story is reminiscent of another young man with a big heart — one with a similar condition who made a modest but meaningful gift that dates back to a time when the hospital was still just Danny Thomas' dream. That story is now part of St. Jude lore.
Nathan would learn the boy's name — Billy Johnson — and all about his life-changing gift in 2019.
Prayer for a friend leads to surprising connection
The Ehline family had for years gone to see Nathan's uncle John Elefante, frontman for the rock band Kansas, perform at the annual Warburton Celebrity Golf Tournament, a fundraiser for St. Jude. But their first personal connection to the hospital was through a little boy at church. He had a rare skin cancer and was being treated in Memphis.
A family of deep faith, the Ehlines often prayed for him.
"I can't separate my faith from what happens," Nathan's dad, Brian, said. "And there's a verse in first Corinthians: Blessed be the Lord God who comforts us in all of our afflictions that we may, in turn, comfort those with the same comfort which we've been comforted.
"And that really sums up how we feel as a family. And I think when you have purpose you have hope."
That little boy's mom from church, DeeAnna Janku, works for ALSAC, the fundraising and awareness organization for St. Jude, in a field office near the Ehlines' home in Ridgefield.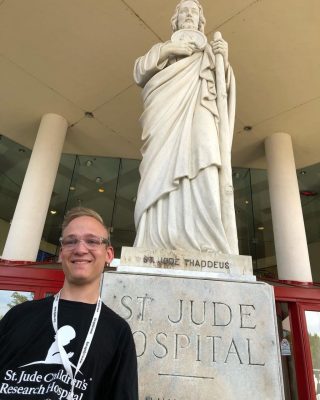 She knew Nathan, with his generous spirit and irrepressible optimism, would be perfect to join the St. Jude Leadership Society in nearby Portland. It's a philanthropic program for high school students to develop as leaders and support the work of St. Jude.
Nathan flew with his dad and a handful of other high schoolers 2,000 miles to the city best known for blues and barbecue — and for the hospital that saves the lives of children with cancer.
"When I rolled into the hospital, everybody was just so joyful," Nathan remembered. "I was caught off guard. I was like, 'Oh wow. This is nothing like I envisioned in my head. … It hit me that there are people who are worse off than me. I have a way better situation than they do."
75 cents from a boy in a wheelchair
On a tour of the hospital, DeeAnna led Nathan down a long hallway lined with plaques of donor names — floor to ceiling, end to end. At one end was an inscription about a young boy named Billy Johnson who was blind, partially deaf and stricken with cerebral palsy who in 1959 handed Danny Thomas 75 cents — a 50-cent piece and a quarter — to help the kids at the hospital the entertainer wanted to build.
That gift of pocket change is now sealed in the cornerstone of the marble statue of St. Jude Thaddeus unveiled during the 1962 hospital dedication.
When Nathan heard about Billy — and his physical condition and the gift he gave Danny — he felt both moved and connected to the long-standing mission of St. Jude in an even bigger way.
"I was like, wow, I'm part of history in a sense now," Nathan said. "I'm another kid just like that guy in the wheelchair. And I'm so honored to be a part of that history."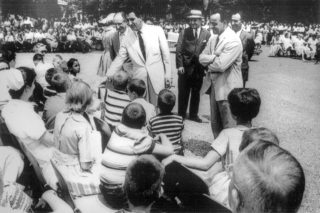 But Billy Johnson's story is more than the soundbite version that often gets told, richer than the inscription people might miss in the abundance of art on the hospital walls.
It was 1959 when Jim Maloof — a confidant of Danny's and one of the first businessmen he approached with the idea of St. Jude — invited the entertainer to his hometown of Peoria, Illinois. Both are dead now, but Jim Maloof's son Michael remembers his father telling the story all his life.
"They got in the car, and the state mental hospital is in a place called Bartonville," Michael recalled. "It's no longer a place. … And Dad didn't tell Danny where they were going. 'Jim, you know I gotta be back to make a presentation. Where are we going?' 'Danny, listen. Don't worry about that. Don't worry about that. Just trust me.'"
He tells the story just like his dad.
The car crested a hill near the imposing limestone building. There, just over the ridge were 200 people — nurses in their white uniforms and hats, doctors in white coats and hundreds of children.
"Danny is handed this microphone," Michael said. "'Thank you for having me here.' … So this little boy in row two yells: 'Danny! Danny!' He stops, he looks over, and the nurse wheels him out. 'Danny,' he says, 'I have something for the kids.' He has this envelope. He says: 'I've been saving my money because I want to help a child.'"
Danny Thomas knelt down in front of the boy and placed the young man's hand on his cheek, offering reassurance it really was him. His name was Billy Johnson, the boy said. He was 11 years old. Holding the white envelope with shaking hands, he explained he'd been saving his candy and gum money to help the children the entertainer was trying to cure.
Danny Thomas began to weep.
"'Thank you,'" Michael said, quoting Danny's words from his father's oft-told story. "'This will be in my cornerstone. I don't think I've ever seen a more genuine expression of generosity in my life. I will remember you always.'"
Here was a boy who needed as much help as the ones Danny Thomas was trying to raise money for, Michael said, but he wanted to help the cause.
"This kid didn't know anything about money," he said. "He just had it in his heart to give to another child. I can't tell it without crying. It took them by such surprise. No one had any idea."
Nathan didn't know the whole story of the 75 cents when he saw the inscription that day at St. Jude, but when he was later told, it got him talking about generosity and influence and taking care of other people.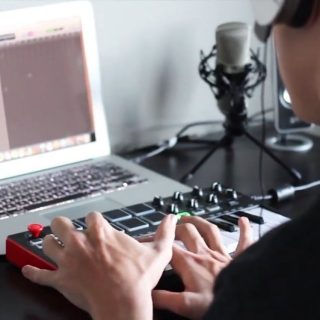 Nathan himself has raised $3,000 for St. Jude through his social media accounts. He's best friends with a singer in the boy band Why Don't We so he's got a big platform — 38,000 followers on Instagram alone.
"I love to make people happy," he said. "That's one of my mottos I live by. We need more people to take care of those less fortunate in life."
Being part of the St. Jude lifesaving mission for children with cancer is something Nathan is proud to be part of. He wants to be an example of generosity.
Just like Billy Johnson was with his 50-cent piece and a quarter.
"It's not a big amount of money, but to share it means the world," he said.
"If you had 75 cents, what would you do with it?"