Charity Born of Tragedy
Volunteering for
St. Jude

put purpose back in a grieving widower's life. His grandson's own childhood cancer fight gave that purpose a name.

April 24, 2020 • 4 min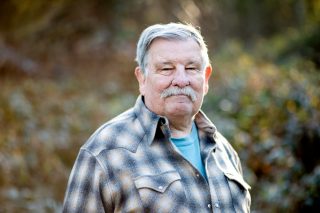 It was 1987 and John Nagle's wife, Virginia, known as Ginger to everyone, had died. He was standing in his back yard in Long Beach, California, with his mother-in-law when she said, "There is no pain greater than the pain of losing a child."
John's eyes were trained over her shoulder at his own kids: two boys, two girls. When their mom died, they were 7, 9, 17 and 19.
"Oh my God," he thought. "What would I do if I lost one of these kids?"
John was working a job requiring travel but as a newly single father, leaving his kids each week wasn't tenable. He needed a new job.
That new job was in Washington state, at Boeing. Not long after the family moved, John was walking through a mall where volunteers for St. Jude Children's Research Hospital were asking for a $10-a-month donation to become a St. Jude Partner in Hope.
With his mother-in-law's words still on his mind, John thought "it would be a perfect tribute."
It wasn't an easy time financially, but John signed up. He didn't know it then, but it was the beginning of a relationship with St. Jude that would last decades and become deeply personal.
Soon after signing up as a Partner in Hope, he began volunteering for the KMPS-FM radiothon, where the first call he took resonated deeply.
"It was a gentleman, his voice was rather cracked – for most of them the reason they are calling is that cancer has affected their family. I'm listening to his story and he's telling me that his wife had passed away a year before and he had just been diagnosed himself."
He'd live a full life and accepted his fate, the caller told John, adding, "But these children, we've got to do everything we can to help them." He pledged $1,000 per month to St. Jude.
That was in 1989 and John would become a fixture of every KMPS radiothon until the station was sold in 2017.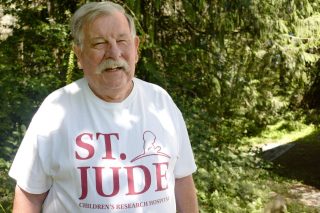 Over the years John's sense of obligation and service to St. Jude has grown. "Doing this work with St. Jude, never did I see it coming back to me – this was me giving – other than the feeling that I know I'm doing something good."
It became personal, however, with a visit in 2000 from his daughter and her family. John was at work and everyone else was tubing down the river. John's grandson Nick, 14 at the time, was bored and off by himself, throwing rocks into the river.
"He threw one and his arm just snapped in half," John said.
The family rushed to the hospital. "I'm in the room with my daughter when the doctor came in and said, 'There's a lump in there,'" John recalled. Tests were ordered and the family went home before getting a phone call from the doctor who wanted them to meet him in his office in 45 minutes.
"He said, 'Your son has cancer. Osteogenic sarcoma – bone cancer,'" John said. "So I know what that feeling is like when a parent gets that news."
Though his grandson was going to be treated at a Seattle hospital, John needed information and reassurance. He called St. Jude. "I just wanted to know what we were dealing with."
He received a packet from St. Jude with details to help his family make sense of the coming year. And though Nick was being treated in Seattle, some 2,200 miles away from Memphis, Tennessee, two of the protocols used to treat him were developed at St. Jude.
Nick responded to the treatments, but he was weak. He didn't like the food at the hospital. He begged his grandfather to make a lasagna and bring it to the hospital. John said he would, but only if Nick promised to eat it.
"It's a big deal to make that lasagna. We're talking a two-day process," John said, laughing. "I wasn't going to make it if he wasn't going to eat it."
Not only did Nick eat it, he ate everything John brought with him. "It got to be quite the joke with the staff, 'What's Nick got to eat for dinner tonight?'" John said. And it was just what Nick needed.
"The treatment was complete, and he did very well," John said. "He was 14 then, and now he's 33."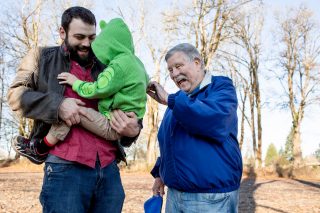 John's volunteer shifts at the radio station were different after that. Before, he was a committed volunteer, paying a lasting tribute to his late wife. After Nick's illness, treatment and recovery, he had his own story to tell. Those volunteer shifts gave him "an opportunity throughout the day to talk about Nick."
And John could speak to the very real, very tangible, very effective protocols developed at St. Jude, because they helped save his grandson.
John continues to volunteer today, whether it's the St. Jude Rock 'n' Roll Seattle Marathon, a golf tournament, or a gala or songwriters' showcase. "Any event, I am there from the beginning to the end."
He shows up year after year, decade after decade, because he knows that by helping St. Jude, he is helping make a difference in the lives of children everywhere.
He knows it, because he's seen it.