Hardwood hero:
St. Jude

patient stars on Iowa State Cyclones' team without scoring a point

July 06, 2021 • 6 min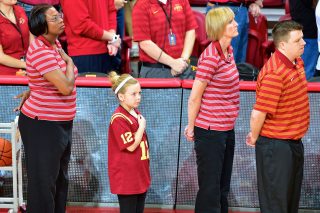 AMES, Iowa — When Iowa State University women's basketball coach Bill Fennelly was diagnosed with cancer in 2011, a member of his team offered up some advice.
It was 5-year-old Elise, a patient at St. Jude Children's Research Hospital who had become a special member of the Cyclones — and had faced cancer herself a year earlier.
"Don't worry about when you go to the doctor," Elise told the Coach, later asking her mother, "Does he want to go to St. Jude? I'll go with him."
What brought Elise and her family together with Fennelly and his team — and has kept them together ever since — is a story of fateful encounters, beating the odds and the power of love and community.
And it's a story that helped spread awareness and support for the lifesaving mission of St. Jude across the college-basketball crazed state of Iowa.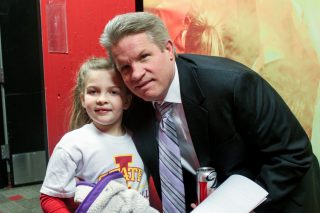 The story really begins in 2005, the year Elise was born.
Her mother, Wendy, likes to joke Elise came out of the womb talking. By the age of 4, she was a sweet, blond, chatty child who liked to boss her twin brother, Evan, around in the family's Iowa home.
One night in 2010, Elise didn't feel good and stayed home from preschool. She didn't even want ice cream. When she got out of bed to walk to her mother, she fell over. Holding her, she was listing to one side. Wendy, an operating-room nurse, insisted she be given a brain scan.
It was probably nothing, she was told. But Wendy could see in her eyes something was wrong. Indeed, the results were devastating. "Elise has a large lesion on the back of her brain, and we don't know what it is," she recalls a physician telling her. "But I knew."
And soon enough, doctors said the tumor, a medullary brainstem glioma, was in a part of her brain many surgeons are unwilling to operate because of the damage it can cause.
The week before Easter, doctors predicted Elise, just a few months shy of her fifth birthday, had six to 18 months to live.
"I'll never forget sitting in that little room after her MRI, (and doctors were) very adamant that time was of the essence and we needed to start treatment immediately," Wendy recalled.
Instead, amid blinding grief and worry, she made a fateful decision.
"If this is the last Easter we'll have her, I think we'll just take her home for the week. We just want to be home as a family," they decided.
Not long after, a pediatric oncologist who was going to work at St. Jude on cutting-edge treatments for the kind of tumor Elise had called and offered help. In an appointment, the family got the first glimpse of hope.
In Memphis, with Elise moody, emotional and suffering dizzy spells, St. Jude doctors were able to perform a difficult brain tumor biopsy and realized it hadn't spread as widely as feared.
Wendy said she adjusted her prayers, from 'maybe they'll scan her and they'll say, 'Oh, we made a mistake, there's really nothing there,' to thinking treatment might allow her to live longer but that she would know 'when enough is enough for her.'
Elise began treatment at St. Jude. Doctors made the family feel comfortable — with nurses nicknaming Elise "Princess Cupcake" because she was so cute. And even when treatment had to be adjusted, doctors reassured them: "We are not giving up. We're going to get this figured out."
Halfway through nearly two months of treatment, during which she lost patches of hair and suffered radiation burns, she started doing better. The tumor was no longer growing, and they later found it had shrunk 25%. She had no more symptoms or dizzy spells.
They returned home to Iowa that summer uncertain of what was ahead, even as Elise, a little girl who loved dancing and art, began attending kindergarten.
Within a few months, Wendy got a call from the Friends of Jaclyn Foundation, which pairs children battling brain tumors and other cancers with local high school and college sports teams. They asked if Elise would like to become an honorary part of the Iowa State Cyclones women's basketball team.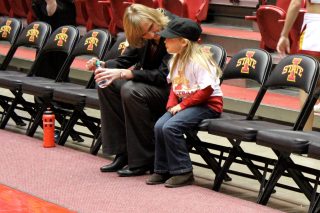 "My husband and I talked about it, and said, 'We don't know how long we're going to have Elise. We don't know how well she's going to do. Maybe this is something really special we could do with her to create memories and kind of offset the cancer treatment.' So, we said yes," Wendy recalled.
It's important to remember college sports in Iowa are "a pretty darn big deal," said then-Cyclones player Kelsey Bolte-Carper.
In a state with no professional sports teams, women's basketball draws about 10,000 fans a game to the Hilton Coliseum in Ames, about a half-hour drive north from Des Moines.
Elise arrived at Hilton to find her name on the coliseum screen. "And they did this big adoption ceremony in the press room, where they had her sign a letter of intent to become a member of the team at a press table with microphones," Wendy said.
Elise was given a giant cookie with "welcome to our family" written in icing. "We had the whole team there. She got a locker, and they became part of the family. And it just kind of grew from there," Coach Fennelly said.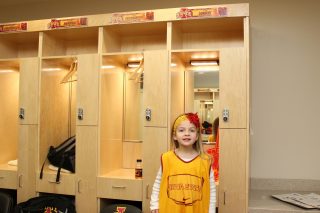 Elise and her family made most home games, on the bench during warmups and standing for the national anthem with the team. She spent time in the locker room. She rode the team bus with her family for away games. Elise became a team ambassador.
"I liked talking to the girls, they were older girls. So, it was cool. And they would have me throw shirts, meet people, shake hands," she recalled.
She also wanted to hug everyone. For players, having her around made it easier to forget a bad play. Before games, she'd talk to coaches and then come sit with her parents in the stands, saying things like, "We're supposed to watch number 34."
"There's a photo of her standing while they played the national anthem of her in my practice jersey. She's probably six. It makes me emotional thinking about it," Bolte-Carper said. "She was part of our family. At times, it felt like we were playing for Elise."
As Elise and the team bonded, she also became a fan favorite, helping the story of St. Jude ripple out across Iowa.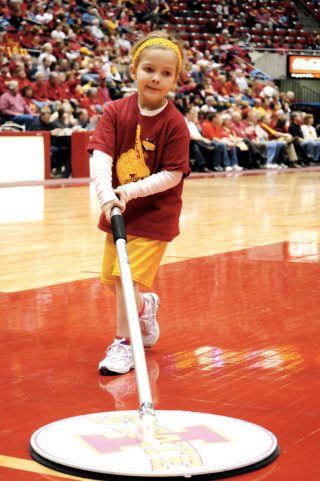 "I'm like most people, I've seen the amazing St. Jude commercials. But until it hits home, sometimes it doesn't resonate," Fennelly said. "For our fans and for our program, it resonates because one of our own is impacted. It gave us a chance to talk about her and give people an understanding of what St. Jude means."
Barely a year later, in 2011, the tables were suddenly and unexpectedly turned. Coach Fennelly announced he would begin five weeks of radiation treatment for an invasive cancerous lesion on his vocal cords.
He said it was "nothing like what Elise had to go through." Still, this time, it was Elise's turn to make others feel better.
"We had conversations (about it). And I still have some notes that she wrote me, like, 'Coach, it's gonna be fine. If you need anything…'" he recalled. "She's telling me, 'Don't worry about it when you go to the doctor.' And I think initially she thought I was going to St. Jude with her, which would have been great."
With treatment, he got better. And Elise did too — with no symptoms flaring up over the years as she stayed close to the team even as players came and went, attending Christmas parties and going to games.
This year, now 15-year-old Elise celebrates her 11th year with the team. She's a straight-A freshman in high school who plays the clarinet in the marching band and takes ballet classes. College is years off, but she's thinking about Iowa State.
Bolte-Carper, now a real estate agent, has stayed close to the family, as have others including Coach Fennelly. And to Elise — whose mother recalled her saying first at age 6 that, "Without my cancer, I wouldn't have my team" — the experience was irreplaceable.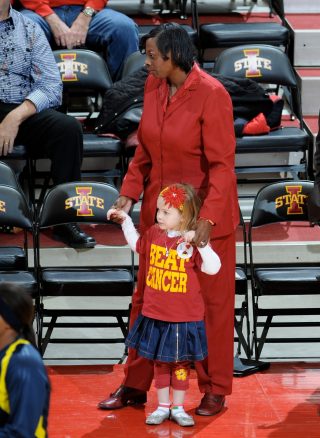 Wendy said the team's presence in Elise's life added hope in a dark time and created a powerful, life-long community bond after it "really blew up into something more than I thought it was going to be. They took on Elise, but not just Elise, our whole family," she said.
Fennelly said that while it began as a way for the team to positively impact people's lives, "I think we gained more from it than anyone … It's been so rewarding to watch her grow, and such a blessing to see after 10 years where she is today."
Elise's tumor itself is still there, Wendy said.
When she's fixing her daughter's hair for a dance and notices the little blue tattoo dots behind her ears where radiation was once directed, they now seem like a blessing. A sign of the lifesaving impact of St. Jude in their lives.
And the symbol of their story of community and love that spread across the cornfields of Iowa.