How
St. Jude

(and Rock 'n' Roll) Saved His Life
Vince Murray's fundraising thank you to
St. Jude

is set to a rock beat with 'BOOM! BOOM! Out Goes Childhood Cancer'.

July 16, 2020 • 4 min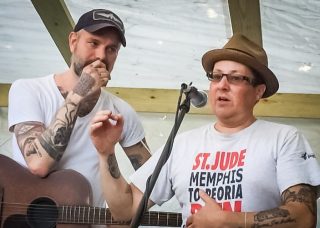 How do you never forget a place you barely even remember?
It sounds like a riddle. Or better still, a line from some yet-to-be-written rock 'n' roll song. Vince Murray — aka, Vinnie Boom Boom — would love the latter, music fan that he is.
He likes to say St. Jude Children's Research Hospital saved his life as a little boy, and now music saves it every day.
St. Jude and music.
His lifesaver and his lifeblood.
So, of course, he's found a way to bring them together in what you might call perfect harmony.
Or, as Murray puts it, a little more raucously, "I created and developed an event by colliding my two passions — music and St. Jude."
The event is "BOOM! BOOM! Out Goes Childhood Cancer," a concert fundraiser staged on a Saturday afternoon every summer in the side yard of a neighborhood corner bar called Grumpy's, in Northeast Minneapolis. It's raised almost $70,000 — and counting, even in this year of COVID-19, thanks to a virtual version for year 10.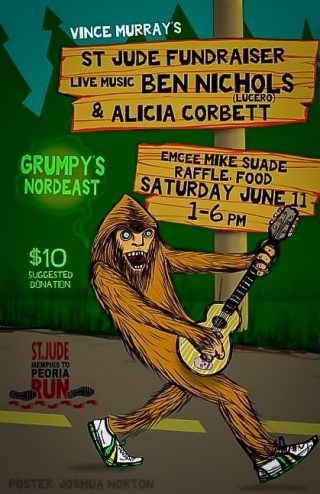 "It's been completely grassroots," he said. "I still haven't done a ton of media blasts or anything like that. Yeah, it could probably be a lot bigger, and who knows? Maybe someday it will be. But I kind of like the intimacy of it."
The musicians are Murray's friends — friends who happen to be accomplished artists with national followings, like Ben Nichols. He's the lead singer of Vince's favorite band, Lucero, which is just coincidentally based in Memphis, like St. Jude.
"He's always my headliner," Murray said of Nichols. "He's my ringer, as I say. He brings in the people."
One year, Nichols, also an artist, auctioned off one of his drawings from the stage during his set. When two enthusiastic bidders reached $1,000, Nichols pulled out a second drawing.
"Each guy paid the $1,000," Murray said. "It was a crazy moment. I was blown away. You couldn't have scripted it any better — or at all."
Nichols was back for this year's event — a sort of lower-case Boom! Boom!, owing to the pandemic. He performed sans crowd from his band's practice space, opening his set by talking about a cause he knows well, from living in Memphis and having toured St. Jude.
"I was really struck by how positive a place it is," Nichols said. "It doesn't feel like a hospital — and that's very intentional on their part. They're very smart about how they build the place and how they run the place.
"So much thought and compassion is being put into the care they provide. I was really impressed just in the overall feeling of the place, and the hopefulness and the optimism and positivity that's there."
Then Nichols, in his trademark gravelly voice, launched into a song off the band's early album, Tennessee — the album that first turned Murray on to Lucero, years ago, when he owned an independent record store in Minneapolis.
How much does Murray love Lucero? In November of 2003, realizing the band wasn't playing Minneapolis on its current tour and having never seen them live, he drove four hours, solo, to their show in Des Moines, Iowa.
"They're hanging out after the show," he said. "I just went up and said, 'Hey, I came down from Minneapolis. I've got a record store. When you guys do come through Minneapolis …
"They ended up playing my record store four times."
So when Murray dreamed up the idea for a concert fundraiser, he asked his buddy Ben to play. Because they were friends now, and friends show up for each other.
Since then, Nichols has only missed two years, because of band commitments. This year he was joined in the virtual version by singer-songwriters Cory Branan, a fellow Memphian, and Adam Faucett from Little Rock, where Murray now lives.
Over the years, such acts as Lydia Loveless, Lee Bains III & The Glory Fires, and Two Cow Garage have played the event — pretty heady company, if you happen to dig roots, punk, Americana, alternative country and singer-songwriting of a decidedly non-commercial bent.
"You can't put your finger on it, but anybody else running this event, it would be a different event," said Pat Dwyer, who owns Grumpy's. "Because not only does he bring on the likes of Lydia Loveless, Ben, and a lot of local musicians … but they all want to be here. And it creates a really good, fun atmosphere. That's why I love doing it."
Dwyer, who bonded with Murray over music, calls him "a very quiet guy, but everything is righteous. He's one of my best friends."
And though Murray moved from Minneapolis, his home for 22 years, to Little Rock, "he's still family, and still neighborhood, no matter where he's at," Dwyer said.
Murray, meanwhile, seems at a loss to explain how it's all happened, all this good fortune, all this talented and kind-hearted company he keeps, except to say:
"My heroes are my friends."
A righteous boy,
and the birth of the boom
He was diagnosed with acute lymphoblastic leukemia (ALL) in September 1970, a St. Jude patient at 18 months old — too young to have any real memories of the place.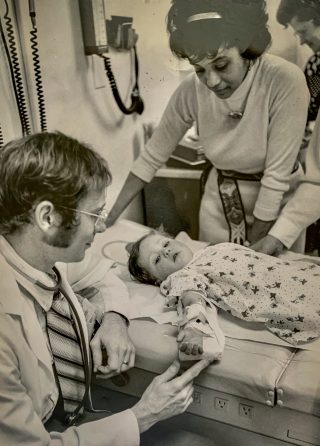 But the kid who couldn't remember, would never forget. No sooner had St. Jude saved his life than he began raising money for the cause: lemonade stands and paper route money, the St. Jude Bike-A-Thon and Teen March.
Maybe he was righteous, even as a little boy. Or maybe it's that he was born and raised in probably the most St. Jude town this side of Memphis — Peoria, Illinois, home of the first St. Jude affiliate clinic.
There's a picture of Murray, as a toddler, at the clinic's 1972 ribbon cutting. He's in the arms of affiliate liaison Marge Crowl, and beside them is St. Jude founder Danny Thomas.
The city is also home to a powerhouse fundraiser — the St. Jude Memphis to Peoria Run, a 465-mile, relay-style run that's raised more than $56 million since 1982.
Murray has participated in the run 14 times, the first time as a teenager in 1986. Runners have to raise a minimum of $3,000 to join the run, but Murray wanted to do more, raise more. And so — cue the music — his two passions "collided," creating the beautiful noise that is BOOM! BOOM!
He plans to return the event, live and loud, to Grumpy's in 2021.
And, brace yourself, Little Rock. He's also thinking of someday adding a second edition in his new hometown — BOOM! BOOM! with a side of Southern hospitality.