Her heart led her to Maryland, a $367 pill led her to become
St. Jude

donor

July 06, 2021 • 4 min
DUNDALK, Maryland — So many things rush to mind for Sharon Hormel Hurd when she thinks of St. Jude Children's Research Hospital.
There was the treatment her son, Andrew, received there for a sub-type of acute lymphoblastic leukemia — treatment that saved his life.
There was the way St. Jude helped Andrew through grief when, at his sickest moment in treatment, his father died.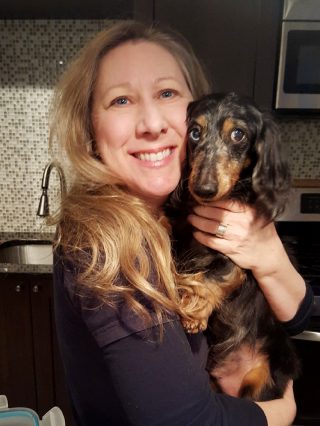 There was St. Jude, again, helping Andrew — described by his mom as very precocious and bored by traditional school — accomplish his goal of taking college courses at age 16.
And there was a $367 pill.
It was such a little thing, that pill. But it came to represent, for Sharon, everything good and giving about St. Jude. That little pill is a big reason she's become such a strong St. Jude advocate and donor — from making speeches and giving interviews, to participating in fundraising walks, to putting St. Jude in her estate plans.
It wasn't until she began researching treatment cost that she discovered each pill was $367. Shocked by the amount, she described it as something that "stuck in her head and never went away."
If Andrew hadn't been at St. Jude, he wouldn't have been on the trial medication. Sharon's insurance wouldn't have covered it, and she wouldn't have been able to afford it on her own. Being at St. Jude meant having access to the trial medication, to additional treatment options — and no worries about the costs, which were covered by St. Jude.
So when Sharon began sharing her stories of St. Jude with prospective and fellow St. Jude supporters in speaking engagements, she talked about things like that $367 pill — as well as a $10 voucher for pizza.
One represented a great weight lifted — a financial weight that could crush a family. Imagine having to pay for $367 for a single pill. Imagine having to discard such medication because of a dosage change.
The pizza — dinner after a long day of treatment — was a smaller blessing, but it was one more example of how St. Jude treats patients not just medically, but with love and care. It helps patients, like Andrew, deal with grief. It aids in their education. And as sure as St. Jude knows kids, it understands the healing power of pizza.
St. Jude helped see Sharon and Andrew through one of the most tumultuous times of their lives — from his diagnosis in 2012, when he was just shy of 16 and they were living in Tennessee, to the death of Andrew's father, from whom Sharon was divorced but successfully co-parenting.
"The love he felt from the social work team after his father died was unbelievable," said Sharon, describing St. Jude as a place that's "just magical, where everything works. You felt like you were receiving the best of every level."
She wasn't just talking about her sick son. Unable to work because she was with Andrew, and living off her savings, she said St. Jude gave her hope that things would get better.
"It is just something about when you drive through the gates of St. Jude, you feel like it is a warm blanket for a mom and you know everything is going to be OK," she said.
And things did get better. Andrew was successfully treated, and went off to college in Florida — despite concerns from mom, who said, "Andrew was fragile, still swollen from steroids and his immunity was terrible. I think I was more scared about this than his treatment because our support network was gone. It was a very scary time."
But Andrew was itching to be out in the world. He was ready for his next chapter.
Turns out Sharon was, too.
She remembered saying to herself when Andrew left for college, Momma, it's time for you to live your life too!
So after being in a long-distance relationship with the childhood friend she was dating, Jeff Laramee, she packed up and moved to Maryland to be with him. It's a place she's come to love — from its rich history as one of the original 13 colonies to the best crabs in the world to being able to enjoy a city vibe while within a half-day's journey to the woods and water.
It's also good St. Jude country — Sharon sees to that, telling stories about Andrew's cancer and treatment, and the young man he's become: healthy, well-adjusted and happy, with a great sense of humor. Andrew has graduated from college and works in the tech industry. He also participates in St. Jude LIFE, a research study that brings survivors back to St. Jude for regular adult screenings that help researchers learn more about the long-term effects of treatment.
Sharon is an assistant director for the Home Delivery Program of Meals on Wheels of Central Maryland. She enjoys spending time with Jeff and their dachshund Johnny Virgil, and of course celebrating a place that's 900 miles from her home but right there in her heart.
"I'm glad," she said, "to be spreading the word about St. Jude in Maryland."