Missouri school system's decades long support adds up to more than $1 million for
St. Jude

July 06, 2021 • 2 min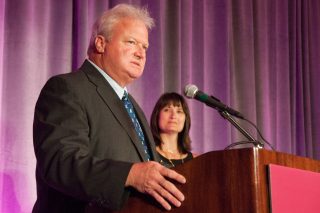 POPLAR BLUFF, Missouri — A casual visitor might wonder how this southeastern Missouri city of 17,000 managed to muster a Math-A-Thon program into an annual communitywide crusade that has raised more than $1 million for a hospital 145 miles away.
There would be no mystery, however, if the visitor knew Lorenzo Sandlin.
More than three decades ago, Sandlin took over as principal at O'Neal Elementary School here. He came to the job with a passion for education, a love of "trying to help children better themselves," as he puts it.
He also came as a bereaved parent.
In 1987, just about a year before Sandlin became principal, his firstborn son, Matthew, died at age 5 of Wilms tumor, a type of kidney cancer, at St. Jude Children's Research Hospital.
Sandlin, in his first year, launched a St. Jude Math-A-Thon at O'Neal. Math-A-Thon is a longtime St. Jude fundraising initiative designed to improve students' math skills while also teaching them the importance of helping others.
So why, after losing a child at St. Jude, would Sandlin be driven to support it? Because of what he had witnessed at St. Jude.
"Just being down there and seeing all the care and compassion everyone there has, and seeing those kids fight for their lives, left a lasting impression on me…," he said. "When I saw that care, that love, I wanted to be part of it."
Sandlin eventually approached the central office and asked that the Math-A-Thon be supported districtwide. He got his wish and coordinated the fundraiser. He started making annual trips to St. Jude, bringing business representatives, radio broadcasters and others along with him. By letting people see the hospital and the work it does, Sandlin said, "you build lifelong supporters."
Under Sandlin's leadership, the event was embraced by the town, becoming the nation's only coordinated districtwide Math-A-Thon that's supported by businesses and other sectors of the community, according to ALSAC, the fundraising and awareness organization for St. Jude.
Although the Math-A-Thon is geared to students up to the eighth grade, the entire district, including the high school, contributes in some form. From January through March, schools hold fundraisers while local businesses — establishments ranging from pizza parlors and fast-food chains to a skating rink — designate nights during which all proceeds go to St. Jude.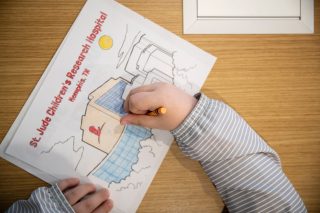 The full measure of the program's success came in April 2018, when district officials announced that the Poplar Bluff Math-A-Thon had raised over $1 million since the 1988-89 school year.
By then, Sandlin had been retired from the school system five years, but he was not at all forgotten. The school board and administrators honored him and his wife Debbie that year for adopting the cause. School officials promised the couple they would immediately begin the push to reach $2 million raised for St. Jude.
Sandlin, for his part, expresses gratitude to the district's students and their parents for their support of the Math-A-Thon.
"I just wish the hospital down there the utmost in success. I would love to see them put themselves out of business."