Like a second father:
St. Jude

support deepens New Hampshire friendship

July 06, 2021 • 3 min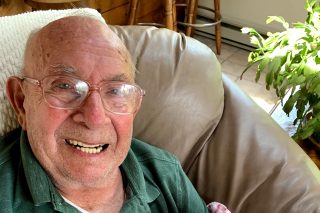 PORTSMOUTH, New Hampshire — It is unmistakably of New England, Frank McLean's accent, so when he talks about Jim Guth, he will say his late friend became like a second fath-uh to him before passing way in early March.
And when Frank's gruff, granite voice describes how Jim somehow made it to his 95th birthday and one final experience connecting to the mission of St. Jude Children's Research Hospital, the affection for his friend comes through loud and clear.
"That was one unbelievable day there at the home," says Frank, who is 73 and a retired union master mechanic. "Jim was well aware of what was goin' on, I can tell ya."
Jim and his late wife, Jo, did not have kids of their own, but they embraced the kids of St. Jude — last fall, St. Jude reserved a lab in the new Advanced Research Center to be named after Jo and Jim Guth. Jim was determined to participate in a virtual event for St. Jude supporters in his area scheduled for early March, just after his birthday.
Every year, in communities across the country, members of the Danny Thomas–St. Jude Society like Jim gather at luncheons to hear updates on the impact of their support. Most members are seniors who have made a commitment to include St. Jude in their final estate plans, and the pandemic meant converting the events to virtual regional gatherings.
Jim made it to his birthday in late February, and Frank arranged to bring an iPad to the home so Jim could be part of the March event for Danny Thomas–St. Jude Society members.
"We didn't understand the iPad and the Zooms and all that," Frank says, "but that gal from St. Jude, she made sure I was able to keep Jim involved."
On the screen, Jim could see faces of other St. Jude supporters who live in the region.
They would hear that day from a young man named Jake, a St. Jude cancer survivor and aspiring sports broadcaster whose story testified to the cumulative impact of their support. Jake had been diagnosed with a rare type of brain cancer as a toddler, one with a dire prognosis, but 20 years later, he was applying skills learned earning a broadcast degree to engage the audience of supporters.
Sitting next to Jim, Frank marveled at how his friend's energy level and attention was higher than it had been in many months. The pandemic put an end to their many outings, and this almost felt like old times for Jim and Frank.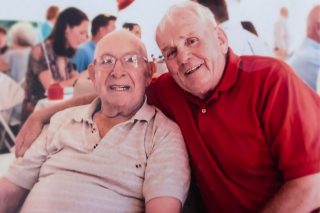 They met about 10 years earlier, when one of Frank's sons moved in next door to Jim and his wife, Jo. After Jo died a few years later, Frank began taking Jim on local excursions — to the town's famous cash-only ice cream parlor (pah-luh), to the airport to watch planes, or to the waterfront near Portsmouth's submarine base to watch boats.
Through Jim, Frank learned about Jo's devotion to St. Jude and why it meant so much to his friend to continue supporting the mission. Jo had cared so much about cancer research she would sometimes send articles to make sure researchers at St. Jude were aware of some new development.
"That really was Jo's cause, St. Jude, and Jim wanted to make sure to honor it as much as he could," Frank says.
During the virtual event, when supporters received updates on the St. Jude Advanced Research Center, Frank sensed his friend's pride knowing a plaque inside would honor Jo and Jim Guth for contributing financially to the groundbreaking facility.
Before the virtual event ended, other supporters heard about Jim's recent 95th birthday and soon enough the online friends united by support of St. Jude were giving Jim birthday wishes.
"Oh, how he loved that," Frank says.
When Frank left later that afternoon, Jim was still in high spirits, but the next evening, Frank received a call from the home.
A nurse getting Jim ready for bed had found him unresponsive. He had passed away.
As much as Frank and his family miss Jim, there is comfort in knowing the man who became like a second fath-uh was able to have one final experience celebrating a cause so important to him.
"I guess after that St. Jude moment and his birthday," Frank says, "that for Jim it was time. He went to sleep and never woke up."