Big hearts, tired feet: Center Stage Just Dance-a-thon starring Littlesiha aims to raise $100,000 for
St. Jude
The dance-a-thon is part of St. Jude PLAY LIVE, a global fundraising campaign in which gamers play their favorite games on streaming platforms, and viewers are able to donate to St. Jude in real time.
It all began with a purple hoodie.
That's how Avery — you may know her as Littlesiha, Twitch streamer and star player of the Just Dance video game — got involved with supporting the kids of St. Jude in 2016.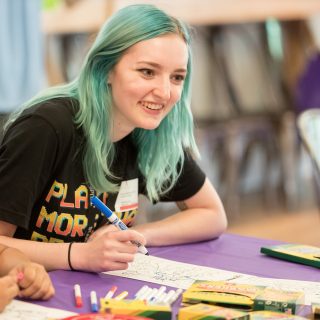 "I was on Twitter and saw that if you raised $500 for St. Jude, they'd send you a purple hoodie," she said. "I wanted that hoodie. I don't think I have ever felt a stronger need for a piece of apparel in my life."
That purple hoodie was pretty cool, but a visit to the St. Jude campus the next year touched Avery's heart. She's now raised more than $100,000 for St. Jude — and is a major force behind the Center Stage Just Dance-a-thon, a four-day, 80-hour, 33-dancer fundraiser starting Thursday with a goal of another $100,000 for St. Jude.