We're grateful for: fishing personality Fat Cat Newton, who pours his humor and heart into helping
St. Jude
Combining humor with his love of fishing, B. "Fat Cat" Newton has created a social media persona that's almost literally larger than life. His heart is even bigger.
Newton serves as emcee for the Dick Hiley St. Jude Bass Classic, an event that annually attracts scores of sport fishermen from across the Upper Midwest. Now in its 23rd year, the tourney has raised some $4.6 million for St. Jude Children's Research Hospital.
Fat Cat's popularity (more than 104,000 followers on Facebook, 42,600 on Instagram) is based on his humor, which is silly, self-deprecating and often sidesplitting. In videos viewed by hundreds of thousands, he hollers, feigns outrage and inserts himself in far-fetched skits.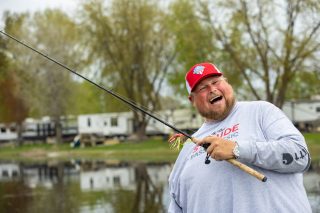 But he's also a childhood cancer survivor with a deep understanding of life's somber side. Fat Cat wasn't treated at St. Jude. But, remembering how his cancer "tore my family apart," he especially appreciates how St. Jude addresses the needs of parents and siblings, too, not just the sick child.
So he's embraced the St. Jude cause, supporting it in the best way he knows how — by making people smile and laugh.
"I know what it's like to have bad things going on," he said, "so if I can take somebody's mind off of that — their bad things — for just a minute a day or two minutes a day, I know how valuable that is to people."