May We All: Spouses of Florida Georgia Line stars make kindness their big hit
As back-to-back events – violent tornadoes and the COVID-19 pandemic – rocked their city, members of the Florida Georgia Line family took the idea of a 'community of caring' to heart, banding together as forces of good in the world (with a touch of Southern hospitality thrown in).
Violent tornadoes carved a deadly path through the Nashville area in early March, leaving destruction as well as heartbreak. Blocks of houses were demolished in an instant and owners of businesses - from barbershops to honkytonks - were left wondering how to pick up the pieces of their splintered city.
And then the COVID-19 pandemic hit with its ensuing safe-at-home orders, delivering a further blow to businesses and citizens alike, and leaving everyone with that kicked-while-down feeling as they wondered how to navigate this seemingly new normal.
Alabama's Randy Owen once said Country Cares, the program than benefits St. Jude Children's Research Hospital, was about "the we, not me."
So, as back-to-back events rocked their city, members of the Florida Georgia Line family took Randy's idea of a community of caring to heart, banding together as forces of good in the world (with a touch of Southern hospitality thrown in).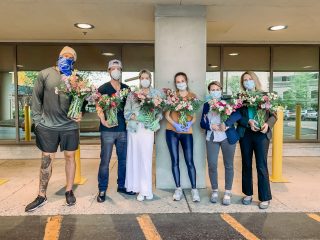 Brittney Kelley and Hayley Hubbard, the wives of Brian Kelley and Tyler Hubbard, are well known in the Nashville area. While the two men are famous as the duo that makes up FGL, Brittney and Hayley are business owners and nurturers who have created a community of caring wherever they go.
And nowhere was that community more needed than at home in Nashville. Over these past few months, that community of caring has been a literal lifeline to a city ripped down the middle by tornadoes, with the COVID-19 crisis trailing quickly behind.
Seeing an immediate need to help underserved populations, Hayley acted fast teamed up with her Nashville friend Taylin Lewan, the wife of Tennessee Titans' Taylor Lewan. They created the nonprofit Feeding Nashville, pulling together a coalition of farmers and chefs to feed families and front line healthcare workers. Their initial goal was to provide food to at least 400 people a day for two months.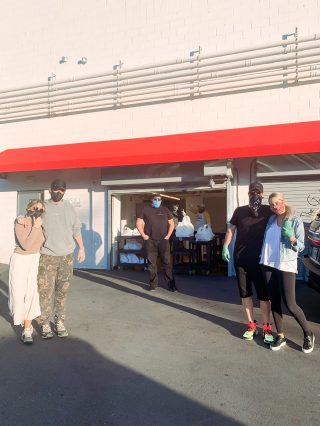 Also moved by the recent events in Nashville, Brittney created a similar community of caring by deepening her partnership with Home Street Home Ministries to help provide for the area's growing homeless population. The effort could not have come at a better time, as she had just launched a work-from-home clothing line called—what else?—Butter Sweats, with a portion of proceeds going to Home Street Home. Since then, Tribe Kelley has raised over $50,000 for the charity.
The vision for Feeding Nashville became a reality recently as Hayley and Brittney, along with the other founders and supporters, delivered the first meals to St. Thomas Midtown Hospital in Nashville.
Of course, this wasn't Brittney's or Hayley's first interaction with a hospital. Their community of caring expands beyond Nashville to St. Jude. After taking part in the 'This Shirt Save Lives' viral sensation in 2017, Brittney wanted to go even bigger the next year. So in 2018, she helped plan 'This Show Saves Lives,' the star-studded event for St. Jude that brought together country music artists and fashion designers, all for the kids of St. Jude. With St. Jude top of mind and close to her heart, Brittney hand-stitched the neon lettering on a 'This Shirt Saves Lives' t-shirt that she wore on the red carpet.
The next year, Hayley hatched a plan to bring together a group of Nashville influencers to visit St Jude. On a donated tour bus, everyone loaded up and headed down I-40 to make a special stop at St. Jude, where nearly 300 people—all St. Jude patient families—got a surprise VIP concert from top country acts Florida Georgia Line, Dan + Shea, Canaan Smith and HARDY. The day became more than just the show—the groups stayed after the performance to talk to St. Jude patient moms and dads while creating homemade instruments with the patients.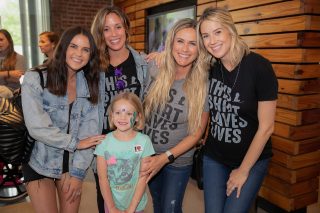 It was there, sitting among St. Jude patient families and hearing their experiences, Brittney, Hayley and their community of caring became another example of the "we, not me" philosophy that brought together the country music industry for St. Jude more than 30 years ago.