No joke: quarantine comedy helps
St. Jude

supporter in Western PA lift spirits of elders

As part of her duties at the senior center in Western Pennsylvania, Jill McCullough has added joke-telling to her list of assignments during the pandemic quarantine.
Jill McCullough calls it "my little dopey sign," but to senior residents of The Lakes at Jefferson Independent Living, it advertises a daily dose of delight in a difficult time.
"Walk Up JOKE Window" it reads, like something out of a Peanuts comic strip. As part of her duties at the senior center in Western Pennsylvania, McCullough has added joke-telling to her list of assignments during the pandemic quarantine.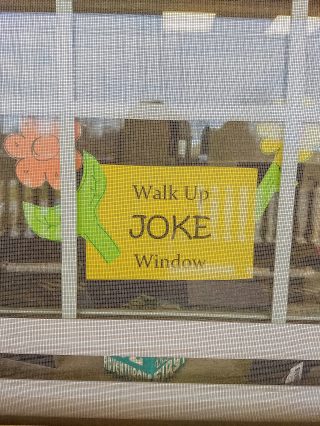 Why did Cinderella get kicked off the baseball team?
She kept running away from the ball.
When the pandemic hit, the facility was forced to isolate residents, canceling the usual group activities that added to their social lives. That has included a pause on the efforts McCullough organizes to support St. Jude Children's Research Hospital.
Outside McCullough's office, residents often stop on walks to get out of their rooms. She would lift her window and chat, and she noticed during the quarantine how some would linger, eager for social connection.
McCullough found some jokes, printed them out and began sharing them. Soon word got around that McCullough was lifting spirits with a dose of laughter.
"I've gotta admit, usually it's a groaner of a joke," McCullough said. "I try to keep them mixed up, so people don't hear the same ones again.
"If I am just walking around the facility, I have to have a few memorized. They are expecting a joke."
Why couldn't the flower ride its bike?
It lost its petals.
It helps McCullough, as well. She said knowing the risk the virus poses to residents adds to the stress felt by workers at senior living facilities.
With families unable to visit, staff also feel more of an obligation to provide love, support and encouragement, she said.
"It feels like it's all on us," McCullough said. "I'm not complaining. I would do anything for them. But you feel a huge responsibility."
In years past, McCullough said residents have enjoyed helping her rally support for St. Jude.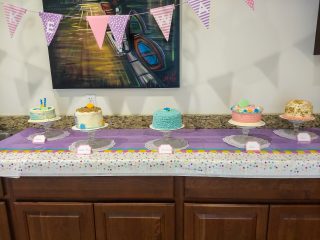 They still talk about the cakewalk, she said – confetti cannons bursting to announce the winner were provided by a St. Jude representative. They watched a video of the "No More Chemo" parties held at St. Jude when a patient completes treatment.
McCullough says that as a cancer survivor herself – her son Kyle is, too – she feels a special affinity for the St. Jude mission.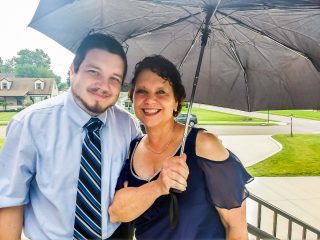 McCullough has visited St. Jude as a member of the Danny Thomas–St. Jude Society, which includes supporters who have put St. Jude in their estate plans. She said she notices the great lengths St. Jude goes to ease the stress of patients and families, often with activities that generate joy.
"The first time I went, I was like, 'Oh, my goodness – I didn't expect such a happy place,' " McCullough says.
In his autobiography, Make Room for Danny, St. Jude founder Danny Thomas recounted an experience filming at a retirement home "in some hilarious conversations with the old folks there."
Thomas wrote that one woman told him, "You look like my third husband."
When Thomas asked how many times the woman had been married, he wrote that she said, "Twice ... with a twinkle in here eye."
While McCullough says, "I'm no Jerry Seinfeld," she appreciates the tonic that humor can bring.
"Telling jokes amongst ourselves, it's almost like it's a lost art," she says. "I feel like, if I can make someone smile, I'm gonna do it."
What do you get when you plant kisses?
Tulips.