'We found something on his brain'
Mom comforts son, Hudson, through cancer treatment at St. Jude
It was 2021, my son Hudson was throwing up off and on. We kept him home thinking it was a stomach bug and considered ourselves lucky when the rest of us didn't get sick with it. He was also tired all the time.
Then one Sunday morning as we were getting ready for church, we noticed his eyes were crossed. At first, I thought he was being goofy. Hudson can be silly like that. But when his eyes were still off later that evening, we decided to take him to the doctor the next day.
The doctor said to take him to the nearby children's hospital for a CT scan and MRI. We drove there feeling a little silly, honestly, because at this point, we thought our kid probably just needed glasses.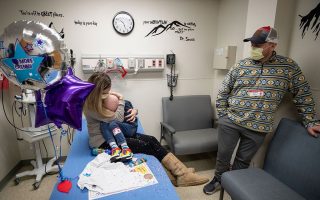 We got the test results several hours later. As the doctors walked us out to a different room to discuss the scans, my heart just sank.
I heard them tell us, "We found something on his brain," and honestly after that, I don't remember anything. I just feel like I went out of my body. Our world was shaken.
Hudson was admitted that night and had surgery the next morning to get the tumor removed. The tumor itself was 4 centimeters big. The doctors in Michigan determined it was medulloblastoma, the most common cancerous brain tumor in children, and thankfully it hadn't spread to his spine.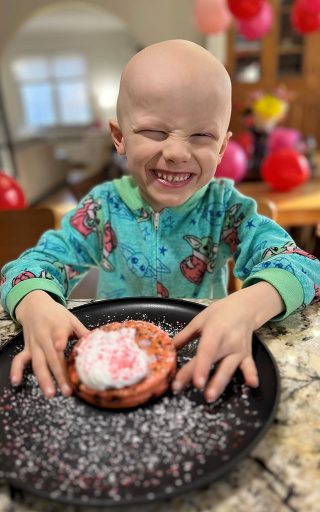 They were able to get the entire tumor out. He was in the hospital for about 10 days after that for recovery. It's all a blur, but the next thing after surgery was to consider where to go for radiation and chemotherapy.
My husband, Max, was immediately researching our next steps.
Our doctors in Michigan, who referred us to St. Jude, said the research hospital in Memphis had a proven track record of treating kids with medulloblastoma and finding new and better ways to treat it.
At St. Jude, doctors confirmed Hudson had Group 4 medulloblastoma which carries intermediate risk. He received six weeks of radiation and four rounds of chemotherapy.
I stayed with Hudson in Memphis while my husband stayed in Michigan with the other two kids, who visited on weekends when they could.
You have these pictures in your head of what you think this huge children's hospital will feel like. And St. Jude just goes above and beyond that. It starts to feel like home.
Hudson got his last chemotherapy treatment in January. The doctors and nurses cheered him on with a party and special song, which was sweet. But Hudson has been sensitive to noise and attention since his surgery and treatment, so he didn't really celebrate. I wrapped him in my arms as tightly as I could to help him feel safe and calm.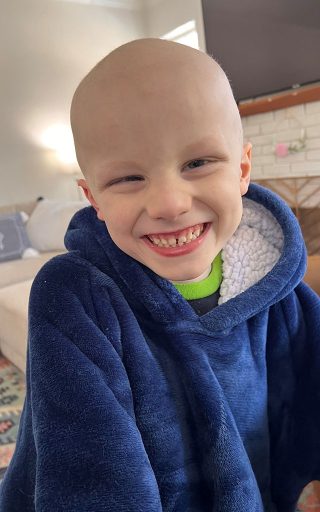 As a 5-year-old, he's still having a hard time understanding and processing everything he's been through.
Hudson is re-learning himself. He used to be a naturally athletic kid, riding a two-wheeler bike when he was 3 years old and willing to eat just about anything. Now, he's really picky about food and doesn't eat much.
The surgery and treatment have left him unsteady on his feet, but he's getting stronger every day. He doesn't like change and prefers to stay at home. So now we give him extra time to get comfortable with leaving home and going to the park, for example.
We are on a slow and delicate return to normal, and we have St. Jude to thank for that.
All I want for Mother's Day is to see my three children playing together outside in our yard while I sit and relax with my husband. I want to see Hudson happy, carefree and racing his big brother on his electric bike while his baby sister chases them from behind. It is my prayer Hudson will have both the courage and balance to do so soon!