Khadeen Ellis: How Millennials Can Use Social Media for Good
Khadeen Ellis, an actress, TV host and mom of three, talks about how she learned to use her social influence to make a difference.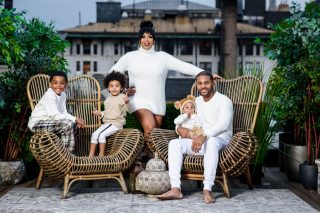 Khadeen Ellis, an actress, TV host and mom of three, writes about how she learned to use her social influence to make a difference for St. Jude.
My ideas on philanthropy and "charity" took a major turn after visiting St. Jude Children's Research Hospital.

The years of simply donating money and writing a check now had several faces — it had a home, it had beautiful grounds and oozed optimism; it ignited Khadeen Ellis, the philanthropist.
My visit encouraged me to get engaged as a human being — to do a better job of being present as well as using my social platform to spark conversation, awareness and in some cases, a call to action nudging others to get involved. At the very least, I used my social media to inform and educate.
My trip to St. Jude encouraged others — men and women alike, to inquire about whether or not they were a carrier of the sickle cell anemia trait like myself. My husband and I were able to see where those financial donations were invested. I could now vouch for the beacon of hope and love that is St. Jude.
I also started to think about where my "wealth" lies. Often times, I would donate to an organization or simply help a person in need, wishing I had more to give.
Then I had a moment of realization — that my wealth was stowed in the form of social media and content creation. My nucleus was my voice. My social platforms were my vehicle to reach the masses — to inspire and evoke change via my own first-hand accounts.
There is an affluence in creating content organically and authentically. So much that a virtual stage is built via various social media where followers, or those as I affectionately refer to as "supporters," believe in you and are influenced by you and your stories. My passions could potentially become their passions. How powerful!
Social philanthropy is of major importance to my husband and me. As we navigate this world and raise our three boys together, we want to instill in them the importance of service. What good are we, as human beings, to this world and to humanity if we are not able to help and serve others? How are we impacting our communities and others around us? No act is too small!
With the current climate around social media rapidly growing and evolving, coupled with the accessibility we all have to each other, we can easily act as allies. By this I mean, social movements serving as a catalyst to not only petition for monetary resources but to rally people to give of their time, knowledge, shares, likes, hashtags, posts and reposts.
Let's engage and use this powerful social sector for some good!