How Running the Athens Marathon Showed Me the Global Heart of
St. Jude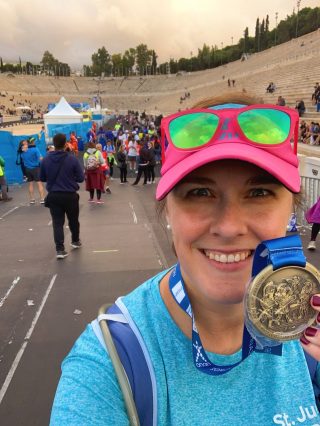 Lexie Johnston is a St. Jude Hero from Memphis who recently ran the Athens Marathon. She writes about how the experience helped her realize the truly global nature of St. Jude.
I knew the 2019 Athens Marathon would be an incredible experience. The original marathon takes its runners past some of the most historic and recognizable sites on Earth. You run from the town of Marathon to Athens, Greece, and finish in the Olympic Stadium. I consider myself a middle-of-the-pack runner at best, but when I found out the marathon was happening when I'd be in Greece for a volunteer trip, I thought, "It's a once-in-a-lifetime opportunity. I've got to do this."
What I wasn't expecting was the reaction to my t-shirt, a practical wardrobe choice I almost didn't make. I'd been planning to wear a Memphis tank top because it's my home city, but as I checked the weather on the day of the race, I saw it would be rainy. I threw on a St. Jude Heroes shirt because it was the only shirt I brought with sleeves.
During the race, four different people saw the big St. Jude logo on the back of my shirt and ran up to catch me. All of them had a St. Jude story. None of them spoke English. We fumbled through communicating our connection. The most I could get out was "Memphis" and point to myself. They all understood.
One high fived me. Three hugged me. One of them took a picture of my shirt. One woman who stopped me made a cradle motion with her hands, as though rocking a baby. She pointed to my shirt and then to her heart.
We kept going.
I had trained as best I could in the short time I'd had leading up to the race, but the flat terrain of Memphis, which had been my training ground, proved to be no substitute for the steep hills in Greece. By mile 19, my energy was all but gone.
That's when a man caught up to me and asked in English if I was affiliated with St. Jude. He was from Mississippi, living in Germany. He told me about how his nephew had been a St. Jude patient and is doing great today. We stayed together talking for a mile before he took off. Wish I had taken a picture with him.
I try to run the St. Jude Memphis Half Marathon every year and raise funds as a St. Jude Hero, so I'm very familiar with St. Jude and the work they do. Being from Memphis, you know St. Jude is a global organization and it treats people from all over the world. You're reminded of that when you run through the campus during the St. Jude Memphis Marathon Weekend. A portion of the route winds through the hospital campus, and it's really special. The kids and their families come out, cheer you on, and you see from their faces that St. Jude helps people from all over the world.
But being in Greece and having the St. Jude logo recognized — even there — really touched me. In a whole new way, I realized the impact of St. Jude as a global symbol of hope.
This year for St. Jude Memphis Marathon Weekend, I'm raising money as a St. Jude Hero as part of a team called Stella's Striders. I had thyroid surgery earlier this year, so participating in this event means more to me now than ever.
I plan to bring my phone this time, something I didn't do during the Athens Marathon, which I now regret. If you're part of the event and you know you're not racing to win, my best advice is that it's okay to bring your phone and take photos of the friends you meet along the way.