Songs That Help Me in Treatment and Life
Paishence, 16, underwent years of physical therapy after being diagnosed with bone cancer in 2012. Now she wants to be known for her DJ skills, and was selected as one of the first St. Jude patients to share a playlist with Apple Music. Here, she talks about her love of music and shares her playlist for a physical therapy appointment.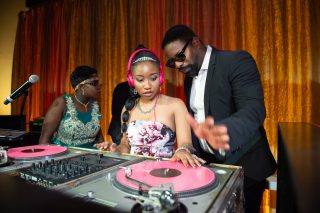 My mom used to play "Darling Girl," by Yolanda Adams, all the time when I was little. She would sing it to me around the house, and I still love that song. She always played different types of music, so I have eclectic taste because of her. I like to listen to everything from EDM to 90s rock to gospel music. Anything with a beat.
When I was younger, I loved Tauren Wells, who was in Royal Tailor back then. My favorite song when I was maybe 8 years old was "Make a Move," and every time it came on, I would be in my room dancing and jumping around.
Less than a year later, when I got diagnosed with osteosarcoma, I started watching the show Austin & Ally. Ross Lynch definitely became my favorite artist because of that voice, and I've liked him ever since.
But what really changed things for me was stumbling across the EDM artist, Zedd, when I was 14. He also DJs, and I thought what he was doing was pretty cool. That led me to artists such as Marshmello, San Holo and Diplo, who were all mixing musical genres through their DJing. I thought, "Wow, I really want to do this."
The St. Jude Teen Formal earlier this year was probably one of the best moments of my life because it gave me my first exposure to DJ Irie, who's built a successful career as a DJ and is a genuinely nice person. I had asked to meet him, so they took me around the booth, and he said, "Hi, are you Paishence? Come up here." He showed me how to use the turntables, and let me pick one of my favorite songs. He even had me DJ a little bit, and it was so fun.
I eventually told my mom, "Mom, I'm going to DJ," and she said, "Well, you know, that started when I was growing up. I can teach you everything you want to know."
At first, I didn't really want her help. I figured this was my generation's thing, and I could do this on my own. But at some point, I gave in, and she's been helping me a little bit, which has been good.
It turns out, she had a lot of friends who DJed. She watched them and learned from them, and now she teaches me.
Fading the songs is pretty challenging right now, trying to get everything to match up together. I'll pick two songs, and have to decide if fading them from beats per minute is better, or if it's better to use two songs with the same key. I'm just starting out and getting used to everything.
For example, I'll pick two songs that are in the key C, and I'll try to fade them. I play one song for a minute, and I'll fade it into the other song. And sometimes one song may be too fast, and the other one may be too slow, so they don't mix well.
But I'm learning. I'm up to the challenge.
I started physical therapy when I was 9, and because I've undergone a lot of surgeries, I've had to do physical therapy off and on since then down through the years.
When you're going into a physical therapy session, it helps to have the right mindset. So it's good to listen to something upbeat with a positive vibe to put you in an energetic mood.
For my physical therapy playlist, I chose the song "Happier" by Marshmello (featuring Bastille) because the beat is super positive, and so are the lyrics.
I built everything else around that, including popular songs like "Panini" by Lil Nas X and "ME!" by Taylor Swift (featuring Brendon Urie of Panic! at the Disco).
I was definitely going for an energetic vibe, because that gets people moving and motivated. This playlist has songs that remind you there are many possibilities if you stay motivated.
Becoming the first St. Jude patient to share a playlist with Apple Music is obviously a blessing. I never thought I'd be sharing my music with the world.