#Lifegoals: Why I'm Running 15 Marathons for
St. Jude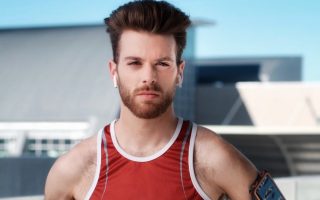 Ryan Romero is a St. Jude Hero from Las Vegas who is running 15 marathons in a single year. A constant goal-setter, Ryan talks about what convinced him to run for the kids of St. Jude.
One thousand, five hundred and thirty-two. 1,532. This is the number of miles I have run since I decided to take full control of my health and begin training for and running in 15 marathons in one year as a St. Jude Hero.
What led me to taking these steps and running these miles on behalf of the patients of St. Jude? First, I'm a goal-setter by nature. Last year, I was presented with a challenge by my doctor to lower my blood pressure and needed motivation. On a whim, I grabbed my untouched running shoes, laced them up and went out for a jog. I only lasted five minutes that day, but it felt good and, after completing that brief jaunt, I landed on a new personal goal: to enter and complete the Rock 'n' Roll Las Vegas Marathon & 1/2 Marathon.
When I registered for the 13.1 mile race in my hometown, I was given the option to participate as a St. Jude Hero – those participants who raise money and awareness for the hospital while training for an endurance event. I learned that everyone involved with the St. Jude mission, including St. Jude Heroes like me, plays a part in saving the lives of children and that we all will remain persistent in our work until no child dies from cancer. Immediately, I knew that I had another goal to add to my list: become a St. Jude Hero and raise at least $250 to benefit St. Jude Children's Research Hospital. Help myself and help others? Sure!
As I continued with my training, I successfully lowered my blood pressure (check), collected donations (check) and, amazingly, dropped 80 pounds (this was not an initial goal, but a welcome development nonetheless)! The day before the race, I met some staff from ALSAC, the fundraising and awareness organization for St. Jude. We discussed my journey and my mini-obsession of personal goal setting. One of the ALSAC/St. Jude reps then explained that if I raised just another $100, I would automatically be upgraded to run the full marathon. Challenge accepted!
I went into that first race planning only to complete the half-marathon, but instead I finished the full marathon, 26 grueling miles. It was the most difficult challenge I had ever set for myself, but I achieved it. As I crossed that finish line and collected my finisher medal and St. Jude Hero medal, I noticed a woman being handed a huge medal labeled "Hall of Fame." I asked her what that was and she explained:
"You get this if you run 15 races in one year."
I knew right away that this was my next goal and I have now completed eight races which puts me at the halfway point toward my goal of running all 15 domestic Rock 'n' Roll races in 2019 as a St. Jude Hero. Make no mistake: the kids at St. Jude are the reason I run and they are why I'm so determined to finish these races.
Throughout this personal journey, my connection with the St. Jude mission has deepened. For instance, I learned that St. Jude has been making progress against HIV/AIDS since 1987 and, in the decades since, the St. Jude HIV program has become a well-respected clinical care and research program with a strong community outreach component. I also ascertained that teens and young adults ages 13-to-24 account for approximately one in five new HIV infections in the United States and that there are more than 250 St. Jude patients who are part of the Pediatric AIDS Clinical Trial Unit. These are people my age who are my peers, my cohorts. While we might not know each other personally, there is a bond between us because more than two years ago, I was diagnosed HIV positive. Today, thankfully, I'm happy to report that my HIV is undetectable – a state in which you can't transmit the disease. This was a goal that I had set for myself after learning of my diagnosis and I feel so very fortunate to have reached it.
So what's the next big goal for me? Finish these next eight races in style, of course. Stay healthy. Be a positive influence. And continue supporting the mission of St. Jude Children's Research Hospital.