ALSAC named No. 1 on Best Workplaces for Innovators list
The fundraising and awareness organization for St. Jude joins tech giants like Google and Alibaba on Fast Company's list.
Proving that visionary ideas can flourish far beyond Silicon Valley, and at a nonprofit, to boot, the fundraising and awareness organization for St. Jude Children's Research Hospital took the No. 1 spot on Fast Company's 2020 list of Best Workplaces for Innovators.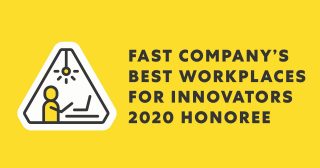 ALSAC, which raises money to support the lifesaving mission of St. Jude, earned the honor by embracing forward-thinking initiatives, according to Fast Company, a business media brand. From augmented-reality storytelling to pioneering livestream fundraising in the video gaming market, the organization's innovative efforts help continue to deliver support for the kids of St. Jude, even through a pandemic.
The award, announced July 29, honors businesses and organizations that demonstrate a deep commitment to encouraging innovation at all levels. The 100 winners on this year's list include such tech giants and blue-chip firms as Google, Alibaba, Etsy, Dell and Nestle.
"Supporting the unique mission of St. Jude Children's Research Hospital requires ALSAC to constantly stay ahead of trends," said ALSAC President and CEO, Richard C. Shadyac Jr. "Innovation must be constant — in all organizations — to keep pace with the rapidly changing consumer landscape."
ALSAC, the world's largest healthcare charity, raises funds to cover the operating and growth costs of St. Jude, which never bills patients' families for treatment, travel, housing or food. The research hospital treats children with cancer and other life-threatening illnesses, and freely shares its research with institutions around the world.
Supporting the mission of St. Jude grew even more challenging this year as shutdowns prompted by the COVID-19 pandemic convulsed the U.S. and global economies. In response, ALSAC created five major virtual events and countless other initiatives to replace more than 100 physical events postponed or canceled so far due to COVID-19.
"We had to pivot on a dime to transform our approaches. It was a monumental effort enabled by years of investment and foresight in innovation," said Melanee Hannock, Chief Digital and Innovation Officer for ALSAC. "Any organization, especially those in philanthropy, should consider themselves in the innovation and technology business."
ALSAC's innovation efforts include the PLAY LIVE program, which has helped the gaming industry raise $30 million to support the kids of St. Jude, as well as virtual reality experiences like the Hall of Heroes, which was developed in collaboration with Facebook and tells the story of St. Jude patients. ALSAC also hosts an internal Accelerator program, in which cross-functional teams work together to drive progress on key projects.
It's all part of a legacy that traces back to the innovator who founded St. Jude – actor and comedian Danny Thomas. He came up perhaps with the boldest idea of all: an integrated hospital in the segregated South that would save kids from diseases long considered incurable.