Our golf buddies
The stars of the PGA TOUR have been great friends to the patients of
St. Jude

. That won't change this year, even amid the pandemic.

July 24, 2020 • 2 min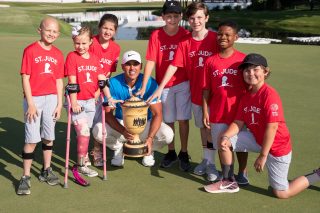 We may find ourselves feeling nostalgic even as we watch this year's World Golf Championships-FedEx St. Jude Invitational.
Nostalgic for the world before the pandemic altered so much of life.
Nostalgic for one of our favorite weeks of summer, when the world's greatest golfers, the stars of the PGA TOUR, come to Memphis to make not just birdies but memories — memories that our patients and their families will never forget.
Think back to just last year, when golfer Justin Rose came up five feet short on a 50-foot putt for charity. Remember what happened next? It's a part of tournament lore. Thirteen-year-old Dakota, a day before his next chemotherapy treatment, stepped up and coolly sank the remaining five-footer — clinching a $50,000 donation from FedEx.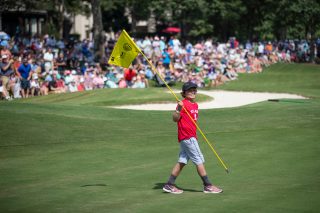 This year, everything's different. Because of COVID-19, patients will be absent from the course. That means no patients serving as Little Looper honorary caddies during the Danny Thomas Celebrity-Am. No patients and golfers playing together on our campus during the St. Jude Women's Club Patient Golf-A-Round. No Purple Eagle ceremony, in which a plane features the name of a child or grandchild of a FedEx team member. And no patients gathered around the 18th green on Sunday, waiting to greet the tournament champion.
But even with no patients — or fans — on hand, the WGC-FESJI remains a powerful moment for us, because it puts the mission of St. Jude on a lush, green stage with the world's greatest golfers, before a global audience.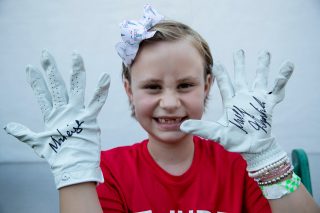 That's why I'm especially asking you to support St. Jude Children's Research Hospital during this year's World Golf Championships. It will look a little — OK, a lot — different, when you tune in. Our patients won't be there. But know this: They need your help, as much as ever.
The best opportunity to support us during the tournament is through our Birdies for St. Jude fundraiser. You can pick your favorite participating player and make a one-time donation or a pledge a dollar amount for each birdie he cards during the tournament.
Participating players will make their own pledges, along with seeking support from their celebrity friends and you, the fans. It's a way to bring people together, to unify around our cause, at a time when the virus is keeping us apart.
Because childhood cancer continues, virus or no virus. And so must our efforts to raise funds and awareness, to fuel the research, to find the cures, and to save children's lives.
Richard C. Shadyac Jr. is President and CEO of American Lebanese Syrian Associated Charities, the fundraising and awareness organization for St. Jude Children's Research Hospital.