St. Jude

Becomes an Official Apple Music Curator
Playlists created by patients and supporters of
St. Jude

Children's Research Hospital will be offered on the nation's most used music streaming service.

October 15, 2019 • 2 min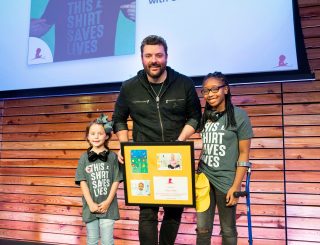 Being a teenager, and a budding DJ, to boot, Paishence relishes the latest songs by electronic music acts and rappers — like Lil Nas X and Major Lazer.
But Frank Sinatra? Turns out she likes Ol' Blue Eyes, too.
The St. Jude Children's Research Hospital patient compiled a playlist called "Paishence's Positive Vibes" filled with songs spanning the generations but connected by enduring threads. "I was looking for inspirational music and music for when you need a good calm," she says.
St. Jude has become an official curator on the Apple Music site, releasing a series of playlists created by the hospital's patients and celebrity supporters. The deal gives St. Jude significant exposure on the music-streaming service with the largest number of U.S. subscribers.
Pashience, who was treated at St. Jude for bone cancer, is one of the first patient curators, while multi-platinum country music entertainer Chris Young is the first celebrity supporter asked to create a playlist. His is called "Raised on Country" — the name of the title track to his current album — and is intended to inspire hope.
"I first visited St. Jude almost 15 years ago and was immediately impressed by the lifesaving miracles they perform every day" shared Young. "It's an honor to be chosen by St. Jude as the first celebrity curator and share my passion for music to support patient families battling cancer and other life-threatening diseases."
Paishence served as DJ at an event kicking off the St. Jude relationship with Apple. She played songs from her list as well as those compiled by Young and by Londyn, a 7-year-old patient who curated "Londyn's Dance Party."
"Music is powerful because it brings together people of all backgrounds," said Richard Shadyac Jr., president and CEO of ALSAC, the fundraising and awareness organization for St. Jude. "I'm thrilled to see people's reactions when they hear the curated playlists we've put together with patients and supporters like Paishence, Londyn and Chris Young. We're humbled to be working with Apple as an official curator, and thankful that the music industry has such a big heart for St. Jude kids."