Best Buy: Showing love for the kids of
St. Jude,

100 million times over

From corporate HQ to store checkout counters, a culture of giving among Best Buy's employees and customers led to a record-setting partnership.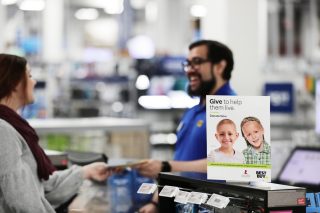 As the parents of St. Jude patient Azalea told the story of their daughter's cancer journey during a virtual visit with Best Buy employees, a company executive was particularly struck by the magnitude of the moment.
"The work that we do, the money we raise, is generational," said Ray Sliva, president of retail for Best Buy, a corporate partner of St. Jude Children's Research Hospital. "Azalea is going to grow up to be an amazing woman, who's going to have a family of her own, and her children are going to have children of their own, and those children are going to grow up to make a difference in the world."
No wonder Sliva calls himself an "evangelist for the mission and purpose of St. Jude," in his role leading Best Buy's record-setting corporate fundraising partnership with St. Jude. And no wonder the results: Best Buy recently celebrated $100 million raised for St. Jude since the partnership began in 2013.
Since 2017, Best Buy has been the top fundraising corporate partner for the St. Jude Thanks and Giving campaign, including $22.5 million last year — a company record and the most any St. Jude corporate partner has raised in a single year.
Sliva's enthusiasm for the cause — dancing with St. Jude patients during a campus visit? Sure, he's done that — flows from company headquarters in Minnesota to hundreds of stores around the country, where employees might ring bells or sound horns or break into applause to hail a customer's donation.
At the Best Buy in Taylor, Michigan — one of the company's top fundraisers in last year's campaign — general manager Robin Walker said it's cowbells and clapping. The celebration gets a sonic boost, she said, because of the acoustic effect of the store's large atrium.
"It becomes this contagious environment of love for the kids of St. Jude," she said, adding that customers now come in expecting to hear cowbells at this time of year: "They say, 'Oh, it's St. Jude time!'"
So it is at Best Buy stores from Alabama to Alaska, North Dakota to New Hampshire.
"Every single store I've ever been a part of, the St. Jude campaign is so important," said Kellie Adams, general manager at another of last year's top fundraising stores in Lynnwood, Washington. "It's a way for us to contribute on such a human level."
Adams' devotion to the cause deepened the more she learned about St. Jude and its mission. Finding out patient families never receive a bill for treatment, travel, housing or food "blew my mind," she said. "That was the moment that got me."
It meant even more to her when she became a parent.
And then there was her visit to St. Jude in 2019.
"My expectation was that it was going to be heavy emotionally, that it was going to be difficult," Adams said. "I remember trying to prepare for that. I assumed it was going to be — I mean, it's a hospital, and it's filled with kids who were sick.
"That alone is heavy enough. But then to physically be there, I assumed it was going to be an experience that was going to be difficult to get through.
"And I could not be more wrong."
Touring St. Jude, Adams and fellow Best Buy general managers from top fundraising stores were struck by the bright colors and the smiles, the hope and…
"The joy," she said. "The true joy that you feel when you go in there was shocking to me. It was completely unexpected. And it was so beautiful. Seeing the kids being pulled around in wagons. The small touches throughout every inch of the hospital are to me what makes St. Jude so special, above and beyond, obviously, the incredible work that they do."
Walker had the same experience. "I was nervous to go. I was excited, but I was nervous. I was nervous that it might be sad, that I might see children in pain. I just felt awful about that." What she discovered was "such a positive environment for the children," with a sense of "kids being kids," normalcy in a time of crisis.
Sliva said he expected St. Jude to be a place "that would make you cry when you went there." He's visited five times now, has met patients and families, and is especially struck by how the healing nature of St. Jude shows itself even before treatment begins.
"There's something pretty awesome about, in your darkest and toughest moments," he said, "when a doctor comes up to you and says, 'Don't worry. I've got this, and we'll make it better.'"
Sliva leads a partnership started by former Best Buy chief administrative and chief financial officer Sharon McCollam. McCollam, who came out of retirement to join Best Buy, had previously been an executive at Williams-Sonoma, an original St Jude Thanks and Giving partner.
So she arrived at Best Buy with a cause that was close to her heart — St. Jude — and through Best Buy's embrace, it became bigger and more inspiring than anyone could have imagined.
"Best Buy and its team members were always incredibly philanthropic and big-hearted," said McCollam, a member of the ALSAC/St. Jude Boards of Directors and Governors. "They instantly fell in love with the children and their families and couldn't wait to help."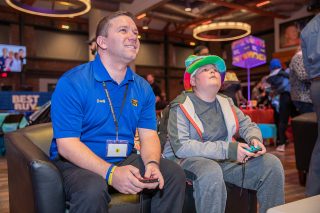 Matt Furman, Best Buy chief communications and public affairs officer, has been with the company throughout the partnership and isn't surprised by its success.
"Best Buy, at the store level, has been embedded in its communities for a long time. That's the first factor," he said. "The second factor is we are a company that will move heaven and earth when we get behind some idea or initiative.
"Finally — and I say this in the most healthy way — there is an internal competition at Best Buy. …Each store wanted to raise more. They wanted to do more. They wanted to be a leader in contributing."
Furman said those factors, plus "the substance of the cause — kids who need our help," have won customers' hearts and fostered a campaign that's "grassroots at its best."
A donation might be the change in a customer's pocket. It might be a dollar or five or…
"We have customers all the time who come in and donate $100," Sliva said. "In fact, we've had customers donate tens of thousands in one donation, too.
"For us, it becomes about asking every customer."
This year, they're asking in the midst of a pandemic.
But after two straight years of $20 million-plus campaigns for St. Jude Thanks and Giving, Best Buy is embracing the challenge with cutting-edge creativity. What else would you expect from a company that's all about the latest technology?
Consider how this year's campaign has incorporated the Best Buy edition of the St. Jude "This Shirt Saves Lives" tee, which employees receive for donating $250.
"We have moments where they can wear those T-shirts as their uniform," Sliva said. "Instead of your Best Buy blue shirt, you can wear your This Shirt Saves Lives blue shirt. On the sleeve this year there's a QR code so that a customer can walk up to you and scan your sleeve and donate without ever having to touch anything."
So the goal remains the same: making those human connections, millions of times over, for the cause of St. Jude — pandemic or no pandemic.
"We want to be able to look at 2020 and say, here are the good things that came out of it," Adams said. "Here is how we saw people's humanity."