St. Jude

Spotlight: helping children with the psychological toll of illness

Valerie Crabtree, PhD, Chief of Psychosocial Services at St. Jude, talks about supporting patients and families with their non-medical needs, including sleep issues.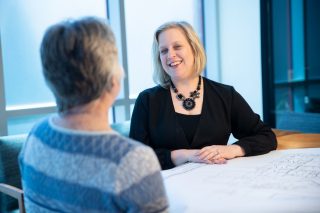 Medical professionals may handle the surgeries, infusions and diagnostics at St. Jude Children's Research Hospital, but they leave some other vitally important matters to Valerie Crabtree, PhD, and her team.
Matters like emotionally preparing a young patient for an amputation.
Or helping patients restore sleep cycles that have been disrupted by tumors and chemotherapy.
"Our job is to take care of almost anything that isn't a medical need for the child," said Crabtree, Chief of Psychosocial Services at St. Jude.
"If I'm working with a child who has cancer, or a child who has sickle cell disease, I know that I can be confident that the doctors and nurses are doing everything they can to treat that child's medical needs, and they can feel confident that I'm doing everything I can to treat that child's psychological needs."
Crabtree recently discussed her work during a video call with Rick Shadyac, President and CEO of ALSAC, the fundraising and awareness organization for St. Jude.
The call, part of the St. Jude Insider Spotlight Series, also featured Marlo Thomas, National Outreach Director for St. Jude. She spoke of how her father, St. Jude founder Danny Thomas, drew from his experience growing up in a neighborhood of poor immigrants in Toledo, Ohio, where kids often died because their parents couldn't afford medical care, in launching a research hospital serving children of all races and creeds regardless of their family's ability to pay.
"That's why dad held close to his promises, so that his little friends in Toledo would not have died in vain," she said.
Crabtree, who oversees a team of psychologists, social workers, chaplains and other professionals, has done considerable research of her own, with the science of sleep being a major focus — so much so she's even given a TEDx Memphis Talk on the subject. Childhood cancer patients often suffer significant sleep disruption, resulting in excessive daytime sleepiness and fatigue that impairs their ability to learn or play.
"We didn't really know anything about sleep in children with cancer when I arrived (at St. Jude) in 2007," she said. "Now, being able to do something about it … that's been a really exciting aspect of the research I do here."
To underscore the non-medical challenges associated with catastrophic childhood diseases, Crabtree drew parallels between the stresses facing St. Jude families and those accompanying the COVID-19 pandemic.
"Obviously there are differences, but there are these unknowns that are very difficult: How long is this going to go on? Am I going to get sicker? Is someone else going to get sick?" she said. "I think that feeling of being unsettled and uncertain and scared is something that we experience all the time with our patients and families."
Asked about patients who stand out in her memory, Crabtree recalled a particularly uplifting success story. She had been called to help support parents whose baby wasn't expected to survive. A dozen years later, the boy is a 13-year-old middle-schooler.
"While I was asked to go in and help these parents and be supportive as they said goodbye to their child, what I've done instead is help him make adjustments to starting school," Crabtree said.
"Truly the best part of my job is watching kids get healthy."