A night at the drive-in provides support for
St. Jude
Minnesotans came together for a drive-in event, a harvest moon and a chance to reflect on 20 years of the St. Jude Fall Festival of Hope.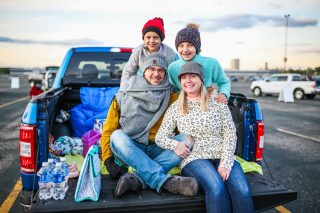 Cars file into the parking lot of Canterbury Park, a horseracing track in Shakopee, Minnesota, and gather around the big outdoor screen.
Each vehicle has an assigned spot with empty parking spaces on each side – to ensure guest safety and plenty of room to stretch out.
The guests unload their camp chairs and tables, their lanterns and coolers. A local FM station streams the drive-in broadcast.
The sky darkens and the harvest moon comes up. The air is a crisp 40 degrees, but that's nothing to a Minnesotan. Besides, there's apple cider and warm boxed dinners. Everything you could want for a night at the drive-in.
Except this isn't a drive-in. Not your typical movie fare.
It's the 20th anniversary of the St. Jude Fall Festival of Hope, a foodie event which usually takes place in a ballroom. But something new is happening tonight.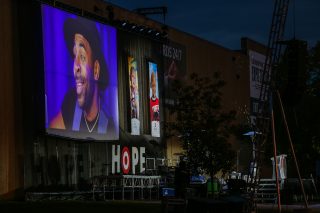 People had been craving a way to support St. Jude Children's Research Hospital that would offer real connection, but they also wanted, in these COVID-19 times, to be safe. So the event organizers envisioned an outdoor, vintage-feel, drive-in event and brought it to life.
And it is so nice just to see everyone again, even from a distance.
Ken Phad, who along with Jeff Anderson, founded St. Jude Fall Festival of Hope, welcomes the supporters.
In 1979, Ken's 17-month-old son, Adam, fell suddenly, critically ill with a type of blood cancer called acute lymphoblastic leukemia. The little boy was cured at a hospital near their home in Illinois – on a treatment plan created by St. Jude.
That's the beauty of St. Jude, Ken tells the crowd, that their cures help children in communities everywhere.
Today, Adam is all grown up and doing well, Ken says. At that revelation, guests jump from their camp chairs and wave their glow sticks. They honk their horns and flash their lights in a gesture of applause.
Ken and Jeff's empathy for families affected by life-threatening illnesses like cancer, and their passion for St. Jude, have helped raise more than $4 million for St. Jude through the years.
This is what it's all about.
The program continues. Later, the band starts up and in the glow of headlights and the harvest moon, people dance.