Black History Month and the stories that helped shape a movement
As we celebrate Black History Month, we must remember history is still being made today and that we are all responsible for the care, dignity and respect of our neighbors.

February 24, 2023 • 3 min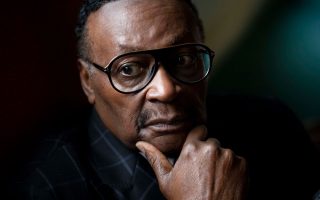 A 2-year-old is rushed to a pediatric hospital a hundred miles away in Memphis where he's treated for Wilms tumor, a cancer of the kidney.
On opening day, a nurse walks side by side with Danny Thomas, the founder of St. Jude as he cuts the ribbon and opens the door of his dreams.
Later that year, a man in his early 20s leaves his job in shipping and receiving at a department store to work in laboratories with scientists researching some of the deadliest pediatric diseases in the world.
These are stories that might seem unremarkable — a child visits the doctor, a man takes a job, a woman goes to work — were it not for the time and place.
St. Jude Children's Research Hospital opened in 1962, in a segregated city, as the first fully integrated pediatric hospital in the South.
St. Jude is where Cedric, the baby boy of sharecroppers from Mississippi, was treated with the same love and care as his neighbors.
Where Maurice Walton Tate could serve a mission improving treatments for sickle cell disease, the complications of which had taken the life of her oldest daughter.
And where Rev. Melvin Smith, the grandson of sharecroppers himself, was proud to be an African American working in "a different environment, a different kind of spirit, one that did not exist in the city any other place."
These are important stories of Black history. Stories of courage and resilience, drawing a direct line between what people and society at the time said was impossible to what is possible.
During Black History Month we proudly share stories of equity during a most inequitable time in our history. Resonating still, today, as this community and our society continue to deal with inequality, inequity, oppression and violence.
We tell these stories year-round because history is still being made for parents who only want their children cured. For moms who only want their sons home safe at the end of the day.
Dr. Martin Luther King Jr. wrote, "Every society has its protectors of the status quo and its fraternities of the indifferent who are notorious for sleeping through revolutions."
Cedric's parents refused indifference. Melvin Smith and Mrs. Tate, as she was affectionately and respectfully known, refused the status quo that said a Black woman or man couldn't and shouldn't work side by side, equally, with White people.
Danny rejected the status quo of 1960s Jim Crow, decreeing that not only would Black and White employees work together, but they would walk into work together, share the same facilities and eat together, as a family, in the St. Jude cafeteria.
And he pushed back on conventional thinking in the healthcare community that said kids with leukemia were incurable. That fight alone has saved the lives of tens of thousands around the world.
Dr. King's line is from an essay titled "The World House" — the concept of a world where we all live together, equally, regardless of race, religion, ethnicity or political views. A world in which "We must work passionately and indefatigably to bridge the gulf between our scientific progress and our moral progress."
St. Jude Children's Research Hospital has been just such a house for 61 years.
"St. Jude was an open door to a greater world," Melvin Smith said. "It said to me, 'Your dreams can be realized, opportunities are going to come.' If you're able to go through this door, how many more doors will you be able to go through?"
As we reflect on the struggles and triumphs of the Black community and its place in our history, we look to the future and the global need for healthcare equity. We look to "bridge the gulf between our scientific progress and our moral progress" by sharing our knowledge, research, medicines and care with a worldwide community in need.
It is from this house, together, we will help more kids no matter where they live. No matter what they look like, believe or can afford. It begins here, the way Danny dreamed it, at a time when equality, dignity and respect were only dreams for so many.