Celebrating the moms who face the unknown of childhood cancer with empathy and determination
Two moms experience different outcomes for their children, and look to
St. Jude

to ensure no mothers anywhere have to face the same.

May 07, 2021 • 2 min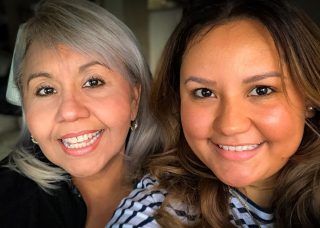 On Mother's Day, we celebrate moms and the mother figures in our lives for all they do and for all they never dreamed they would have to do.
For Mariangeles Grear's mom, it was traveling to Memphis from Venezuela to have her 13-year-old daughter treated for acute myeloid leukemia at St. Jude Children's Research Hospital. It was confronting her local doctors who had brought devastating news to the family. "Who are you to tell me my daughter will die in five days?" she said. "She is not going to die."
The ferocity of a mother's love.
The compassion of hope and optimism.
The empathy for others going through similar, unbearable circumstances.
Judy Cline understood all too well. Her son, Matt, passed away from lymphoblastic lymphoma in 1996 at the age of 17. Later, when Judy found $25 in his wallet, she saved it for something special. Though Matt hadn't been a St. Jude patient, that something special turned out to be a St. Jude radiothon in Rockford, Illinois. The DJs read her accompanying letter over the air and the phones lit up.
St. Jude is where moms of all types walk the halls during sleepless nights. Where they find support with one another through good news and grief. Where they hold their baby's hand, whether that baby is a month old or 17 years old.
What we've learned in serving this special mission is people don't necessarily need a personal connection with childhood cancer to become a supporter. We're able to connect through the good of the mission and, at times, through a mother's gratitude or pain, as did those who answered Judy's call.
Judy Cline said of the interest her letter and gift raised that day, "I never, ever thought of something like that. I just wanted to use his money for something good."
Four years after Matt passed away, Mariangeles was in a coma and fighting an infection doctors couldn't find. There was a chance she might never wake. But she had her mom by her side, a source of so much strength.
"My mom is my rock through everything in life. She is the reason I could look cancer in the face: I'm not scared of you because you should be scared of my mom," Mariangeles said. "Everything I went through, she was there."
Today, Mariangeles is healthy, happily married and, I'm proud to say, a colleague at ALSAC. She, and thousands of kids like her, are the "something good" Judy was searching for.
After the year we've had, with so much loss on all fronts, let's take time this weekend to express our love to those who play the mothering roles in our lives if we can, and to remind them of the towering place they hold in our lives. Let's honor them for their unconditional love, their compassion, their defiance and optimism in the face of fear and hopelessness, as they shepherd us through the good, and hold our hands in the bad.
I was so blessed to have an incredible Mom who overcame so much, but never failed to be there for me. I love you, Mom.