Cutting-edge research leads to uplifting hope
For 60 years, patients and parents have put their faith in the science, researchers and doctors of
St. Jude,

helping advance treatment for kids of the future.

June 03, 2022 • 2 min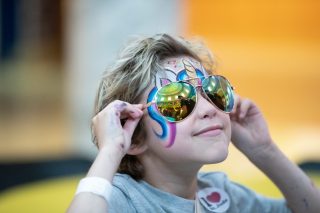 Dr. Amar Gajjar remembers the first patient he enrolled in a research study after joining St. Jude Children's Research Hospital in 1989.
The patient's mom asked how many had been treated using the new approach. Dr. Gajjar said her son would be the first.
"Without batting an eyelid, she said, 'Let's go for it,'" he said. "That's the faith that has been reposed to us by these parents."
It's telling parents put so much faith in St. Jude. That they find hope in the research, which has been at the heart of our mission since day one.
Since before day one, actually. In 1958, one month after the groundbreaking for St. Jude and four years before opening day, its first research grant was received for the study of sickle cell disease.
Ever since, because of your support, St. Jude has been at the forefront of research into catastrophic pediatric diseases. It's a commitment that has led to a six-year, $12.9 billion strategic plan and the advancement of fundamental laboratory-based research.
The plan will advance insights across the spectrum of pediatric cancer such as leukemia, solid tumors and brain tumors.
In that research, there is hope.
Kinlee's parents found that hope in research.
She was a strong reader and softball player. Kinlee was 7 years old and the golf ball-size tumor in her brain was medulloblastoma.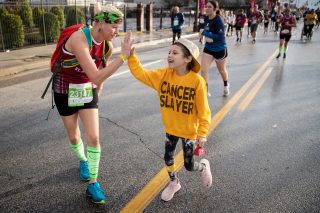 The most common malignant brain tumor in children, medulloblastoma is a devastating disease that had confounded the sharpest minds in medicine for years. But the brain tumor program, led now by Dr. Gajjar, had been showing promising gains for years when Kinlee came to St. Jude.
These are gains brought about by state-of-the-art equipment and cutting-edge science that have allowed for less toxic treatment options. Gains brought about through the compassion and dedication of our generous supporters.
There are more than 135 active clinical trials ongoing at St. Jude right now.
Kinlee was treated on one developed just for patients like her. From that trial, new medicines and experimental combinations of therapies and procedures may be developed. Exponential understanding allows St. Jude to treat patients today, while planning for kids of tomorrow who will be diagnosed with cancer and other life-threatening diseases.
Kinlee's mom said, "When I think of clinical trial, I think of research, research and more research. The more that we do research, the closer we are to finding a cure."
She put her trust in St. Jude. The same trust Dr. Gajjar has seen in families for more than 30 years.
Seven months after beginning treatment, Kinlee was cancer-free. But even though she's home and easing back into school and a new-found passion for cheerleading, her mom knows "there's somebody walking through these doors right now who was just diagnosed. And just by us committing and doing a clinical trial, going through everything we did four years ago, we raised that standard to where people can learn from our treatment."
There is hope in research. Kinlee's mom knows this, too.
"Just to know you were part of that, as a mother, to look back on that, it's very fulfilling."
Thank you for helping St. Jude do the research and providing that hope.