Dear
St. Jude
An anonymous thank you note provides a powerful reminder about the mission of
St. Jude

Children's Research Hospital

July 31, 2020 • 2 min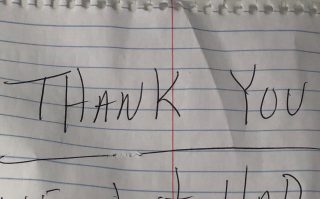 The note was simple - just 12 words - handwritten on a wrinkled page torn from a spiral notepad. But it cut through the complications we face in our world today to provide some needed perspective.
It was left, anonymously, at the front door of an employee of St. Jude Children's Research Hospital.
Thank you. We just had our "No Mo Chemo" party 6-20-20. Much love.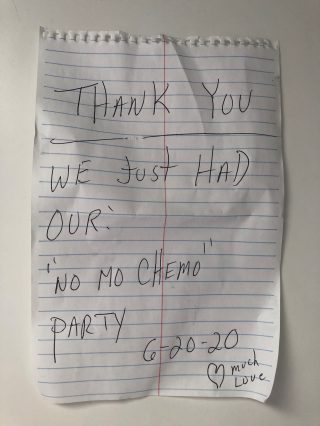 That heartfelt gratitude was intended for a single St. Jude employee. But symbolically, those dozen words were written for the millions of donors who support every aspect of what happens at St. Jude. The research. The incredible care. The unprecedented precautions during the pandemic. And, happily, on June 20, 2020, the celebration when treatment ended and one of those precious kids got on with their life.
It's a thank you to be shared with all who embrace the St. Jude mission because everyone, somehow, in their own special way, contributed to this child's end of chemo celebration. All of us, together, were gathered in the room to throw confetti and sing the song that is pure joy as it reverberates in the halls of St. Jude.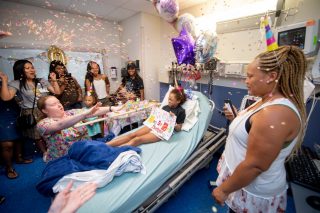 We'll never know who wrote the note or the details of their child's journey through cancer which, in so many ways, is the point.
Our founder, Danny Thomas, set us on a course decades ago to treat sick children the same regardless of whether we had a personal connection to them. Or, importantly, whether they could afford the care. So, no, we'll never know who left that sweet note and, to me, it only makes the St. Jude mission that much more pure and genuine.
But rest assured, they know you. In their time of greatest need, they feel the outpouring of support from millions of kind-hearted people. At a time when it's easy to feel alone.
The thank you note says so, even if the author didn't spell it out. No need to. Those 12 words are all we need to know.
How did they know a St. Jude employee lived at that particular address? A sign in the front yard with a simple message told them: We are St. Jude.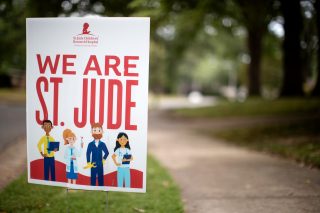 The signs are in front yards all over Memphis as part of an effort to bring a bit of hope during the COVID-19 pandemic. It turns out, hope arrives in many forms. Sometimes, in just 12 simple, beautiful words.
Richard C. Shadyac Jr. is President and CEO of American Lebanese Syrian Associated Charities, the fundraising and awareness organization for St. Jude Children's Research Hospital.