A light in the darkness
The touching story of 4-year-old Max allows us to see the critical nature of the work left to be done at
St. Jude

.

July 17, 2020 • 2 min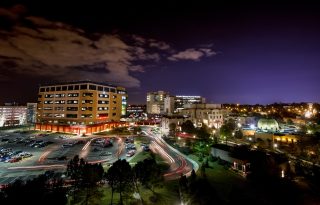 I feel a tangible sense of hope when I step foot onto the campus of St. Jude Children's Research Hospital each morning and see the beautiful, coral-colored buildings alive with the powerful research and tender care you make possible.
But there's another view of St. Jude very few people see – the campus at night. To see those same buildings lit up from within is to know the research is continuing. To know moms, dads and grandparents are reading to their kids. To know each illuminated window is a beacon of hope in the darkness of night for families everywhere.
Childhood cancer doesn't sleep when the lights go out. It never rests, and, thanks to you, neither does St. Jude – through night and day.
The promise that St. Jude wouldn't stop until no child dies in the dawn of life is one Danny Thomas made to families the world over in 1962. It's the promise Yanin and Shane relied upon when their son, Max, at just 4 years old, was found to have retinoblastoma, a cancer of the eye.
It was at least his second bout with the cancer and Max's world, sadly, was going dark. He'd already had one eye removed by the time Yanin and Shane adopted him from an orphanage in China, and shortly after arriving in his new home in the U. S., doctors found active tumors in his remaining eye.
Yanin and Shane rushed Max to St. Jude for life-saving treatment. And during a 21-day period before the surgery to remove the eye – a three-week window of light before his vision was lost – they rushed him through a lifetime of sights in hopes he would retain those memories.
Memories of an amusement park, of Halloween pumpkins and lighted Christmas trees, even though the holiday season was months away. The sight of a fire engine and, Max's favorite, a monster truck.
Today, Max lives a life in darkness, but one brightened by hope and possibility. He doesn't complain. He takes jiu-jitsu classes and loves jumping on his trampoline and riding on the back of a tandem bike. "Nothing holds, him back," his dad says.
If the darkness can't hold Max back, then neither will it stifle the work of St. Jude, thanks to our supporters. When the workday ends and night falls, know that so many at St. Jude are doing what they love in a place that emits love and care day and night. They're continuing Danny's lifesaving mission, remaining a light in the darkness.
Richard C. Shadyac Jr. is President and CEO of American Lebanese Syrian Associated Charities, the fundraising and awareness organization for St. Jude Children's Research Hospital.