During Childhood Cancer Awareness Month, acts big and small will make the difference
Two distinct missions — a space launch and a walk — unite, inspire and uplift
St. Jude

supporters worldwide.

September 02, 2021 • 3 min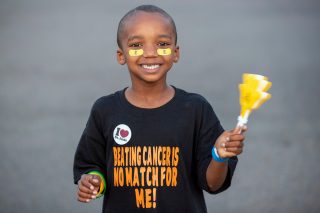 September is Childhood Cancer Awareness Month, and what an exciting and purposeful time it will be. A team of four will blast off for the first all-civilian mission into space while a lone man walking across the Midwest inspires us all to lace up our shoes for this month's St. Jude Walk/Run events.
Both are taking the kids and families of St. Jude Children's Research Hospital along for the ride.
Childhood Cancer Awareness Month puts a finer point on the need for a unified, global mission to end pediatric cancer while spotlighting the supporters who ensure that need stays at the forefront of our minds. It's a month to reflect on the fact that every day in this country 43 moms and dads hear the most devastating four words: Your child has cancer. Around the world that number jumps to 1,100.
So we're grateful for our supporters who help in ways big and small. Grateful for Jared Isaacman, the billionaire businessman, philanthropist, humanitarian and leader of the Inspiration4 mission. He said, "I don't believe we've really earned the right to go explore among the stars, venture out into space and try to find the answers to some of life's oldest unanswered questions if we can't tackle something like childhood cancer along the way."
At the terrestrial level, we're inspired by Dean Troutman from Princeville, Illinois, who began a 3,000-mile trek for St. Jude in July. Dean, at 90 years old, has a heart overflowing with empathy and love for our kids. He hopes to "get the word out for people to realize that there is a place to help these kids, and they need all the help they can get." He's helping the only way he knows how: "I'm just out here doing it one step at a time."
So much wisdom, courage and compassion in the words and deeds of these two men. So much inspiration in each mile and every footstep.
The missions aren't just to raise funds — Inspiration4 has a goal of $200 million; Dean hopes to raise $75,000 — but also much needed awareness so the moms and dads, some 400,000 globally each year, know there is hope and help for their babies at St. Jude.
Inspiration4 is scheduled to launch in the early morning hours of September 15. Our new podcast — St. Jude Mission of a Lifetime — breaks down the purpose behind the combined mission of space exploration and pediatric cancer research and treatment to its common denominator: "the need for progress in science and humanity."
That is the essence of St. Jude. From the beginning, it's been an oasis where some of the sickest kids in the world receive world-class healthcare regardless of race, religion or economic circumstance. Through that founding ideal, the humanity of our supporters has reached stratospheric heights as well. We see it in Dean Troutman and in the tens of thousands who will participate in virtual St. Jude Walk/Run events during Childhood Cancer Awareness Month. Communities across the country unified behind a single, lifesaving mission.
This September, we hope you'll join us for the journey — whether tuning in for the space launch or walking through your own space with family and friends. When we're united with purpose, there is no act too big or small in advancing childhood cancer awareness and supporting cures for the leading cause of death by disease in children in the U.S. Thank you.