Generations of selfless service have fueled the
St. Jude

mission
After Moira was treated at
St. Jude

Children's Research Hospital for leukemia, she's lived her life to the fullest. And that includes giving back any way she can.

July 06, 2022 • 3 min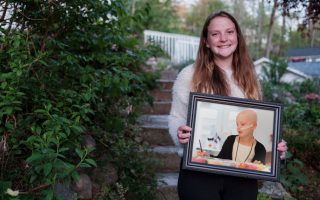 She works to rehabilitate and release indigenous animals in South Africa. She built a Habitat for Humanity home in Connecticut. Initiated a fundraising drive to help the Navajo Nation recover from COVID-19. Worked with women and men experiencing homelessness in Boston. Restored coral reefs in the Dominican Republic and helped protect sea turtles.
And just last month, she graduated high school. That's right, high school.
Moira is looking toward college, and life, with an innate sense of service and a desire to give back anywhere — everywhere — she can.
She says it's a calling shaped by her experience with childhood cancer but, more than that, with being treated at St. Jude Children's Research Hospital.
A life of service is something I've been thinking a lot about lately as we celebrate the 60th year of St. Jude. So many have devoted so much to this mission over that time, whether through donations or time and energy as volunteers.
My own father was just 28 years old when he was asked by Danny Thomas to help realize his dream. I wasn't even a teenager when I went door to door asking for donations as part of "Danny's Army."
Hollis Belger was 9 when she began juggling soccer balls as a way to fundraise for St. Jude. She has since raised more than half a million dollars and counting.
This mission has a way of doing that, of drawing people from all walks of life together. Of engendering kindness and compassion.
Tim Wang says purpose is the reason for why we exist. He finds that purpose in serving the mission of St. Jude as a member of the Pacific Northwest Advisory Council of ALSAC. What matters to Tim are the contributions he's able to make that will leave this world a better place than when he entered it. His parents taught him that, and he wants to pass it along to his own son.
Changing the world through service — it's something we should all strive to do. The changes you wish to make may seem small, but they add up. They may seem impossible, but even Danny was told his dream was impossible.
It wasn't, of course. Not with the legion of supporters who made the bold decision to serve alongside him. My father did, as did others whose descendants have taken up the mantle to carry this beautiful, lifesaving mission into the future another 60 years and beyond.
In this way, we'll ensure the care of kids yet to be diagnosed, yet to be born, so they can receive the same care — or even better — as Moira, who came to St. Jude at 8 years old with early T-cell precursor acute lymphoblastic leukemia, a rare subtype of leukemia.
That was nine years ago. Nine years of healing and learning and growing. "I saw a lot of people who were sicker than I was and who were going to be more affected later in life than I was necessarily going to be," she said. "And I think that forces you just to be humbled and to have a perspective that is how lucky you are. So, when I see things that I view as injustice or as inequality in any way or just people who need help, I try to help."
St. Jude is compassion. Your support helps fuel that compassion and the kindness which grows exponentially from the mission to, as Tim Wang says, "leave this world in a better place than when he entered it." For all you do for St. Jude and the world, we thank you.