Hispanic Heritage Month is time to reflect on cultures of compassion
As part of our
St. Jude

family, Hispanic supporters across the country are taking the lead in raising funds and awareness to help kids of today and tomorrow.

September 23, 2021 • 3 min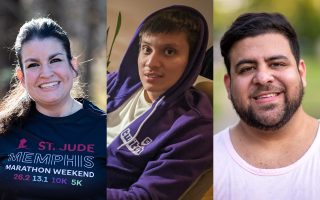 From the start, founder Danny Thomas' vision for St. Jude Children's Research Hospital was one of equality and inclusion and has become a global call to action to tackle more of the 400,000-plus new cases of childhood cancer around the world every year.
To do so, Danny knew St. Jude would have to be a place open to all races and nationalities, without regard to ability to pay, and to be supported by the same. Over 60 years we've been blessed with donors and volunteers united behind a singular mission no matter where they were born.
As we celebrate Hispanic Heritage Month, we reflect on the cultures and contributions of the Hispanic community on a grand scale, but also in more personal, intimate ways: A shared meal. A hand held at a child's bedside. News from home in a native language.
We see it time and again in the hallways, waiting rooms and cafeteria at St. Jude between Spanish-speaking families, and in Spanglish-infused conversations among patients and siblings when they come together as a community to support one another. While across the country, members of Latino communities are taking the lead in events to raise funds and awareness for our lifesaving mission.
In Los Angeles, Ramón Hernández is a video gamer streaming on the Twitch platform to benefit St. Jude. During Childhood Cancer Awareness Month, he leads Para los Niños, a local St. Jude Walk/Run team.
For Ramón, who works for the Department of Cultural Affairs at the Consulate General of Mexico in L.A., giving back in this manner, to this cause, is personal. He came to the United States and St. Jude from Jalisco, Mexico, in 2001 to be treated for leukemia.
"There's always something that brings me back to St. Jude. There's no way to forget that it gave me another opportunity at life, and finally I realized: Why would I want to forget?" he said.
Opportunity. It's what so many come to this country seeking. Sometimes, that opportunity means life itself.
It did for my friends Tayde Cruz Dodds and Carlos Rodriguez. They came to St. Jude from Mexico and El Salvador respectively to be treated for leukemia. Today, they both work at ALSAC, the fundraising and awareness organization for St. Jude, helping ensure other families are comforted by the same warmth, love and safety they felt as patients.
The St. Jude campus is an oasis of groundbreaking care and innovative science. But to increase the impact of treatments developed here, we must be able to care for kids effectively where they live. It's why the new, $11.5 billion St. Jude strategic plan is so important. The amount invested in St. Jude Global will more than triple to over $470 million, helping St. Jude reach its goal of raising survival rates for six of the most common types of childhood cancer globally from less than 20 percent to 60 percent by 2030.
This can only be done if we're inspired to work together.
Marcelino Quiñonez came to the United States from Durango, Mexico, when he was 5. Teachers and mentors became his lifeline, inspiring the belief that one person — a parent, a teacher, a mentor, even a stranger — can change a life. He attended college, became a father, teacher and mentor himself, and was eventually elected to the school board. Today he's a member of the St. Jude Arizona Latino Council, raising funds and awareness in his Phoenix community for St. Jude.
"Because life has been kind to me, I believe I have an obligation to give back to others," Marcelino said.
Thanks to supporters like Marcelino and Ramón, and our global Hispanic family, St. Jude has impacted kids here and around the world. By strengthening the networks within their communities, they'll help us keep Danny's promise as we care for tomorrow's kids wherever they may be.