Mary Browder and the patients of
St. Jude

shine at the World Golf Championships
Abraham Ancer celebrates a championship, and a cause, at World Golf Championships-FedEx
St. Jude

Invitational

August 12, 2021 • 3 min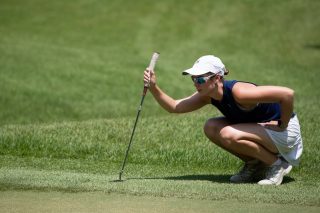 I played a remarkable round of golf last week at the annual Danny Thomas Celebrity-Am.
Not for how I played — don't ask. It was remarkable because one of my playing partners was Mary Browder, a former patient who is the epitome of what St. Jude Children's Research Hospital represents to the world.
Diagnosed with Hodgkin lymphoma just before her 11th birthday and treated with an innovative clinical trial, she's living proof that St. Jude is about science and healing, yes, but also about opportunity and possibility.
St. Jude is about how second-chance lives can be second to none.
That's Mary Browder to a tee. She's 18 now, about to leave her Kentucky home for college in Tennessee at Sewanee: The University of the South, where she'll be a freshman and golf-team member, putting the student in student-athlete.
In high school, she carried a 4.0 GPA all four years, was Student Body President, and scored 34 on the ACT college admissions test, putting her in the 99th percentile nationally. She also was a decorated golfer, named all-state second team as a senior.
And, all the while, she's been an inspiring ambassador for St. Jude, a place she loves and holds dear. A place, she says, where "everybody cares about you and wants to see you succeed and live well — have a life."
Playing alongside Mary Browder was a highlight of one of my favorite weeks of the year — golf week, with the best players in the world coming to Memphis for the World Golf Championships-FedEx St. Jude Invitational. St. Jude has been the sole beneficiary of the Memphis stop on the PGA TOUR since 1970, with more than $50 million raised for the cause along the way.
The world of golf has been an amazing partner for St. Jude. The game even contributed to Mary Browder overcoming cancer. Really.
Her parents, Jason and Renee, encouraged Mary Browder to pursue the game during treatment. It was a good diversion, a way "to keep her mind off what was going on with her body," as mom said.
Still, it wasn't easy. Try taking a golf swing with a PICC line — the catheter through which patients receive medicines, nutrition, blood products and fluids — in your left arm. So Mary Browder adjusted and adapted, taking half-swings, practicing her putting instead of her drives, and taking lessons from dad between chemotherapy treatments.
It was good medicine for her — St. Jude and golf. The two were sometimes intertwined, as in 2017 when Mary Browder got the chance to hit golf balls with PGA TOUR star Rory McIlroy in Yankee Stadium, in a St. Jude-connected moment of a lifetime. Then, in 2019, she served as honorary starter at the LPGA's CME Group Tour Championship as part of a St. Jude partnership.
At this year's Danny Thomas Celeb-Am, she joined me in a group that included Pamela Norley, President of Fidelity Charitable; Brian Young, Chief Commercial Officer of Johnson Controls; and actor Patrick Warburton, known for his roles in everything from Seinfeld to Rules of Engagement, and for hosting, with his wife Cathy, the annual Warburton Celebrity Golf Tournament. "The Warburton," as it's known, has raised nearly $18 million for St. Jude.
Mary Browder impressed us all with her spirit and sense of humor, her maturity and poise. And, wow — what a golf game.
Her dad followed along, reveling in the normalcy of his daughter's life these days. She's enjoying the summer, playing the sport she loves, getting ready for college life, being a teenager.
"It's because she was given a shot at a normal life," he said, in an appreciative nod to St Jude.
He paused and then smiled and added: "Ordinary and status quo are really good things sometimes, aren't they?"
I'll take it a step further.
Ordinary can be extraordinary.
Now I can't wait to see what else Mary Browder accomplishes.