The
St. Jude

mission comes to life in moments of connection, clarity
They can happen anywhere and at any time if we just open our hearts and let them in.

July 01, 2021 • 2 min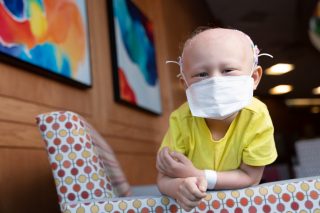 On a recent end-of-day walk to clear my head, contemplate the day and tasks ahead, and to help focus my efforts on the mission of St. Jude Children's Research Hospital, I passed a playground in my neighborhood and heard a man's voice.
"Hey, Rick!" And then, beside him, I saw a beautiful little girl with no hair due to cancer treatment.
It was a fleeting moment in a long day, but I was reminded in that instant why we all do what we do. Why we put in long hours whether it's our job or as volunteers. Why we promise a monthly gift. Why we are so eager to share stories we've read about St. Jude with our neighbors, colleagues and family.
Because we're in this together. Empathy unites us into a community of caring. I'm reminded day in and day out how blessed I am to work for this mission, and to be part of a community that includes all of you.
"We're back," the dad said. His daughter's cancer had relapsed. And yet, he was optimistic. He was grateful to have a place like St. Jude to return to. I was humbled, and grateful as well for our supporters and mission.
It was one of those serendipitous instances of connection with a patient, family member or supporter that are so special to those of us serving the mission. These are moments not found in the reams of data and volumes of statistics we ingest every day as fundraisers. They aren't learned in any budget report or focus group.
These are moments that ground us and hold us fast to the lifesaving mission at hand. They're a reminder on a difficult day that there are those who need us, and that the work we do truly helps save lives the world over.
Those moments don't necessarily happen at St. Jude. They can happen anywhere. In a restaurant or an airport, at your job or on a playground. It's a moment of kindness. It's community and hope come to life. It's a dark cloud parting to let the sun shine.
And it can be as simple as a smile on a little girl's face as she plays while others — all of you, our supporters — are doing all you can to help her heal.
It's been a difficult year for everyone. It's separated us, but it's also brought us together in ways we never thought possible. What you've done for our kids despite your own health and economic worries is nothing less than astounding. As our ALSAC Board Chair, Judy Habib, recently told my colleagues, "You turned a potential fall into a historic flight."
On behalf of everyone at ALSAC, St. Jude and that little girl on the playground with her dad, I offer my deepest gratitude to you for helping dreams and hope soar.