The Power of One: Sparking a movement for good
At
St. Jude,

we know the impact one person, inspired by this mission, can have on their community and the world.

March 11, 2022 • 2 min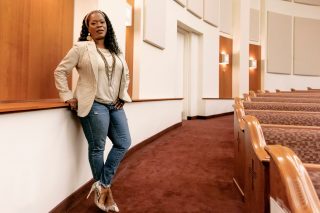 In 1975, Frank Treat's daughter, a patient at St. Jude Children's Research Hospital, passed away from acute myeloid leukemia. A 2018 story on St. Jude Inspire tells us, "After Frank grieved, he found himself ready to move on — but not to let go."
The year after 5-year-old Anne's death, part of Frank's wish to hold on became a one-day, $10,000 St. Jude radiothon in his hometown of Minden, Louisiana.
It was the beginning of what would become an annual, community-wide event for the small town with a big heart. And just last month, the now days-long fundraiser raised a record $2 million-plus.
This is an extraordinary example of empathy, compassion and service.
It's also an extraordinary example of the impact a single person can have in inspiring a community.
We saw it 60 years ago when Danny Thomas stood in front of a crowd of thousands to open St. Jude for the world and said, "It took your hearts and your loving minds and your generous souls to make this fabulous dream come true."
Though he was alone on stage, a community of donors, volunteers, and consultants from the worlds of business, philanthropy and medicine were behind him that day.
Since then, St. Jude has become a community of good. A family of supporters who, like Frank Treat, refused to let go of this mission.
We've seen it with country music star Darius Rucker whose mom, a nurse, instilled in him and his siblings, "if we could help somebody, we should." That urge to give back became the Darius and Friends benefit concert 12 years ago. Darius and his friends — a community of musicians and entertainers — have since raised more than $2.5 million for the St. Jude mission.
In New Jersey, volunteer Tina Marshall has spun an emotional meeting with a patient dad in the hallways of St. Jude into inspiration and motivation as she's rallied St. Jude Sunday of Hope congregations and faith-based communities across the state to raise funds and awareness.
And then there's Ira Jackson, a Michigan donor who gave a portion of his social security check to St. Jude each month for years until his own terminal cancer made the expense untenable. In a beautiful letter filled with compassion, he called on his own community of givers to take his place. Thousands have.
Thanks to community like this — and all of you — so much good has been accomplished.
Overall survival rates for childhood cancer in this country have risen from less than 20 percent when St. Jude opened to more than 80 percent today.
Because of increasing survival rates, St. Jude researchers are able to learn from yesterday's patients to improve care and outcomes for tomorrow.
Our community is becoming increasingly global. It has to. As Dr. Carlos Rodriguez-Galindo, Director of St. Jude Global, said, "Any child suffering today of cancer is our responsibility."
It's a responsibility we pursue thanks to your help. One donation at a time. One volunteer at a time. With that effort — by working together — we'll continue this movement for good.