Honoring Dr. Jackson and a legacy of culture and innovation
When Dr. Rudolph Jackson came to
St. Jude

in 1968, he wanted to make an impact. Thanks to our supporters, that impact continues into the future.

July 01, 2022 • 3 min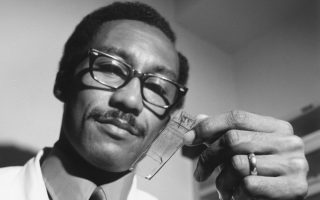 The first time Corey Briscoe visited St. Jude Children's Research Hospital, he saw something that told him everything he needed to know about St. Jude: little red wagons.
They were more than a way to get from place to place. Corey saw in them an example of the culture and innovation fostered here.
He said, "Seeing children pulled around in them showed me everything about this mission without a word. To me, it showed St. Jude would go to any length to remove even the smallest element of trauma from the experience of the children and families it cares for."
Removing even the smallest element of trauma. It's innovation that goes back 60 years, really, to the opening of St. Jude and Danny Thomas' promise, one we hold dear, that no family will ever receive a bill from St. Jude for treatment, travel, housing or food.
Another foundational tenet is to love and care for kids no matter their race, creed or ethnicity. Innovative and challenging to the status quo in 1962, and the right thing to do no matter the year.
Corey, along with college friends, is a founder of marketing and events firm ABCD & Company. They draw inspiration from our inclusive mission, working "to match St. Jude in terms of thoughtfulness, consistency, and partnerships."
We had the privilege last week to welcome Corey and his colleagues to Memphis for a special 60th anniversary celebration of the founding of St. Jude. So dedicated were Corey and his colleagues that when their flight was cancelled, they drove 14 hours to Memphis just to be here.
Part of that 60th anniversary celebration was the dedication of hematological laboratory and clinic space to Dr. Rudolph Jackson, one of the first Black doctors at St. Jude. Dr. Jackson's family also attended the dedication ceremony.
ABCD & Company generously committed $100,000 as the lead gift to the campaign and has committed to raise another $400,000. Overall, supporter donations to the Dr. Jackson campaign have raised nearly $2 million for our mission.
This is a beautiful tribute to the lifesaving work of Dr. Jackson, who came to Memphis in 1968, not long after the assassination of Dr. Martin Luther King Jr. His decision to come here was a courageous one and one that would ultimately mean so much to so many.
In addition to his research into leukemia and solid tumors, Dr. Jackson was the architect of the St. Jude sickle cell program. "I had made a decision early on in my own training that if I did anything, I wanted to do something in a disease that I could make an impact," he said.
We're so grateful he did. Today, thanks to Dr. Jackson and all of you, St. Jude has one of the largest sickle cell programs in the country and has been a pioneer in research and treatment of the disease.
His name on labs and clinics creates a meaningful legacy on campus in places where Dr. Jackson can continue to inspire. It's so important for our young patients to know that name and see someone who looks like them. In his story and contributions, they'll see their own possibilities and, hopefully, remove a small element of trauma from their experience.
These are areas where the culture and innovation that first impressed Corey Briscoe live.
We're so grateful to ABCD & Company and to all donors who graciously give so Dr. Jackson's legacy can live on. And thank you for your support of the innovative and inclusive mission of St. Jude Children's Research Hospital.