St. Jude

graduates fulfill their dreams, one milestone at a time
As we reflect on the Class of 2022, let's celebrate the determination and care it takes for childhood cancer patients to reach this stage.

May 20, 2022 • 2 min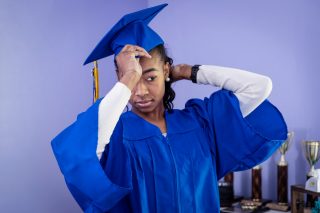 I recently received an invitation to a high school graduation. A momentous milestone made all the more special because Lauren was never guaranteed that diploma.
In fact, graduation might have been the furthest thing from her parents' minds when she was brought to St. Jude Children's Research Hospital for stage IV neuroblastoma.
She was 17 months old. A devastating disease, the tumor had wrapped around her lower spine, temporarily robbing her of the ability to walk. But at St. Jude, she was treated with surgery and chemotherapy.
And just a couple of weeks ago, she walked across the stage in a cap and gown — with all the pomp and circumstance the day deserves — to receive her diploma.
It's a special time for graduates everywhere, but especially for our patients and their families who first arrived at St. Jude with a singular focus — survival.
On pause in those initial, worrisome moments are the dreams and hopes moms and dads hold dear until they hear those four devastating words: Your child has cancer.
But as overall survival rates for childhood cancer have risen since St. Jude opened in 1962 — from less than 20 percent to more than 80 percent — so has the opportunity to revisit those dreams. And with increased survivorship, come celebrations of milestones so special to everyone in the St. Jude family.
Jean Pierre's dad said it beautifully: "Graduation from high school is pretty good we know, but graduation from St. Jude is amazing."
He should know. Jean Pierre was diagnosed with craniopharyngioma, a brain tumor located in his pituitary gland, at just 3 years old. He came to St. Jude for treatment and, while here, spent time playing with building blocks as he waited for radiation treatment. He later participated in Lego League events, learning to problem-solve and program a robot. He estimates he's built hundreds of Lego kits over the years.
And next fall, thanks to our generous supporters and a curiosity found and nurtured in St. Jude waiting rooms, Jean Pierre will attend Penn State University to pursue a degree in computer engineering.
The mission of St. Jude is Finding cures. Saving children.® The spirit of that mission is to live. To grow and nurture interests and chase dreams to the far corners of the earth.
Moira got a head start on that chase. She's helped the homeless in Boston, assisted with the rehabilitation and release of indigenous wildlife in South Africa, and with reef restoration and sea turtle protection in the Dominican Republic. She just returned from patching hurricane-damaged roofs in Puerto Rico and is looking forward to her high school graduation next month.
She's living. Like Lauren, a classical pianist and competitive gymnast, and Jean Pierre, who loves to build and problem-solve, Moira is grasping her dreams and looking forward to everything a long, full life has to offer.
A life that was never guaranteed. But thanks to St. Jude and you, our generous supporters, their dreams are within reach. And we celebrate that today, during high school graduation, and for years to come. We can't wait to see where they go from here.